Beautiful backdrops for your virtual meetings
How about adding a touch of glamour to your online meetings? Download lavish interiors and spectacular gardens to dazzle your colleagues.
Waddesdon was made for meetings – it was built in the 1870s to host gatherings of the great and good at Baron Ferdinand's house parties. Now you can join the party by downloading a lavish interior or glorious garden view to inspire on your next call.
If you're working from home or just staying in touch with loved ones, why not jazz up your next Zoom or Microsoft Teams call with one of our favourite views or rooms that will give you backgrounds fit for royalty. We've also included a couple of paintings, just for good measure.
Here are instructions on how to change the background image on Zoom and Microsoft Teams.
Don't forget to share photos with your new spectacular Waddesdon backgrounds with us on Facebook, Twitter and Instagram and use #WaddesdonOnline.
Dining Room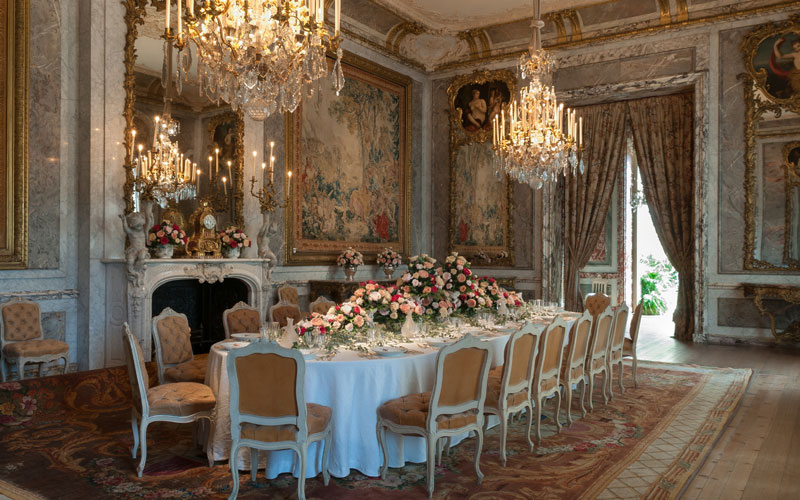 Looking for the wow factor? Arguably the most opulent room in the Manor is the Dining Room with mirrors and marble that evoke a mini Versailles. The richly decorated table is set for a party of 24, just as it was in Baron Ferdinand de Rothschild's day. The hedge of roses and carnations on the table was to encourage conversation with people on either side of you rather than across the table – polite behaviour in the late 19th century.
The Parterre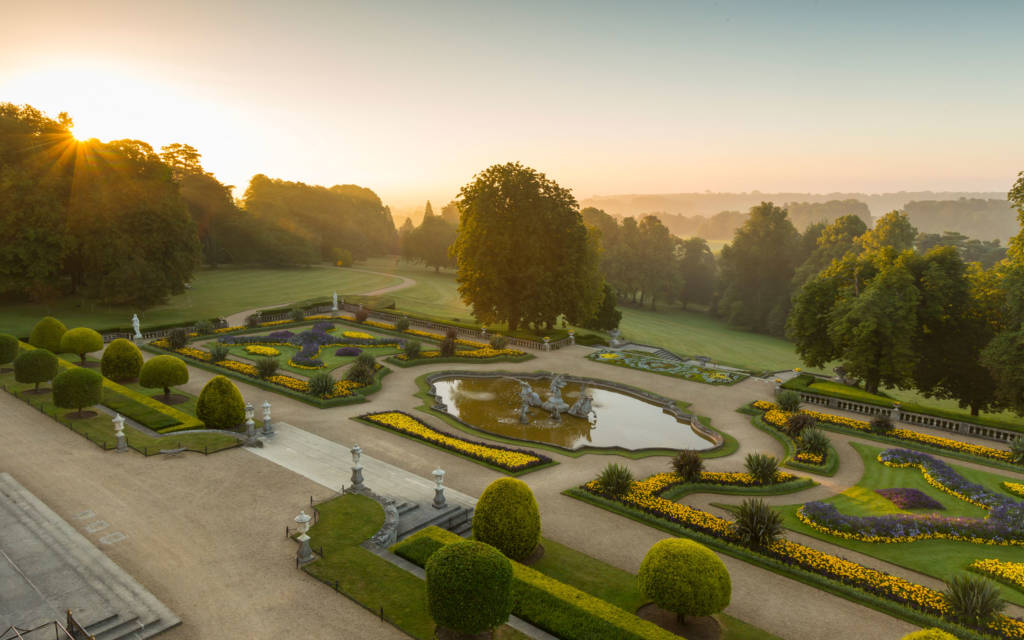 Bring the outdoors in with the impressive Parterre, a French-inspired formal garden. It is a symmetrical pattern of densely-planted beds, ornamented with sculpture and set off by mown grass, neat paths and low clipped hedges. It is usually designed to be seen from above, in our case from the raised terrace and the main reception rooms and bedrooms on the south side of the Manor.
Find out more about Waddesdon's Parterre>
Smoking Room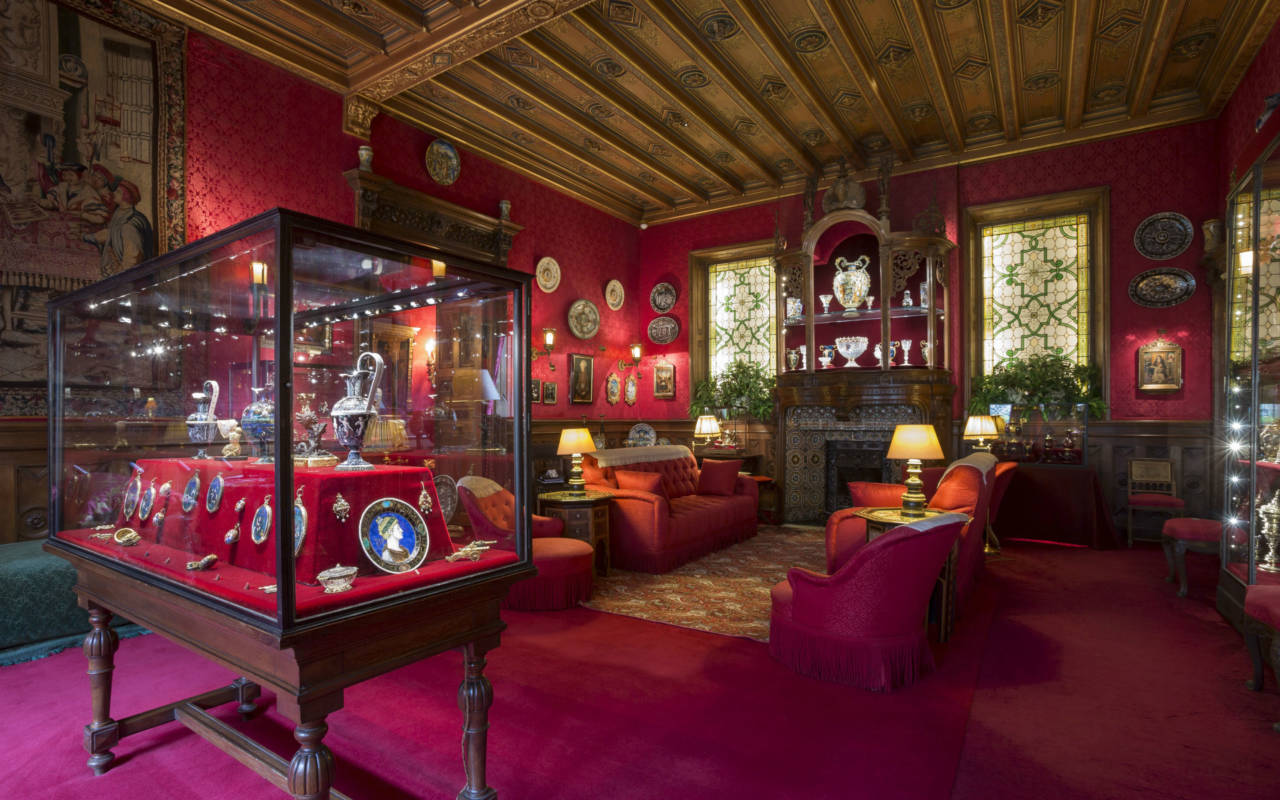 This richly decorated room was where house party guests could smoke after dinner – and perhaps have a game of billiards next door.  Baron Ferdinand also designed this room to display his "Renaissance Museum", an exceptional collection of medieval and Renaissance works of art, inspired by the tradition of the Schatzkammer, or treasure room. It now contains objects collected by other members of the family – Ferdinand's collection was bequeathed to the British Museum on his death, where it can still be seen.
Take a virtual tour of the Bachelor's Wing including the Smoking Room>
David Teniers II's A Village Wake on St. George's Day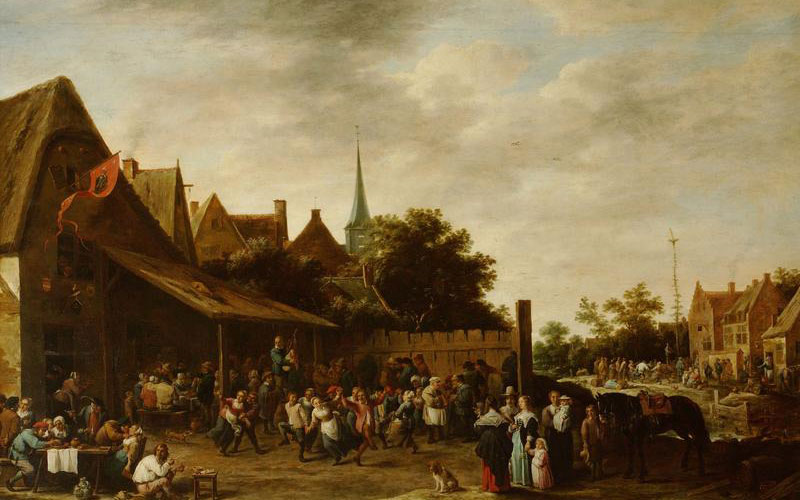 Introduce some festivity to your next virtual cocktail hour with Teniers' large oil painting depicting villagers celebrating the spring festival of the Saint: drinking, dancing and feasting. David Teniers the younger was best known as the leading Flemish genre painter of his day, his scenes almost invariably depicted boisterous, and drunken, celebrations in rural villages.
Learn more about this artwork>
Download Teniers painting image>
Baron's Room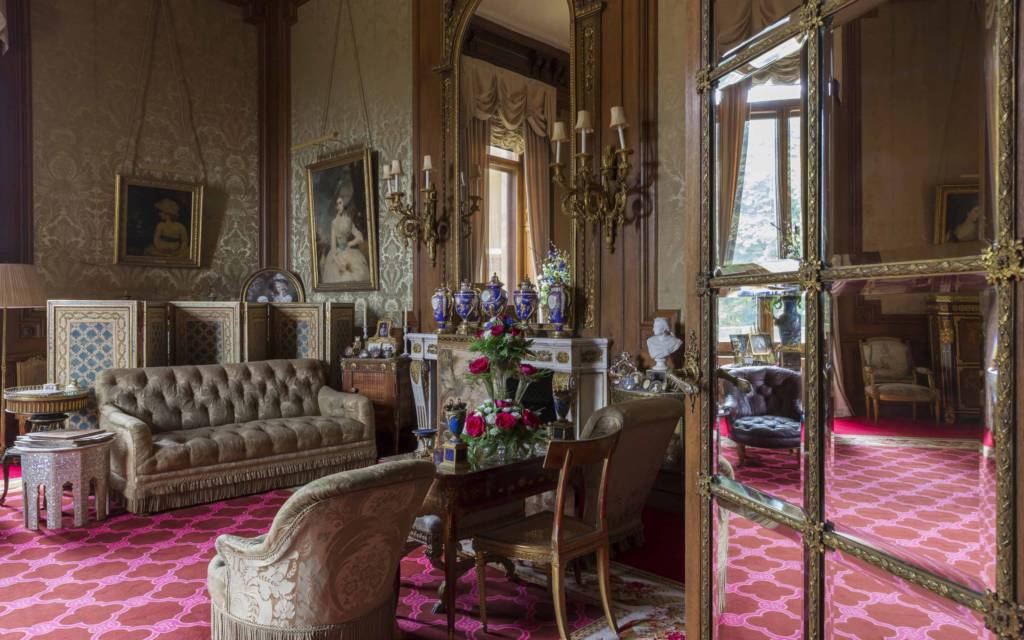 Settle into Baron Ferdinand's inner sanctum – his private sitting room. His bedroom was immediately above, connected by a small service staircase, and the two spaces formed a kind of apartment within the house. Here, where he would sit to read the newspapers (accompanied by his poodle, Poupon) he gathered his favourite works of art, from a portrait of the notorious Emma Hamilton to a desk made for King Louis XVI's private study, to a bust of Queen Victoria, given to him following her visit to Waddesdon in 1890.
Read about Queen Victoria's visit>
Windmill Hill
If 18th-century interiors aren't your cup of tea, what about something more contemporary. This striking building was designed in 2011 by Stephen Marshall Architects of London and houses the archives of the Waddesdon Rothschilds. With spectacular views, this former dairy farm is a place to enjoy contemporary art and architecture and research Waddesdon's history, as well as providing spaces for gatherings and performance.
Read more about Windmill Hill>
Red Drawing Room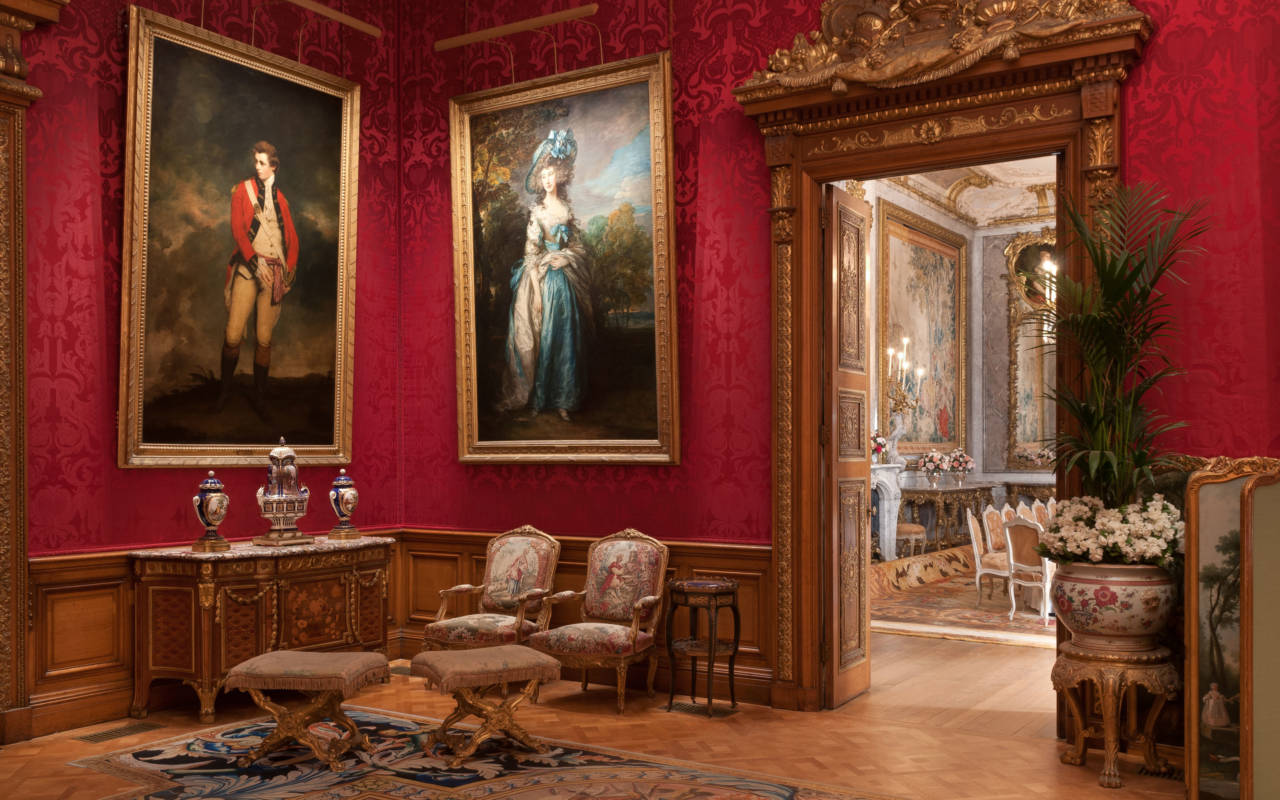 The Red drawing Room was the first room Baron Ferdinand's guests would enter. It is the central room of the house, connecting the main door with the formal gardens to the south. Baron Ferdinand's guests would congregate here before going into dinner in the adjoining Dining Room, whilst admiring portraits by Joshua Reynolds and Thomas Gainsborough.
Explore in more detail with a virtual tour>
Download Red Drawing Room image>
The Aviary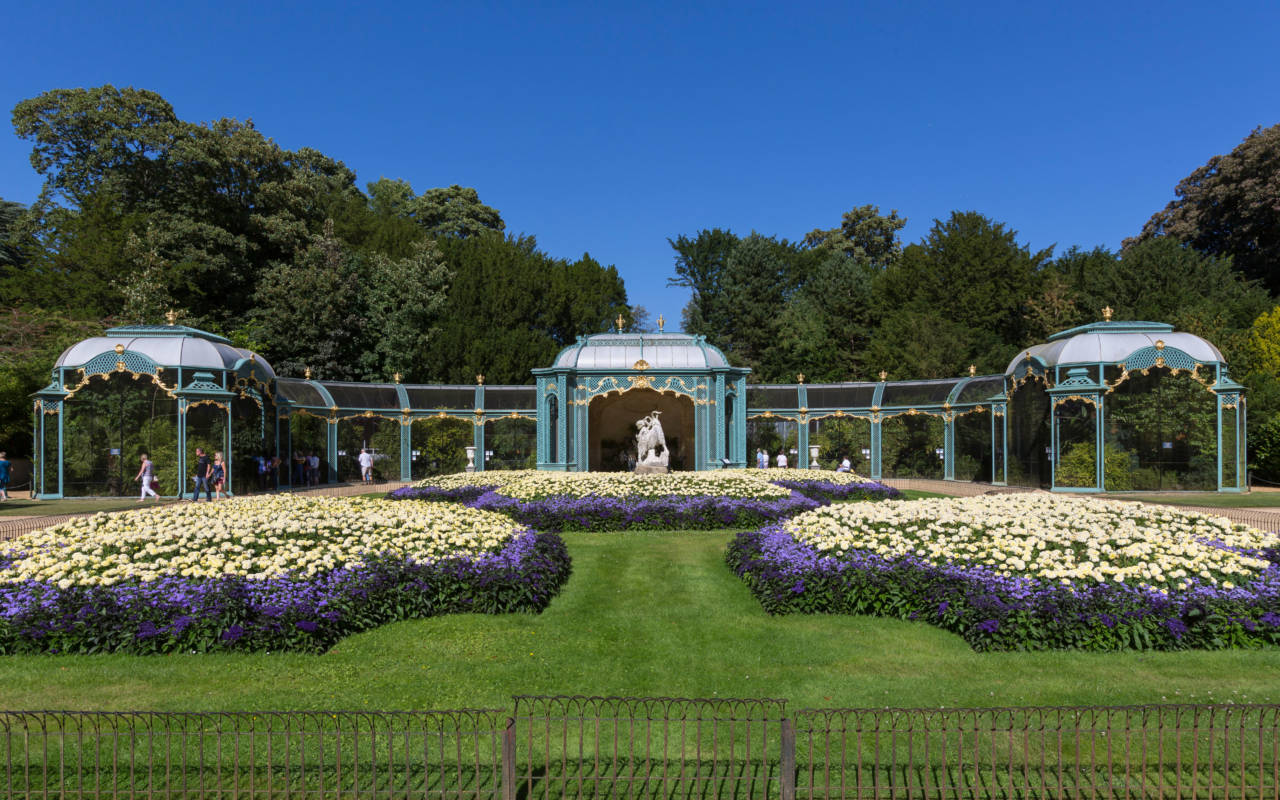 Imagine you're listening to birdsong with the Aviary as your backdrop. Filled with colourful and exotic birds, it was a 'must-see' for Baron Ferdinand's guests when doing a tour of the garden in the 1890s. Baron Ferdinand was particularly fond of the birds, which would be taken out of their enclosures to be fed with treats by him. The Aviary is now a registered zoo, and plays an important part in conservation, breeding endangered species for return to their natural habitats.
Discover more about the Aviary>
Francesco Guardi's The Bacino di San Marco with the Molo and the Doge's Palace, Venice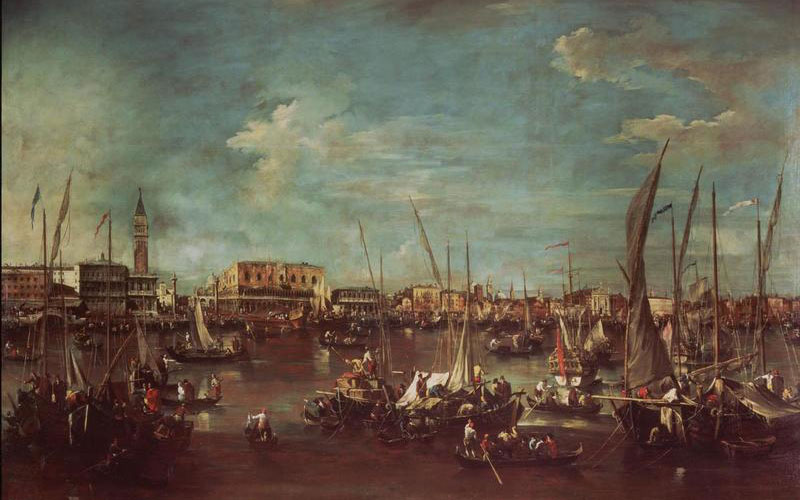 Why not call into your next video meeting from the wonderfully atmospheric waterways of 18th century Venice.  This painting and its companion (The Bacino di San Marco with the Churches of San Giorgio Maggiori and Santa Maria della Salute, Venice) are the largest known works by Francesco Guardi. They are early examples of the real and idealised views of Venice with which he made his reputation. This scene encapsulates the bustling nature of life looking across the Bacino di San Marco towards Saint Mark's Basilica and the Doge's Palace.
Learn more about this painting>
Download Guardi painting image>
Blue Dining Room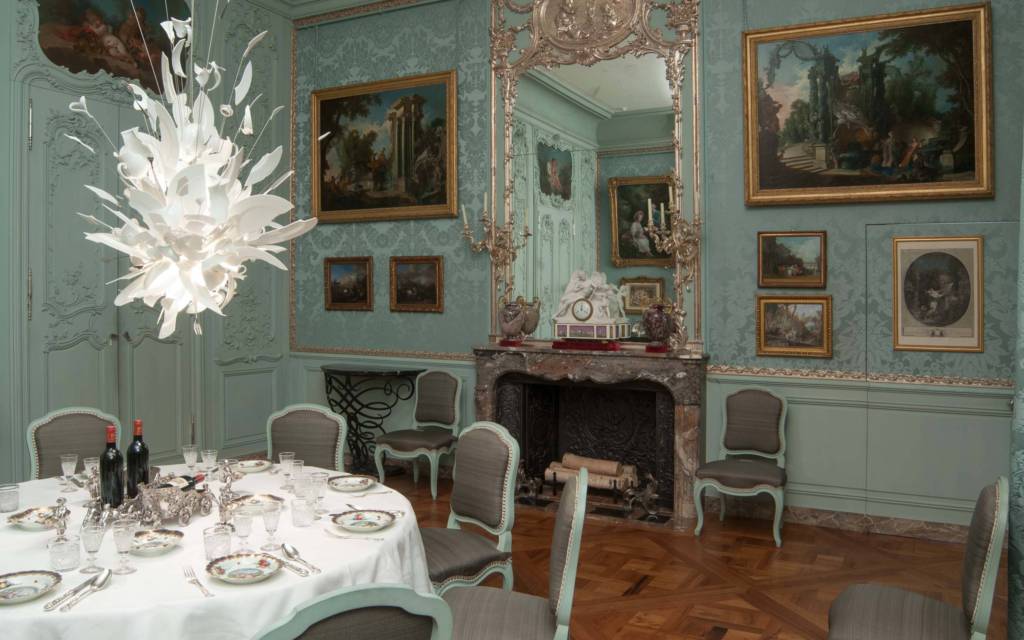 If you're looking to impress, then the Blue Dining Room should do the job. The panelling in the room was made for an 18th-century Paris house, and this is its original colour, traces of which were found during restoration. The room is dominated by Porca Miseria, a chandelier made of broken porcelain and cutlery commissioned for this room in 2003 and created by artist Ingo Maurer.
Read more about Porca Miseria>
Download Blue Dining Room image>
Tower Room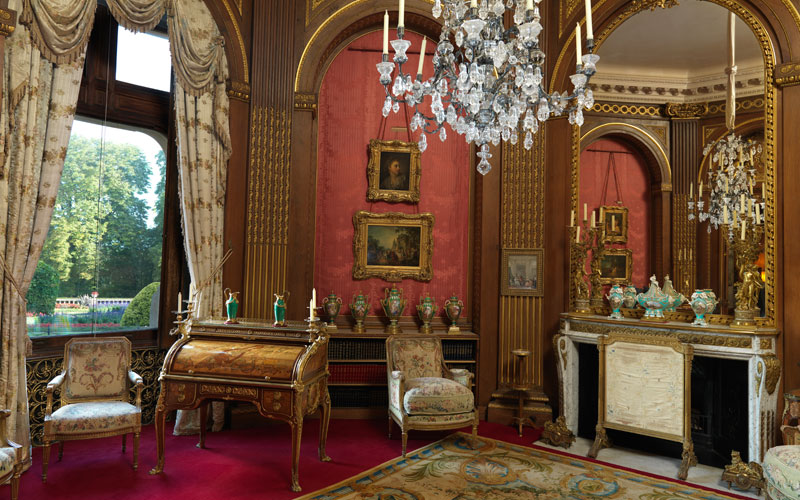 If you're looking for something a bit more intimate, then how about the Tower Drawing Room. This small space at the far end of the house was by invitation only, beyond Baron Ferdinand's private sitting room, so only to be entered by the privileged few. It contained some of the greatest treasures in the house, such as the writing desk made for Queen Marie-Antoinette in 1782, and a roll-top desk made for Louis XV's daughter – one of the Daughters of France, Princess Marie-Adélaïde, both of which stand on a carpet from the Chapel in the palace of Versailles.
See the objects up close with a virtual tour>
Download Tower Drawing Room image>
Manor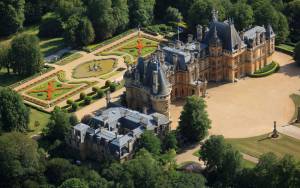 Sometimes more is more. Bring a touch of France to your screens with this incredible aerial shot of the Manor. It was created for Baron Ferdinand and designed by French architect Gabriel-Hippolyte Destailleur, in the style of a French Renaissance châteaux like those in the Loire valley. The foundation stone was laid in 1877 and the house slept in for the first time in 1880. Ferdinand created an instant garden around it, importing mature trees which still line its sweeping lawns.
Discover the history of the House>
Winter Light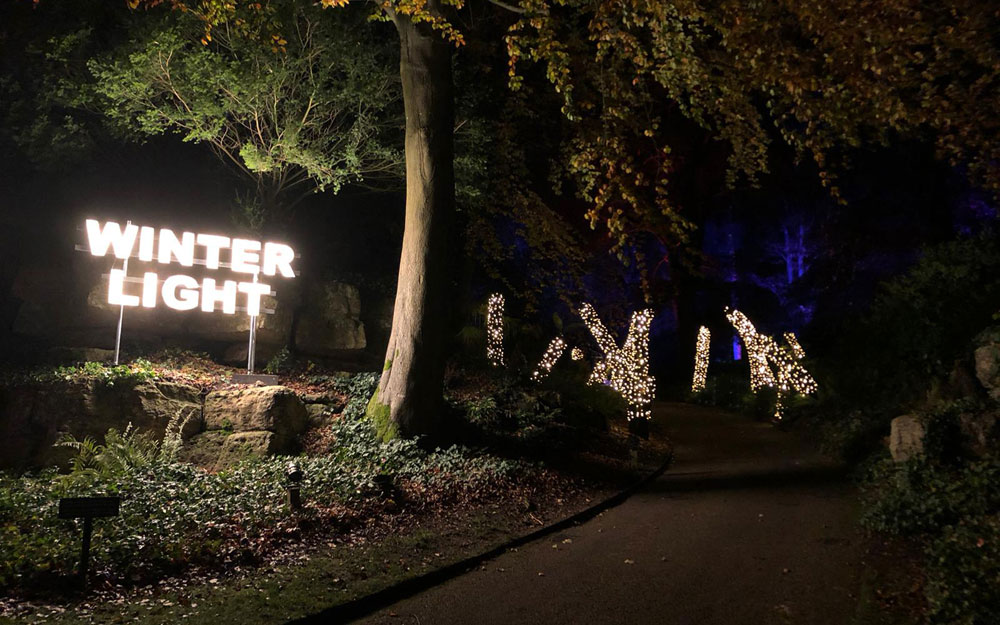 Add some sparkle to your calls with our Winter Light programme. Each year Waddesdon's gardens are transformed with dazzling lights. This Christmas and throughout January follow the Winter Light trail and see the Pleasure Grounds awash with dramatic colour and playful installations.
Read more about the Winter Light programme>