Getting here
Waddesdon Manor is just off the A41 between Bicester and Aylesbury in Buckinghamshire. For Sat Nav users our postcode is HP18 0JH. The main visitor entrance is via Silk Street.
Our address:
Click the Google Map for full directions:
Waddesdon Manor
Waddesdon
Aylesbury
Bucks
HP18 0JH
Tel: 01296 820414
Travel greener
Travel to Waddesdon in a greener way. Take the train and get 2for1 entry. See more on our Good Journey page. *Available with pre-printed voucher and a valid train ticket.
Car free journey
Enjoy a 'car-free' day out. Waddesdon Greenway is a safe 4km pedestrian and cycling path linking Aylesbury Vale Parkway, Waddesdon village and Waddesdon Manor.
By bike
On arrival you'll be directed to our Welcome Pavilion, where you will need to purchase a grounds entry ticket, or show your National Trust membership card. If you wish you may leave your bike in our sheltered rack next to the electric charging points and continue into the grounds via our free shuttle bus. Alternatively, you may cycle up to the Manor along the main entrance road. Please dismount when you reach the closed main gate, and walk your bike through using the side pedestrian gate. Once through this gate you may continue cycling on the entrance road to the North Fountain. At this point a member of staff will show you where to safely leave your bike in a sheltered bike rack.
You may wish to continue cycling to the Stables using the main entrance road where there is another sheltered bike rack in the parking area.
When you are ready to leave, you can cycle down the exit drive, taking a right at the bottom onto Green Lane, and then back to the car park/Greenway, or exit via Silk Street and onto the A41.
See the National Cycle Network for more routes around the UK>
On foot
Please make your way to the Welcome Pavilion in order to purchase your grounds entry tickets or show a valid National Trust membership card. There's a regular free shuttle bus service from the car park to the North Fountain and then to the Stables and finally back to the car park. This runs approximately every five minutes.
Train
Our nearest train station is Aylesbury Vale Parkway. Regular trains run from London Marylebone to Aylesbury and Aylesbury Vale Parkway. Your onward journey from the train station can be made by taxi, bus or via the new Waddesdon Greenway, a safe cycle and walking route joining Aylesbury Vale Parkway to Waddesdon Manor.
To check train times, call 08456 005 165 or visit www.chilternrailways.co.uk
Free Waddesdon shuttle bus from Aylesbury Vale Parkway station
Our shuttle bus service runs from March to October. It restarts in March 2020.
2for1 Grounds Admission Offer
If you're travelling by train you can download a 2for1 grounds admission voucher to use on arrival:
2for1 grounds admission voucher
Car
Journey times vary depending on traffic and road conditions, approximate travel times are:
From London (1-1.5 hours)
M40 Junction 7 towards Thame, via Long Crendon and Upper Winchendon
From Birmingham (1-1.5 hours)
M40 Junction 9 and take the A34 via Bicester, then follow A41 towards Aylesbury
From Oxford (30 mins)
A34 towards Bicester, then follow A41 towards Aylesbury
From Milton Keynes (45 mins)
A5 towards Dunstable, then A4146 via Leighton Buzzard to Aylesbury. Finally A41 towards Bicester
Parking
The 1,000 space visitor car park is free and has dedicated places for Blue Badge holders and family parking. On arrival you'll be directed to our Welcome Pavilion. A regular free shuttle bus transports you to the North Fountain or Stables and back to the car park. You may also walk from the visitor car park to the Manor. This takes around 20 minutes and is on a woodchip path which is steep in places and not suitable for wheelchairs or pushchairs because of the surface.
The last shuttle bus to the car park is 5.30pm.
Premium parking is available at the top of the hill near the North Fountain for those booking House & Grounds tickets. Please call the Box Office on 01296 820414 to reserve a space. Mar-Oct only. £10 per vehicle.
More details>
Electric vehicles
We have four spaces in the visitor car park signposted for the purpose of electric vehicle charging. Spaces are suitable for a 16A EV Type 2 charging socket and are free of charge.
Bus – Red Rose no 16
The local bus runs from Aylesbury to Marsh Gibbon via Waddesdon. Please note: this is an infrequent service and there are no buses on a Sunday. On arrival in Waddesdon village, walk through the main gates on Silk Street and you'll be directed towards the Welcome Pavilion.
Download Red Rose Travel timetable
On arrival at the Welcome Pavilion
All visitors, including cyclists, will be directed to the Welcome Pavilion on arrival where you can purchase admission tickets or have your National Trust, Art Fund or RHS membership cards scanned for free entry.
If you've tickets for the house we suggest you allow 20 minutes for parking and bus transfer prior to your timed entry. This may take longer during busy times at Christmas.
Shuttle bus
There's a regular free shuttle bus service from the car park to the North Fountain and then to the Stables and finally back to the car park, which runs approximately every five minutes. The house, Wine Cellars, Aviary and formal gardens are then a short walk of 200m (on a flat, surfaced path) from the North Fountain bus stop.
There are toilets at the Welcome Pavilion and benches if you have to wait for a bus. Each shuttle bus has space for two wheelchairs or up to five pushchairs without folding them.
The last shuttle bus to the car park is at 6.30pm.
Walking
Walking routes are marked on the map given to you at the Welcome Pavilion. Walking takes around 20 minutes, includes steep inclines and is on a woodchip pathway.
Please note: we have a woodchip path which takes you to and from the car park, and because of the surface it is not suitable for pushchairs, wheelchairs or mobility scooters.
Visitor Information

If you are visiting the house all oversized rucksacks (those with a frame), suitcases, picnic hampers, and food and drink must be left at Visitor Information located near the Manor entrance, where it will be tagged and available to collect at the end of your house visit. All other bags and rucksacks must be carried around the front of you during your visit. Multimedia guides can also be hired from Visitor Information for £3 per handset. Last recommended ticket time is 2.30pm to see the house fully. Last entry to the house is 3.10pm. From this time onwards you may notice our House Stewards start the process of closing for the day.
See Visitor FAQs for more details.
Group visits
Arriving by coach
On arrival, your coach will be shown where to park near the North Fountain, directly at the top of the hill. A member of Waddesdon staff will then board the coach to welcome your group and distribute the pre-arranged house entry tickets. There is then a short walk (100m) on a flat, surfaced path from the fountain to the front of the house. A mobility assistance service, with space for up to 7 passengers is available for those visitors who are unable to walk to the house.
Arriving by car
If your group is arriving in separate cars, please follow the directions to the new visitor car park. Once parked, give your group name to our staff at the Welcome Pavilion, and then take one of our shuttle buses from the car park to the North Fountain. As group organiser you will need to collect your pre-arranged house entry tickets at this point and the National Trust members in your group will need to have their membership cards ready.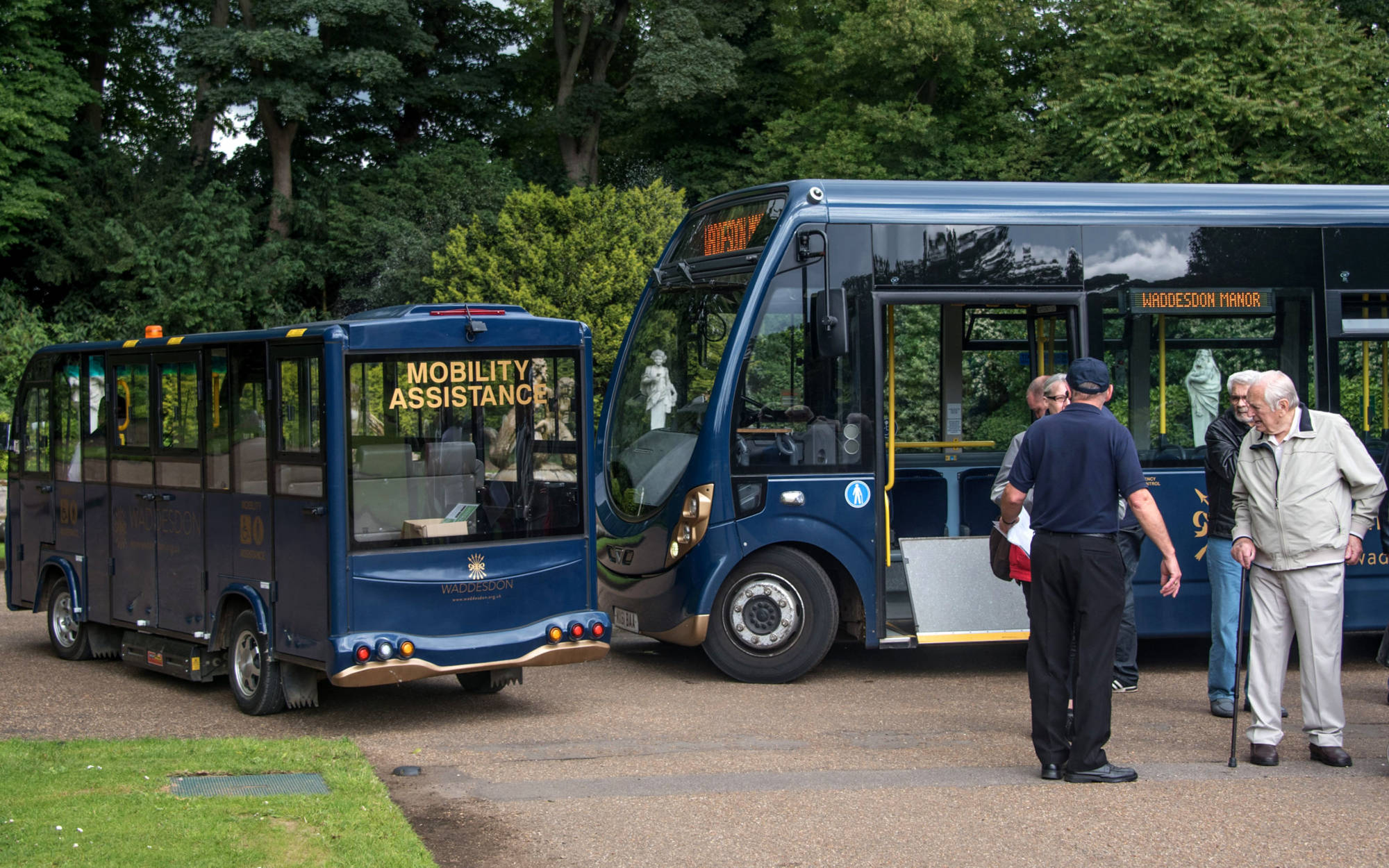 Accessibility
Full details can be found under Your Visit/ Accessibility
We're very happy to help you plan your visit. If there's anything we can do to assist in any way, please call us 01296 820414 or email [email protected]