Current vacancies
Thank you for your interest in working at Waddesdon. See availability and full details for our permanent roles, internships and volunteer positions below.
To apply for any of the permanent roles at Waddesdon Manor please submit a CV and covering letter to [email protected] unless otherwise stated.
Security Officer
The role of Security Officer will be responsible for ensuring Security policy and procedure is followed and maintain the physical security of Waddesdon Manor and its associated properties and estate. You will work closely with the Head of Security and Transport to resolve issues in an efficient manner. This is a customer-facing role within the Security department engaging with visitors and other invited guests with courtesy and professionalism.
Security Officer role profile PDF>
Closing date: 11pm, Fri 22 March 2019
Private Events Executive
The Private Events Executive will be responsible for the creative and efficient management of weddings, corporate and social events at Waddesdon Manor. It will be your duty to ensure all weddings, corporate and social event clients enjoy excellent service from the enquiry stage through to event delivery.
If you're passionate about events planning and management, and enthusiastic about delivering great hospitality then please get in touch.
Private Events Executive role profile PDF>
Closing date: 11pm, Thur 28 February 2019
Bar Supervisor, Five Arrows Hotel & Private Events Catering
An opportunity has arisen for a Bar Supervisor in the recently refurbished bar at the Five Arrows Hotel. Responsibilities include providing an excellent customer drinking experience, being able to create classic and innovative drinks exceeding customer's needs and expectations, and training other team members to man the bar.
Collection Security Assistant - Weekends only
We are looking for a Collection Security Assistant to join our team at weekends. This is a seasonal role from March to October. You will primarily be responsible for ensuring the House and Collection are secured against theft and vandalism when open to the general public. Working closely with the Visitor Engagement Manager and Collection Security Supervisor, you'll ensure security policies and procedures are followed and enacted within the Collection.
Sous Chef, Five Arrows Hotel & Private Events Catering
The old Dairy on the site of the Manor is now used as a banqueting suite with a maximum of 150 covers. It is used primarily for weddings, corporate functions and private parties.
The Five Arrows Hotel is a sixteen bedroom hotel situated in the Buckinghamshire village of Waddesdon. Built in the 1870s by Baron Ferdinand de Rothschild to form part of the model village which was overlooked by his country house, Waddesdon Manor. Today the Manor is owned by the National Trust and a large part of the activity at the property is funded by private Rothschild family trusts.
Your role will be supporting the Head Chef at the Dairy who is responsible, in part, for the food at the Hotel, and for any private functions held in other areas of the Waddesdon operation. Benefits include a matched company pension scheme, and a National Trust staff card which entitles free entry at all National Trust properties and a discount in the shops.
Deadline for applications: 11pm, Sunday 3 Mar 2019
Box Office Sales Manager
The Box Office Sales Manager will be responsible for managing the advance sales functions for general admissions and group visits, all events, and specialist Collection and Conservation Groups. They will support the Education department with managing the booking process for certain school visits. Working as part of a small team, they will be responsible for all types of bookings and reservations, and providing customers with information.
Box Office Sales Manager role profile PDF>
Application deadline: 11pm, Tuesday 19 Feb 2019
First interviews: Friday 1 Mar 2019
Second interviews: w/c 4 Mar 2019
Weekend Housekeeping Supervisor
Five Arrows Hotel Restaurant Supervisor
The Five Arrows Hotel is looking for a Restaurant Supervisor to run the Restaurant on a day to day basis and ensure it achieves excellence in everything.  The Restaurant Supervisor is responsible for implementing all aspects of food policy in the Restaurant.  You will report directly to the Operations Manager and will need to work closely with the Head Chef, to enable the Restaurant to run smoothly.
Kitchen Porter at the Five Arrows Hotel and The Dairy
We are looking for a Kitchen Porter who will help maintain an efficient kitchen within these two busy venues, making sure everything is clean, tidy, safe and hygienic. Providing vital support to our chefs. Ideally you will be passionate about working within hospitality, pay great attention to detail, be able to work under pressure and enjoy being part of a team.
Waiting Staff at the Five Arrows Hotel & Dairy
The main objective of our Waiting Staff is to provide excellent customer service to all visitors to the Five Arrows Hotel and Waddesdon Dairy.  We want to ensure all our customers are happy, feel welcome and receive an excellent customer experience. Duties may include bar work, waiting and clearing tables and room set ups for weddings and corporate events and meetings.
If you're passionate about food and drink, and enthusiastic about delivering great hospitality then please get in touch.
We are currently looking for both part time and full time staff.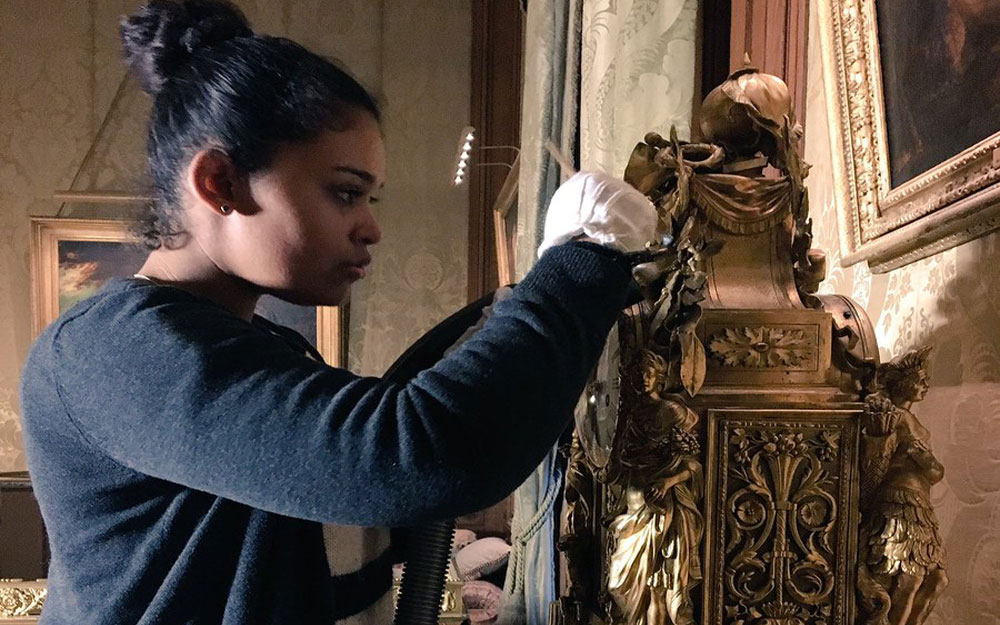 Internships
Our next internship programme will run from July to December 2019. See full role profiles for each vacancy. Application details will be available in early summer.
Volunteers at Waddesdon
At Waddesdon we have around 300 wonderful volunteers and appreciate their invaluable support. Why not consider becoming one of them.