Exhibitions, Online, Walks, talks & tours
Gustave Moreau: curator-led online tour
Online tour Mon 28 June 2021
6pm
Online
Join exhibition curator Juliet Carey for a special tour of Gustave Moreau: The Fables exhibition, the first time in over a century that these masterpieces have been on public display.
Gustave Moreau (1826-98) is one of the most brilliant and influential artists associated with the French Symbolist movement. This exhibition reveals his illustrations of Jean de La Fontaine's Fables, some of the most extraordinary works he ever made, unseen in public for over a century.
The fables will be familiar to British audiences from Aesop's fables, others are derived from traditional European and Asian stories. Moreau's translation of La Fontaine's pithy, canonical work into his own, highly distinctive visual language is a revelation. There are scenes of comedy, satire and tragedy, and the stylistic range of the watercolours encompasses historicism and the picturesque, Orientalist fantasy and near-abstract chromatic experiments.
One early commentator wrote that it was as though their creator 'was a jeweller before he was a painter and who, drunk on colour, had ground up rubies, sapphires, emeralds, topazes, pearls and mother-of-pearl to make his palette.'
---
A zoom link will be emailed to you 24 hours before the event.
Students: please email [email protected] from your academic email to register for a free place.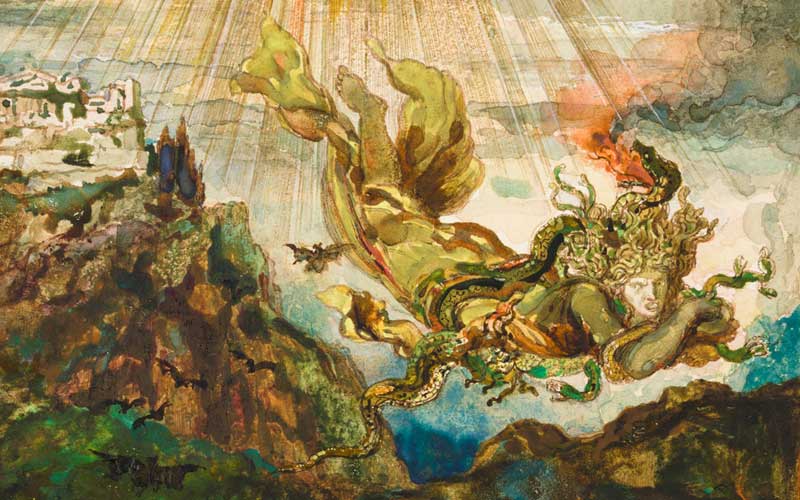 An exhibition of rarely-seen watercolours by one of the most influential artists associated with the French Symbolist movement, that illustrate the 17th-century Fables of Jean de la Fontaine. 16 June – 17 Oct 2021.