Christmas
Christmas Carnival
Thur 27 Dec until Wed 2 Jan 2019
Grounds: 11am-6pm. House: 11.30am-6pm, last entry 5.30pm
Open Mon 31 Dec & Tue 1 Jan
House & Grounds
Christmas 2019 details available later in the year.
Both inside and out, the displays take inspiration from the wondrous festivals and celebrations conjured up by Waddesdon's treasured artworks – from sumptuous feasts, lavish gifts and masked balls to theatre, fancy dress and fairy tales – there is something for everyone at the Christmas Carnival.
Bring the family and share a festive day out gazing at the decorated house, indulging in celebratory foods and shopping for gifts.
From dusk, the grounds will come to life with a new light show created by the Guildhall School, projected onto the Stables and inspired by the objects, architecture and gardens of Waddesdon. Beyond the Aviary you'll discover a light trail that playfully combines colour, sound and movement, and the Manor's facade will also be bathed in light.
Open Thur 27 Dec until 2 Jan 2019 and Mon 31 & Tue 1 Jan
Grounds
11am-6pm, Wed-Sun
From dusk: light trail, Guildhall School projections, Manor illuminations
House
11.30am-6pm, last entry 5.30pm
House tickets available for 29-31 Dec & 1-2 Jan 2019
Pre-booking required
All other House tickets Sold Out
Rooms in the East Wing & Bachelors' Wing decorated for Christmas
House Tickets
Pre-booking essential. Limited availability 29-31 Dec & 1-2 Jan 2019
All other house tickets Sold Out
(Some rooms beautifully decorated, the rest of the house is 'put to bed' for conservation and cleaning)
Unmissable Christmas Carnival highlights
Take a peek at or magical lighting displays at the Stables
The whole day was absolutely wonderful. The Manor is truly an exquisite masterpiece. The lighting display around the aviary was breath-taking.

Visitor feedback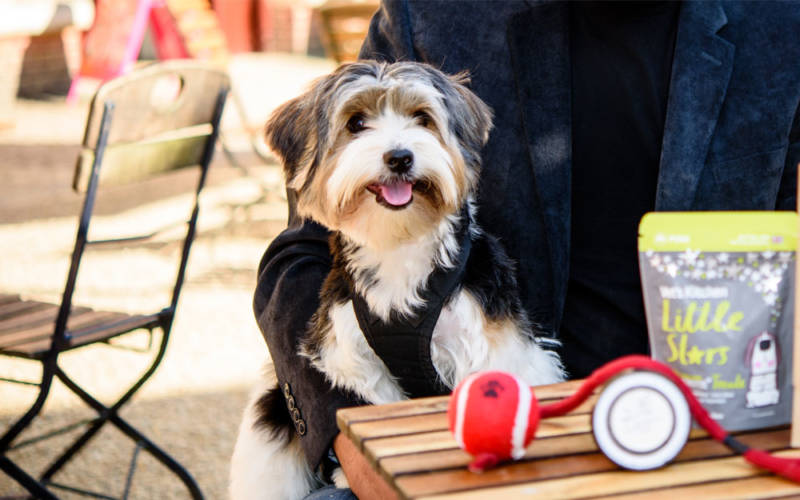 At Christmas, dogs are allowed anywhere in the grounds (including the Christmas fair) with the exception of the Aviary, Parterre, Woodland Playground and the Tunnel of Light. Please check out our doggy do's and don'ts.
Family fun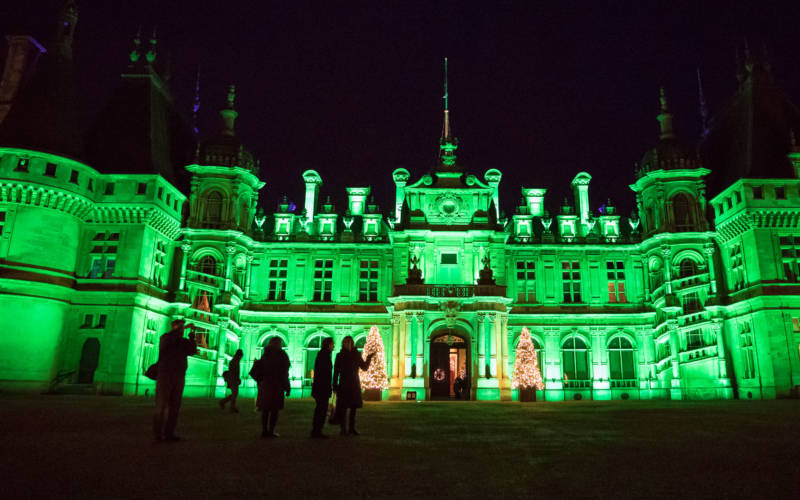 From dusk-6pm, Wed-Sun, until 2 Jan 2019
As daylight fades to dusk, the Manor's facade will come to life as coloured light splay across the architecture highlighting Waddesdon's distinctive decorative features. All set to festive music.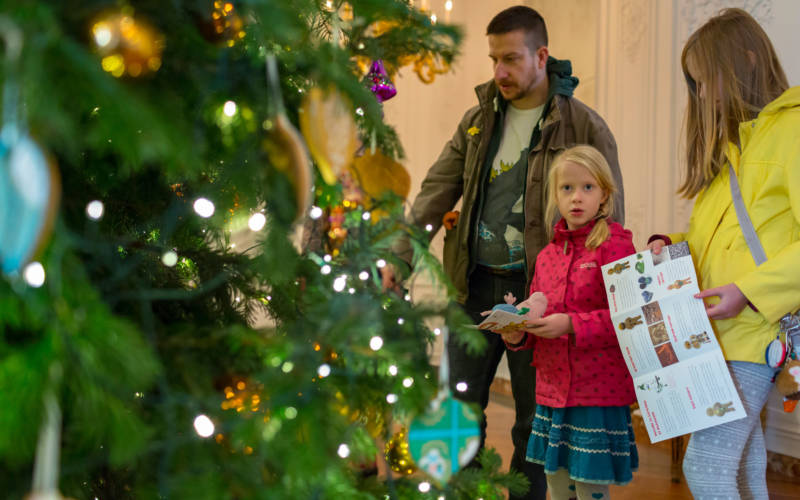 11.30am-6pm, until 2 Jan 2019
Pick up one of our free Christmas Carnival trails at the house entrance and all the family can join in the fun discovering unusual aspects of the collection. Free with children's house tickets.
We've plenty of places for you to eat this Christmas, with take-away options, seating indoors and outdoors, homemade stews and sweet treats.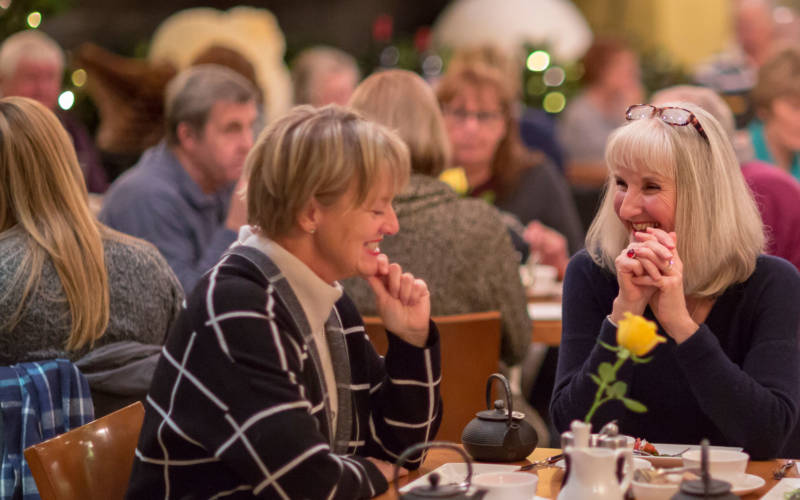 12pm-2.30pm, Wed-Sun, until 2 Jan 2019
Enjoy a delicious festive lunch in the Manor Restaurant this Christmas.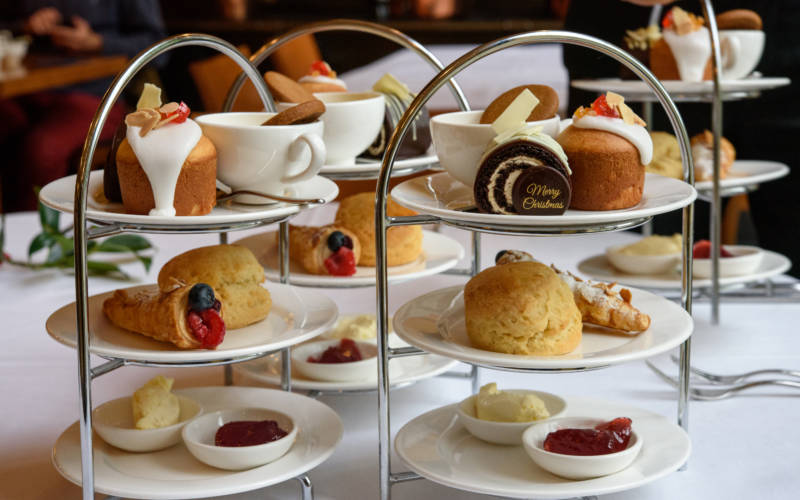 12pm-4.30pm, Wed-Sun, until 2 Jan 2019
Savoury treats and delicious sweet fancies, created in-house by Craig, our talented head pâtissier, served with a glass of prosecco.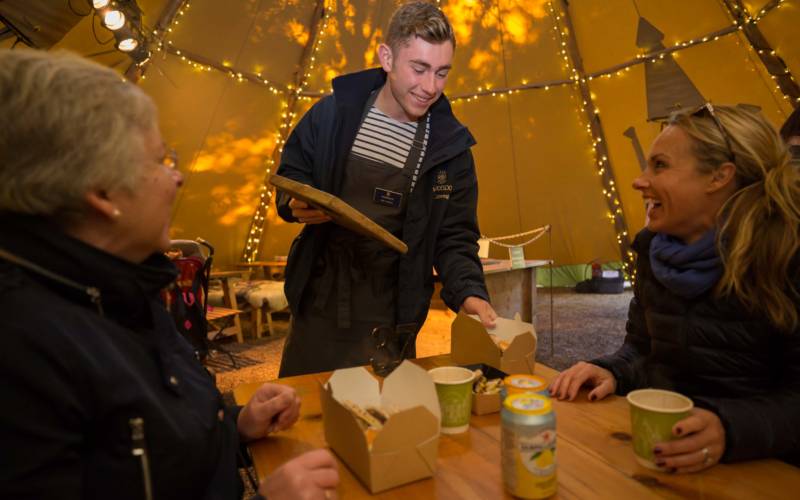 11am-5pm, Wed-Sun, until 2 Jan 2019
Snuggle up in our Winter Wigwam with sheepskin rugs and wool blankets. Be warmed by one of our hearty seasonal hot pots, made in house by our Chefs, choose from beef stew, vegan curry and options for the kids.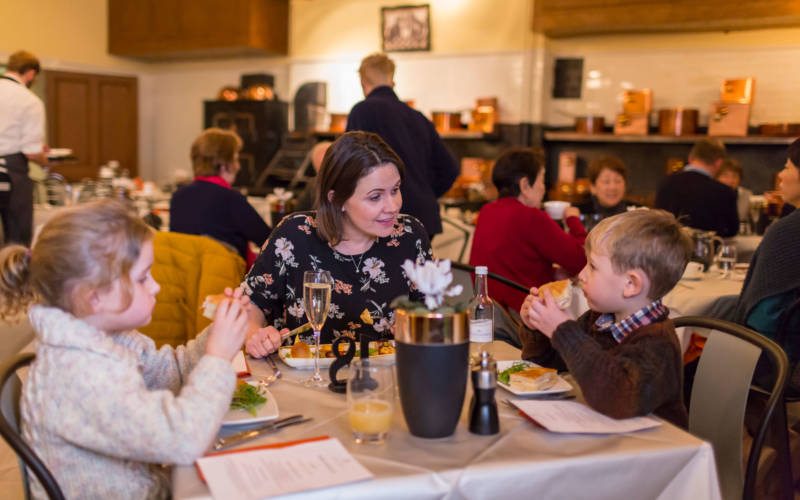 12pm-2.30pm, Wed-Sun, until 2 Jan 2019
The whole family can join in and enjoy a delicious festive lunch in the Manor Restaurant this Christmas.
12pm-4.30pm, Wed-Sun, until 2 Jan 2019
Treat the kids to their own special afternoon tea inspired by 'Poupon' Baron Ferdinand's beloved black poodle.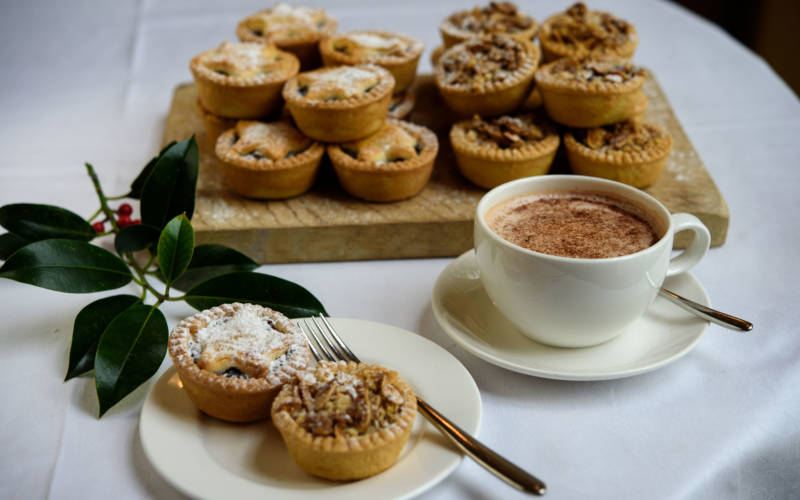 11am-6pm, Wed-Sun, until 2 Jan 2019
Near to the Woodland Playground, just a short walk from the Manor, the Stables Café is informal and ideal for families. You can choose to sit indoors in our light and airy space, or brave the winter weather and eat outdoors in the Courtyard, snuggled under warm blankets and sheepskin rugs.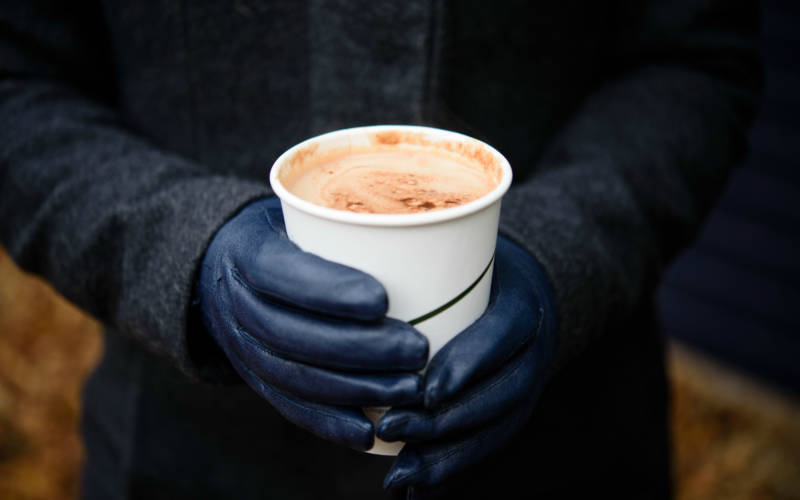 11am-6pm, Wed-Sun, until 2 Jan 2019
You'll find selection of seasonal hot pots, soup, festive cakes, mulled wine and goodies for children.
The afternoon tea was delicious, I had taken a friend for her 80th birthday and we were not disappointed the food and service was first class.

Visitor feedback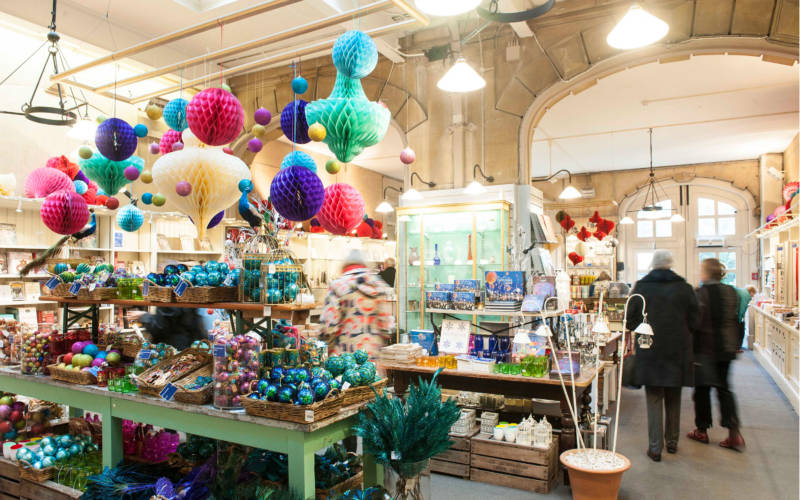 Open 11am-6pm, Wed-Sun, until 2 Jan 2019
You'll find an exclusive range of bespoke jewellery, homeware, scarves, bags and more which have all been developed from objects in our collection.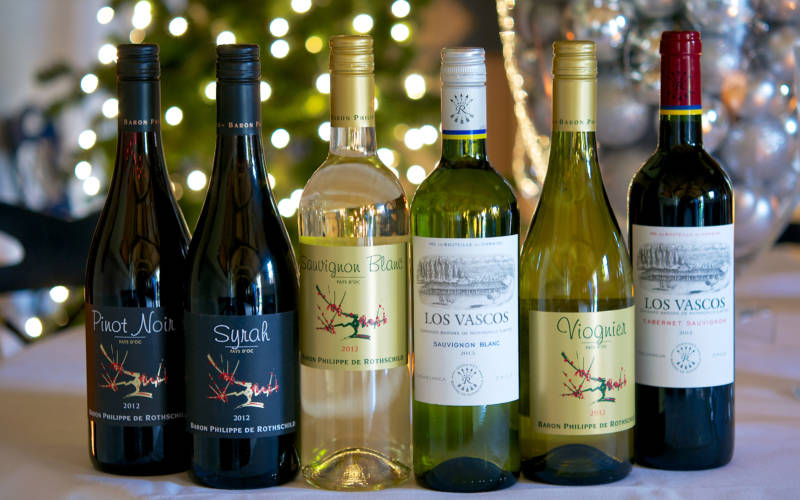 Open 11am-6pm, Wed-Sun, until 2 Jan 2019
Festively decorated and stocked full of great wines for your Christmas and New Year celebrations. Choose from individual bottles to boxed gift cases.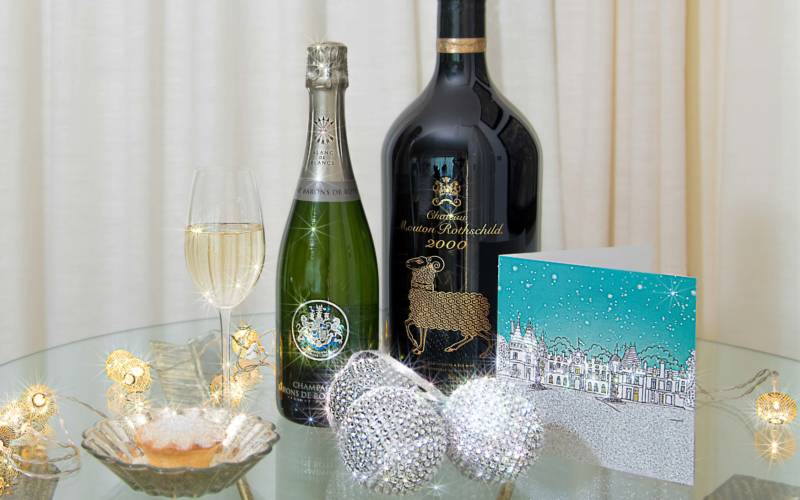 Always open
A great selection of unique gift ideas, food items, stationery and books. Together with our impressive range of Waddesdon own and guest wines. Perfect for Christmas presents.
Party the night away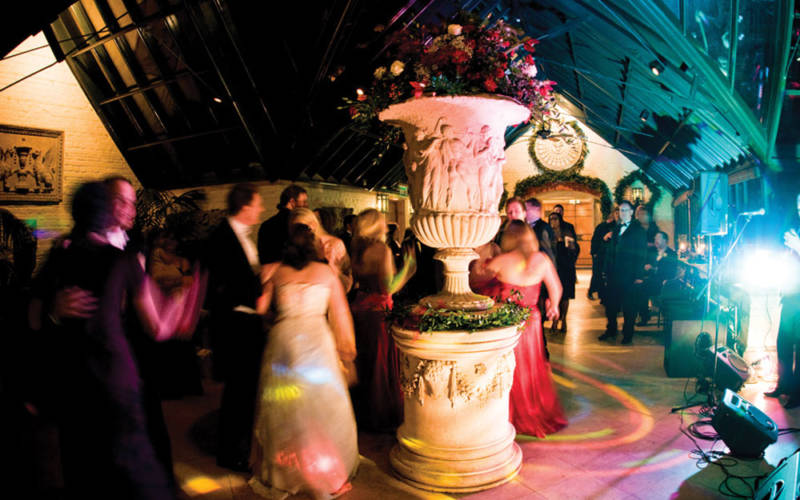 We offer a unique atmosphere at Christmas time and the perfect venue for your party, with both the Dairy and Five Arrows Hotel offering Christmas party packages.
Become a member of the National Trust at Waddesdon
When booking your ticket to Waddesdon online, you now have the option to become a member of the National Trust.
Receive free entry to over 500 special places including Waddesdon, free parking at most National Trust car parks, National Trust handbook full of ideas to plan a visit, National Trust magazine three times a year and regular newsletters to your inbox.
Here's how:
first select the date you'd like to visit Waddesdon
at 'Step 1', click 'show all ticket types'
choose 'Join the National Trust on the day', with options for both adult and child
proceed with your booking journey
on the day of your visit, upon completion of your membership form at our Welcome Pavilion, you'll become a National Trust member