Recipes from Waddesdon's Archive
To celebrate National Baking Week we've delved into our archives to bring you some delicious recipes to try at home.
We visited the archives at Waddesdon where Head Archivist Catherine Taylor showed us some of the historic recipes we hold, from coffee jelly and champagne sorbet to chocolate pudding and apple clafoutis. Dating from around 1920 to 1950, when James and Dorothy de Rothschild owned Waddesdon, the recipes would have been used by the chefs who worked in Waddesdon's kitchens.
We've picked a few of our favourites to share with you below. Why not have a go at baking one? We'd love to see the results!
1. Fruit cake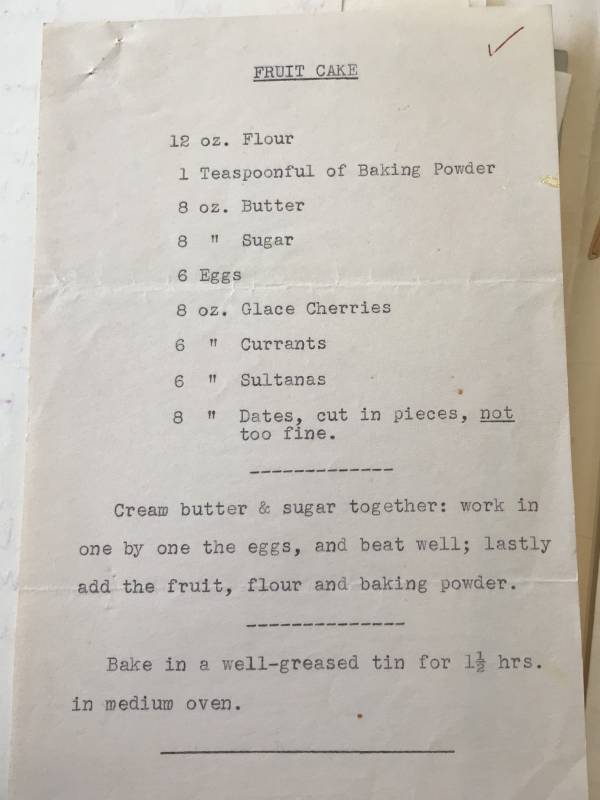 Ingredients: 12 oz flour,  1 tsp baking powder, 8 oz butter, 8oz sugar, 6 eggs, 8oz glace cherries, 6 oz currants, 6 oz sultanas, 8 oz dates (cut into pieces, not too fine)
Cream the butter and sugar together
Work in the eggs one by one and beat well
Add the fruit, flour and baking powder
Bake in a well greased tin for 1 1/2 hours at a medium heat
2. Chocolate cake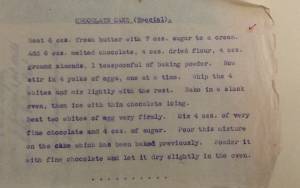 Cake ingredients: 6 oz butter, 7oz sugar, 6oz melted chocolate, 4oz flour, 4oz ground almonds, 1 tsp baking powder, 4 Eggs
Cream the butter and sugar together
Add melted chocolate, flour, ground almonds, and baking powder
Stir four egg yolks into the mixture one at a time
Whip four egg whites and mix into the rest of the mixture lightly
Bake in the oven
Icing ingredients: 2 egg whites, 4oz fine chocolate, 4 oz sugar
Beat two egg whites very firmly
Mix in 4oz of fine chocolate and 4oz of sugar
Pour this over the cake when baked
Let it dry
3. Ginger nuts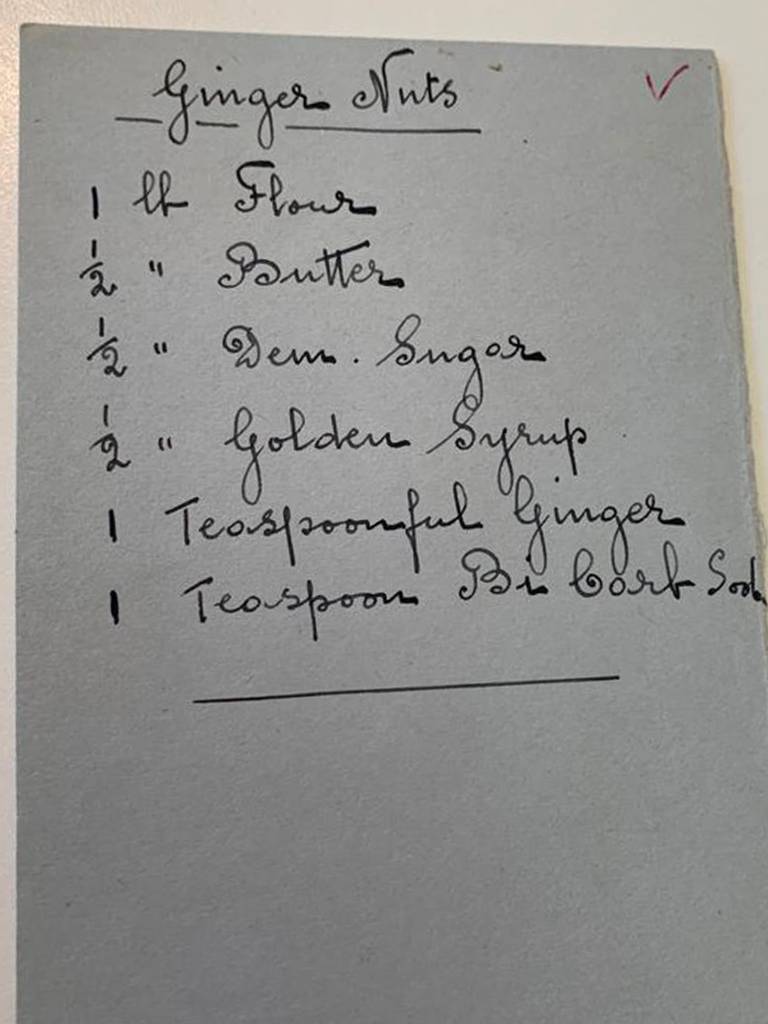 1 lb flour, 1/2 lb butter, 1/2 lb demerara sugar, 1/2 lb golden syrup, 1 tsp ginger, 1 tsp bicarbonate Soda
4. Guards pudding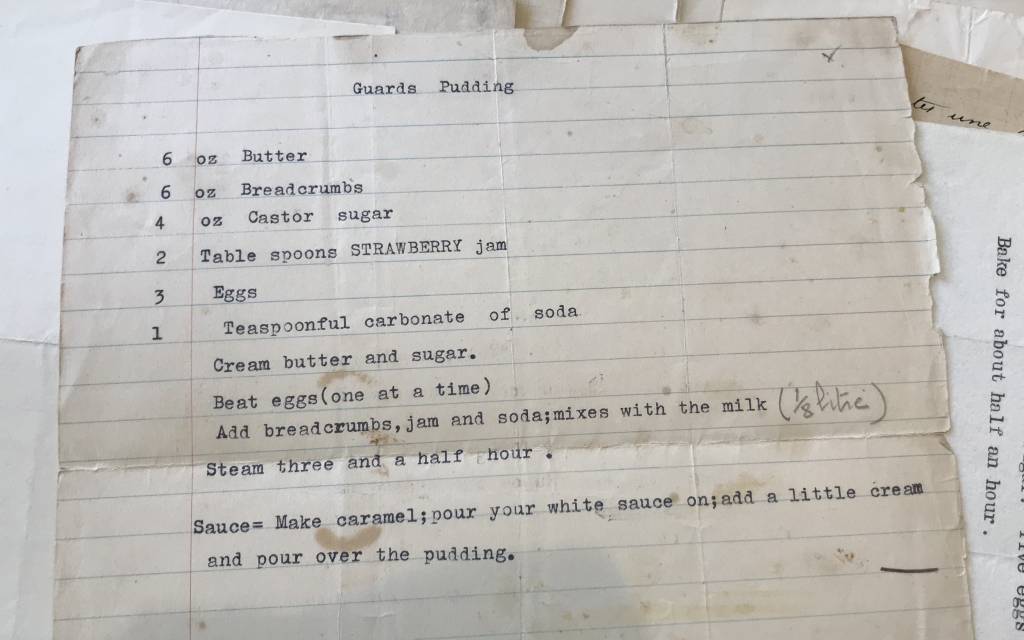 Ingredients: 6oz butter, 6oz breadcrumbs, 4oz caster sugar, 2 tbsp strawberry jam, 3 eggs, 1 tsp bicarbonate soda, 1/8 litre (125ml) Milk
Cream butter and sugar together
Beat in eggs one at a time
Add breadcrumbs, jam and soda
Mix with the milk
Steam for three and a half hours
5. Coffee jelly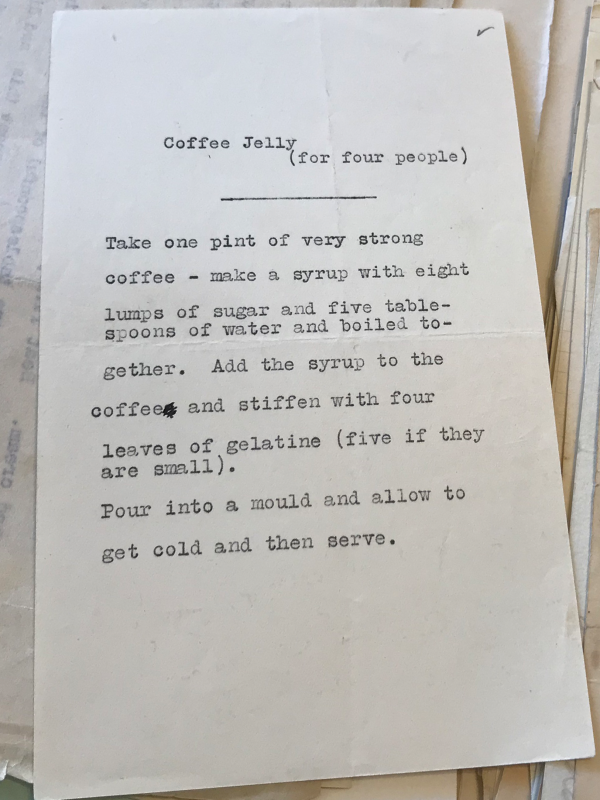 Ingredients: 1 pint of strong coffee, 8 lumps (each lump between 3-6 grams) of sugar, 5 tbsp water, 4 leaves of gelatine (5 if small)
Boil together the sugar and water to make a syrup
Add the syrup to the pint of coffee
Stiffen this mixture with the gelatine
Pour into a mould and allow to get cold, then serve
Why not give one of these recipes a try, we'd love to see the results. Share them with us by using #mywaddesdon or tag us @WaddesdonManor. Get Baking!