Feast: a taste of history
Feast is inspired by Waddesdon's history of entertainment and Baron Ferdinand's annual Baron's Treat for local children, held in the garden.
Waddesdon has a history steeped in hospitality. Built for entertaining, particularly Baron Ferdinand's famous 'Saturday to Monday' parties, attended by family, friends and the great and good of Victorian society, Ferdinand also welcomed local people from the estate and village for an annual celebration.
The event began as a modest picnic, but by the 1880s it had become a festival at which the girls in attendance wore scarlet cloaks and hats presented to them each year by Ferdinand's sister, Alice. The day began with a procession of children from the main gates up to the House preceded by a local militia band. There were marquees, performances, fairground rides and dancing in the evening – including, it was reported, the Baron himself.
These details appeared in the local newspaper, the Bucks Herald on Wednesday 19 May 1880. It reported that 'great excitement had prevailed for a few days in anticipation of having the opportunity to roam at pleasure in the beautiful grounds in which the mansion is situated. The procession, headed by the Aylesbury Rifle Band, left Waddesdon just after 1 o'clock. Six waggons were kindly sent by the Baron to convey the younger children to the park. The first wagon contained the children from Over Winchendon. This was a very pleasing effect, all the girls being dressed in scarlet cloaks and hats, which are given yearly to them by the Baron's sister, Miss Alice de Rothschild…Through the extreme kindness and liberality of the Baron about 1500 partook of tea.'
After Ferdinand's death in 1897, his sister Alice inherited the estate, and continued to host the annual parties, on a slightly smaller scale. The summer of 1914, the outbreak of World War I, saw the last annual Baron's Treat, with 1,500 children attending.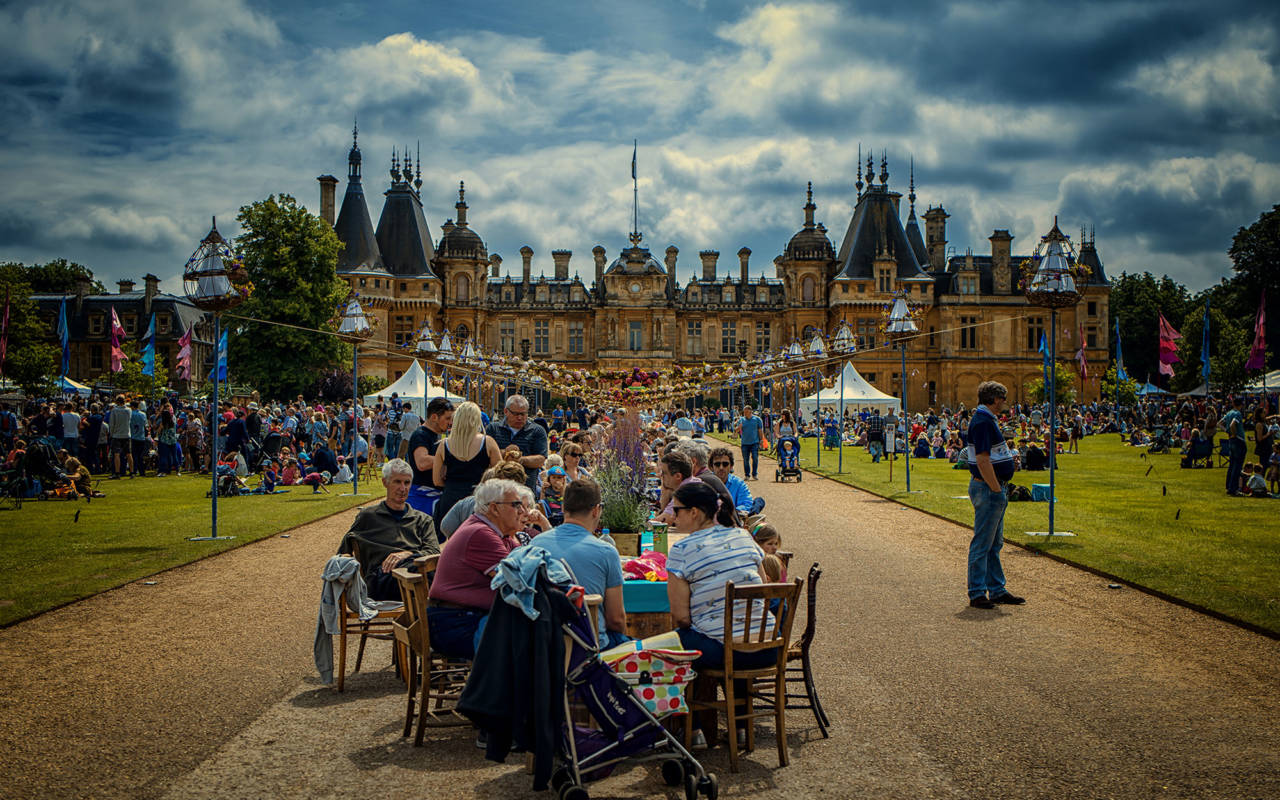 In 2015 we launched Feast, a festival inspired by the Baron's Treat. The combination of food and performing arts is a deliberate reference to the entertainments put on by Ferdinand with many of the acts and activities relating directly to an aspect of the original events, such as roaming bands and dancing acts. This year there will be over 70 handpicked artisan food stalls and a line-up of international performers including a comedy chef duo, circus-inspired dance and Dixieland style jazz.
Join us over 17 & 18 June to celebrate our modern take on this historic treat.