On the eighth day of Christmas my true love sent to me...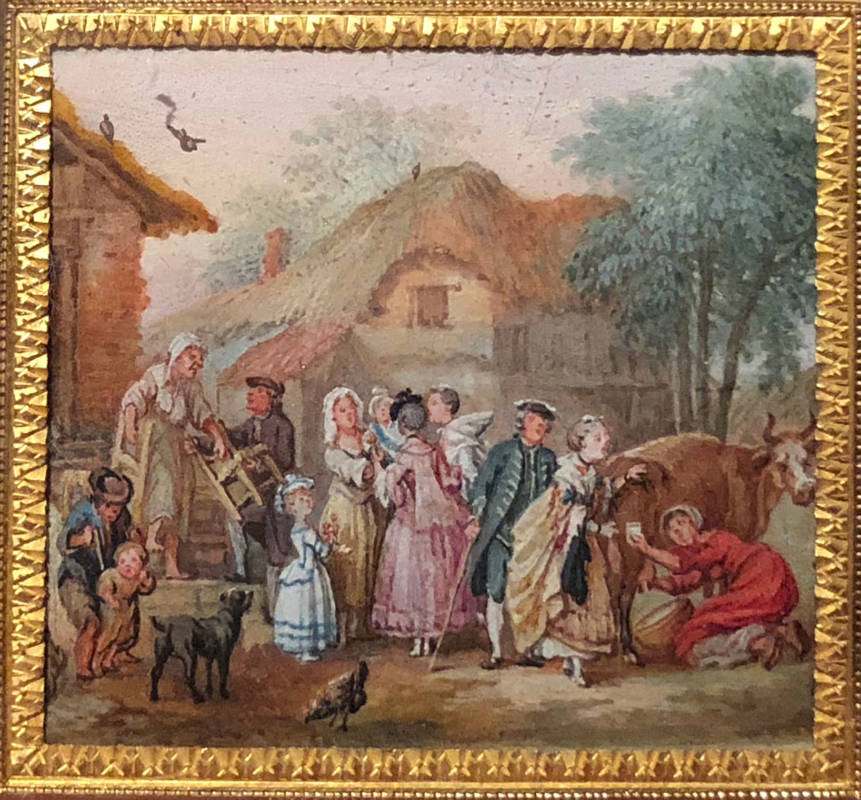 Attributed to Louis Nicolas van Blarenberghe (1716-1794) or Henri Joseph van Blarenberghe (1741-1826), Country scene, c. 1750-1755, France, 42 x 44mm (including frame), acc. no. 2638.1
Eight maids a-milking
One of a pair of miniatures attributed to Louis-Nicolas van Blarenberghe or Henri-Joseph van Blarenberghe, this scene of country life depicts a group of people who appear to be from different backgrounds. The milkmaid can be seen in a red dress kneeling before a brown cow. She passes a glass of milk to a well-dressed lady accompanied by a gentleman in blue. On the far right we see an old lady descending some steps carrying two simple wooden chairs. She and the children in front of her wear brown unrefined garments and are barefoot. The smallest child on the left is in direct contrast to the young girl in the left of centre who wears a pretty blue and white dress and white shoes. She seems to be carrying flowers. The scene presents contrasts of rich and poor but still maintains a rosy view of rural life.
This was an object made for a person much wealthier than the milkmaid depicted and can therefore be situated in a specific eighteenth-century context of the aristocracy and royalty idealising the life of the rural working classes, particularly the milkmaid. Marie Antoinette's penchant for dressing as a milkmaid and churning butter at her 'pleasure dairy', a pseudo rustic hamlet at Versailles is well-known. Unlike the actual dairy at Versailles, the furnishings at Marie Antoinette's pleasure dairy were made of expensive white marble and the room was fitted with a sumptuous set of gilded porcelain. This, Meredith Martin argues, was part of a long-standing tradition of milky aristocratic imaginings that began with Catherine de Medici at the Court of Fontainebleau in the mid-sixteenth century. [1]
As the American minister to France Gouverneur Morris accusingly wrote during the 1789 Revolution, 'Royalty has endeavoured to conceal itself from its own Eye, but the attempt is vain. A Dairy furnished with the Porcelaine of Sévres is a semblance too splendid of rural life'. [2]
[1] M. Martin, Dairy Queens, The Politics of Pastoral Architecture from Catherine de Medici to Marie- Antoinette, (2011), pp.3-4.
[2] Gouverneur Morris, A Diary of the French Revolution May 14, 1789, quoted in Martin, Dairy Queens, p.159.