On the twelfth day of Christmas my true love sent to me...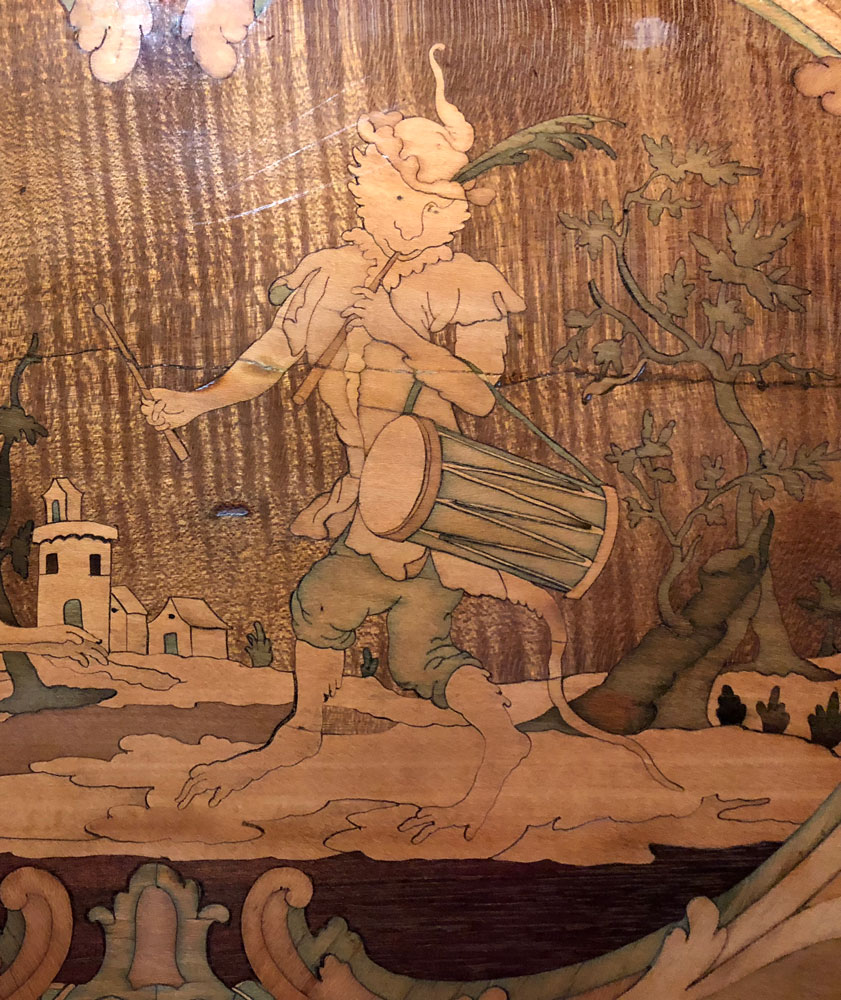 Table, c. 1760, France; oak, with tulipwood and purplewood; holly, boxwood, sycamore and purplewood and gilt bronze, 727 x 532 x 310mm; acc. no. 3472
Twelve drummers drumming
This detail from a tabletop of an eighteenth-century French table (c. 1760) depicts two monkeys playing percussion. One beats his drum and plays a recorder while the other dances while he taps his tambourine high above his head. The former wears a hat adorned with a long feather. The tambourine player raises his foot as if to stomp towards his partner yet his head turns away. The dynamic torsion of his body adds a sense of energy to an otherwise calm and simple landscape. Behind them we see sparse trees and a group of small houses.
This scene is made in marquetry, a decorative technique in which veneers (thin slices) of exotic and coloured woods are cut out into patterns or pictures, and stuck to a piece of furniture.  The woods used include purplewood, holly, green- and grey-stained sycamore and boxwood. Unfortunately, eighteenth-century French marquetry bleaches and discolours in daylight, but the colours would have originally been much more vivid.
The marquetry scene and trophies on the top derive from two separate books of engravings published in Paris in the mid eighteenth-century. The monkey scene is taken from two engravings, entitled Le Tambour de Basque and Le Tambourin by Jean Baptiste Guélard, c 1730-1760 after designs by Christophe Huet (died 1759.) They are Numbers 10 and 11 of the second of two series of twelve prints of Huet's compositions, both entitled Singeries ou Differentes Actions de la Vie Humaine Representées par des Singes Dediées au Public. Gravées sur les desseins de C. Huet par J. Guélard.  This series, which depicted monkeys performing human actions, probably antedates 1741, the year that the third set engraved by Pierre Filloeil was advertised for sale in the Mercure de France.[1] Indeed, it was very common for prints such as these to be used as source material by artists and artisans for all sorts of decorative arts.
[1] G. de Bellaigue, Furniture Clocks and Gilt Bronzes, The James A. De Rothschild Collection at Waddesdon Mannor, 2 vols, i (London, 1974), p.466.