Adding to your Grounds booking
If you have already ordered your timed Grounds admission and now want to add any extra visitors, bus, parking, house or exhibition tickets, or to treat yourself to an afternoon tea, please follow these instructions.
First, please contact [email protected] forwarding a copy of your existing booking (not just the reference number please). Unfortunately, we cannot make additions to your booking on your behalf, however, we will send you a unique single-use code (ADD-XXXXXXXXXXX) to enable you to add to your booking, and where tickets are available, you will be able to order and pay for them online.
On receipt of your code:
Select the date and time of your existing booking
In the lower of the two 'enter your code here' boxes at the top of the page, insert the unique code – ADD-XXXXXXXXXXX – and select the 'Go –>' button
Click the 'Grounds Admission' heading and then select 1 from the orange 'Grounds: Add to order' dropdown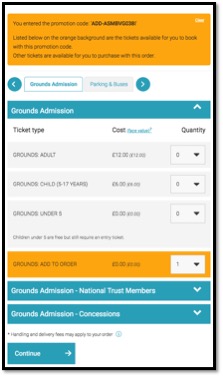 You can then add more adult, child, concession tickets, shuttle bus and parking tickets if you wish
Press 'Continue –>' to move on to Add House, exhibition, event and afternoon tea tickets to your basket, by selecting the appropriate buttons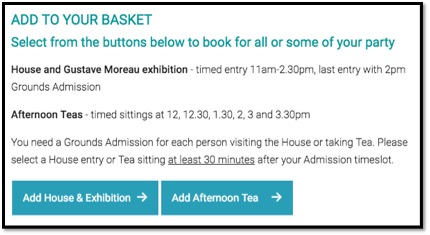 Please select a House or Tea ticket at least 30 minutes after your admission timeslot from the options you are offered.
Admissions to the House are in 15-minute arrival slots.

If you want to check your order use the 'Return to Your Basket' button just below the picture
Finally, check your basket contents and 'Checkout ­­–>'
Your new additional tickets will be emailed to you with a new order number. Please make sure you bring both the new tickets and your original tickets with you to be scanned on arrival at Waddesdon