Outdoors
Zip Wire with The Great Big Tree Climbing Company
Wed 19-Mon 31 Aug 2020 (excluding Mon 24 & Tue 25 Aug)
10.15am-5pm
Aviary
Experience daffodil valley from a birds perspective as you 'zip' through the wild flowers with The Great Big Tree Climbing Company. Get outdoors, feel the wind against your face as this exhilarating venture will make you smile as you fly through Waddesdon's tremendous trees.
Two highly skilled and friendly instructors from The Great Big Tree Climbing Co will help you reach new heights, as you fly for 200 metres across the wildflowers of Daffodil Valley. Whilst being securely attached in a harness at all times, participants from aged 8 years old and above will gain an exhilarating experience of the tree canopy which can't be found on the ground. If you're feeling brave, join us for this memorable aerial adventure.
We encourage the whole family to participate or feel free to watch and photograph that special moment your child ziplines through a canopy of Beech, Oak and European fir trees for the first time.
Each session is run for up to 15 people, creating a unique and intimate experience, surrounded by Waddesdon's natural beauty. Please make sure you wear closed toe shoes and suitable clothing.
Suitable for ages 8 to 100!
Find your date
Grounds admission will need to be purchased in addition to the tree climbing event.
Frequently asked questions/important things to know
Answers supplied by The Great Big Tree Climbing Co:
What is the minimum age to enter the event?
Participants must be a minimum of 8 years old.
Is it suitable for adults?
Yes it most definitely is. Furthermore we thoroughly recommend adults participate alongside the children they are accompanying.
What should we wear?
We recommend you wear comfortable and practical outdoor clothing. Some participants prefer to wear trousers and long sleeves to avoid being scratched by rough bark; however this is personal preference. Furthermore please dress appropriately for the weather conditions. Footwear should have a good grip, such as trainers or walking boots.
How long is a session?
One hour
How much does a session cost?
£12.50
I am accompanying my children, do I buy a ticket for myself?
No, you only need to buy one if you are planning to participate in the ziplining. If you plan to just watch you do not need a ticket.
Can I take photos on the day?
Of course you can. We encourage you to share your best ones on our Facebook page too. If you sign our photo permission slip we may take photos of you or your children and put them on Facebook.
What time should I arrive?
Please arrive 15 minutes before the time stated on your ticket.
What are the safety arrangements?
At The Great Big Tree Climbing Company we want our climbers to feel safe at all times. Each climber will be fitted with a harness and helmet. During any of our activities carried out at height the participants are always securely attached to a safety line. All climbers will have constant supervision from our instructors and will be instructed throughout the climb.
What if TGBTC cancels the event?
Tree climbing is weather-dependent and all climbing is at the discretion of TGBTC. If there are severe weather conditions that may affect your safety and wellbeing, the session will be postponed or cancelled at no cost to you. In the rare instance that it may be necessary, TGBTC reserve the right to cancel the activity where conditions prevent safe participation or where insufficient bookings or participant cancellation make the activity unworkable. TGBTC reserves the right to refuse any bookings without giving a reason. Occasionally TGBTC has to make changes and/or correct errors on our website and tariff both before and after bookings have been confirmed.
Passionate about trees?
The Great Big Tree Climbing Company are passionate about trees and the environment.
Trees are not damaged in any way, collaborating with Hawes Arborists to best understand how to handle a tree.
How do we do this?
The ropes run through a cambian saver to ensure there is no rubbing or damage to the tree branches. All of our trees undergo a detailed inspection and in addition Team Leaders on the day use a generic tree inspection form. This ensures that we do not miss any recent damage or structural issues of the tree which could compromise the safety of participants.
How do we protect wildlife?
During the nesting season we take particular care not to disrupt nesting birds.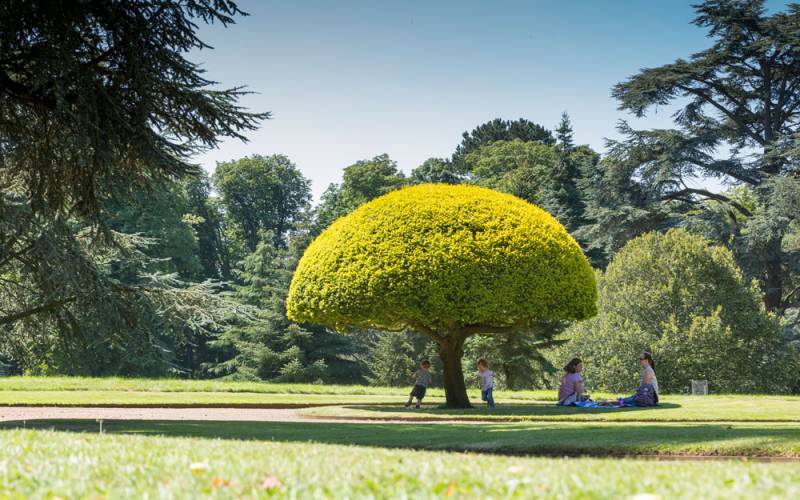 Within the grounds at Waddesdon are some tremendous trees with a captivating and rich botanical history – and we're excited to share with you a new way to explore them. Whether visiting in person or remotely you can now take an online walk around Waddesdon with our interactive trail.