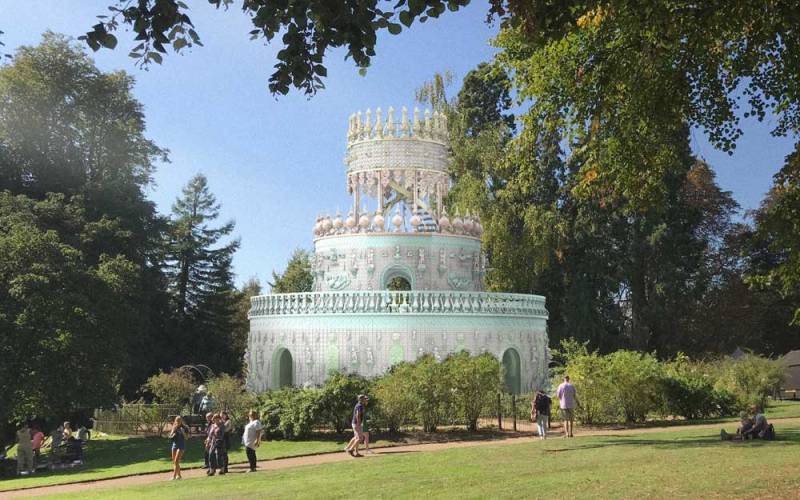 Art & architecure
Wedding Cake, Joana Vasconcelos
Opening autumn 2020
10am-5pm, Wed-Sun
Garden
Wedding Cake a 12m high ceramic sculptural pavilion in the form of a wedding cake is a major new Rothschild Foundation commission from celebrated Portuguese artist Joana Vasconcelos.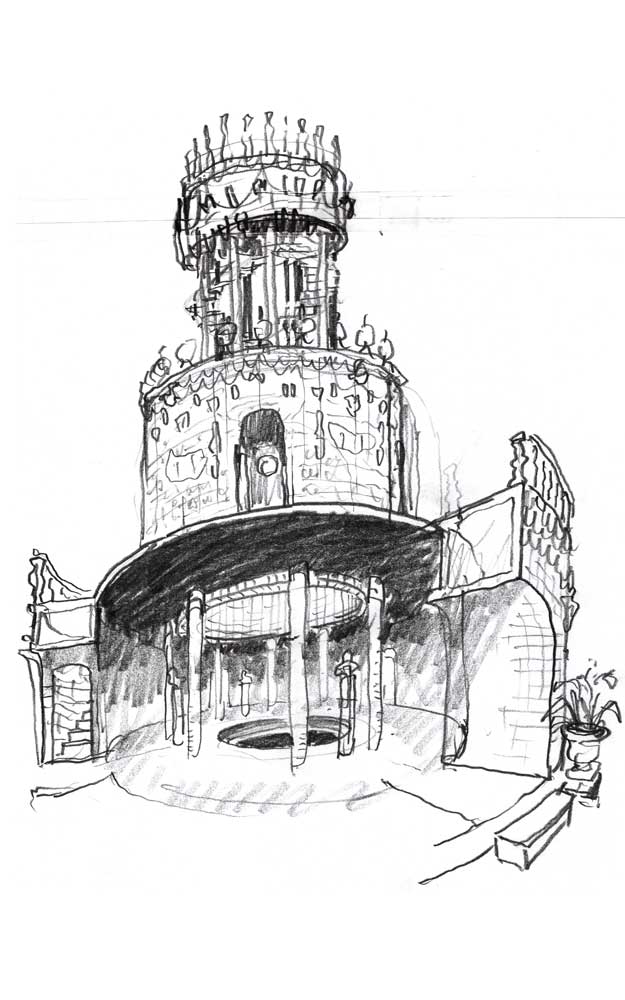 Part sculpture, part architectural garden folly, it is an extraordinary structure which celebrates festivity and marriage. It is inspired by the exuberant Baroque buildings and decorative ceramic traditions of Lisbon, where Vasconcelos lives and works.
Hard, gleaming and icing-like ceramic tile on the outside, the interior is a soft, sensory confection of textiles, intricate, richly textured and hand-worked. At Waddesdon, it sits at the heart of the re-designed Rose Garden, within sight of the gilded cast iron Aviary, reminding visitors of the history of placing fanciful buildings in gardens and landscapes.
This combination of hard and soft, ceramic and textile is one of the defining characteristics of Vasconcelos' practice. Her work is often playful, manipulating scale to dramatic effect and using familiar daily objects in surprising, charming and inventive ways – a giant shoe made of saucepans and lids, or a walk-in teapot made of wrought iron.
At Waddesdon, this combination of materials and the exploration of scale and technique is a perfect fit. The house is famous for its ceramics, particularly Sèvres and Meissen porcelain, whilst opulent fabrics, tapestries, carpets and furnishings can be found in every room.
Joana Vasconcelos at Waddesdon
Vasconcelos' Lafite, two giant candlesticks made of illuminated Château Lafite Rothschild magnums, commissioned in 2015 by the Rothschild Foundation stand outside the Manor and celebrate the family associations to the world of great Bordeaux wine. In 2012, her Pavilon de Thé, a giant wrought-iron tea pot, was the focal point of House of Cards, a contemporary sculpture exhibition in the gardens, and in 2016  her Cup Cake (2011) was exhibited on the North Front.