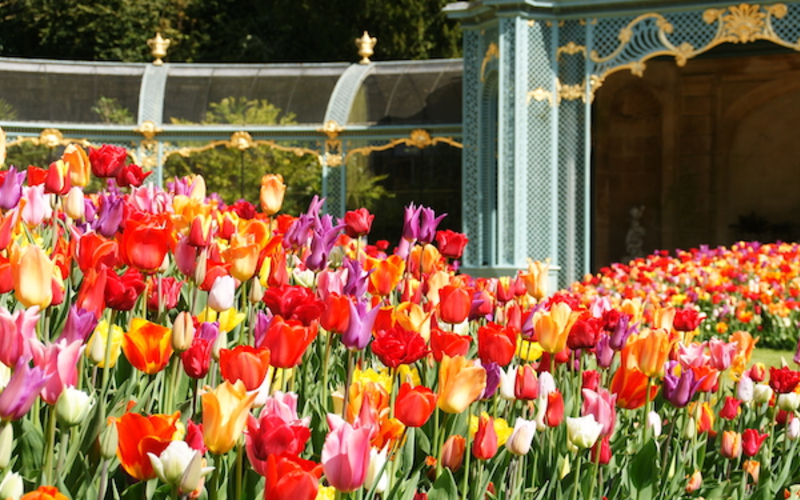 Online talk
Spring colour in the gardens
Online talk Sat 3 Apr 2021
6pm
Online
Join Mike Buffin, Head of Gardens at Waddesdon and author of The Illustrated Guide to Garden Trees, for a live tour of the gardens showing Waddesdon's colourful bulb displays.
The focus of the tour will be the magnificent display of 32,500 tulips, planted in the formal bedding around the Aviary in 2019, and sadly seen by no one but a handful of gardeners and essential workers at the Manor last Spring.
Mike will also show you a colourful trail around Tulip Patch, which despite its name, has not featured tulips since Baron Ferdinand de Rothschild's day at the turn of the last century. Archive records describe how colourful tulips were lifted from the formal Parterre after flowering and replanted along this woodland path where they naturalised making a less 'showy' scheme.
You will see the carpet of yellow in Daffodil Valley and Upper Deer Pen areas planted with 36,000 bulbs last year when carefully managed groups of local school children joined forces with Waddesdon gardeners. These are in addition to the flowers that have been growing in Daffodil Valley for over 100 years, planted by James and Dorothy in memory of Alice de Rothschild.
We hope the conditions be right to show you the first of the purple alliums and possibly our bluebells too.
---
A link for this zoom talk will be emailed 24 hours before the event.