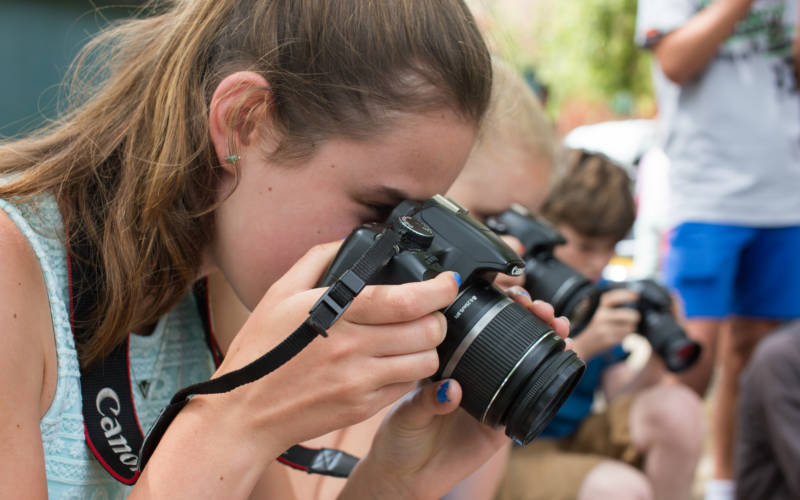 Families
Summer Kids and Teens Photography workshop
Wed 29 July-Fri 31 July 2020
10am-4pm
Grounds
Children can learn all about photography on this 3 day course.
Sharp Shots Photo Club will be teaching a three day course of exciting, inspiring and fun photography for children ages 10-15. Your teen will learn how a camera works, what exposure means, how to use depth of field, shutter speed, and the fundamentals of composing an amazing photograph.
Each day they will learn new skills, building up their course portfolio for a photographic exhibition at the end of day 3, where parents will be invited to attend and celebrate their children's amazing work.
Please bring your own packed lunch. £180 per child for three days. Camera rental is available for £20 please call 01296 820414 to arrange.
Course details
Day 1 –Aperture
Today's course will be an introduction to photography , we will teach out students how to use their cameras technically, explaining how a camera works, and how their cameras actually produce the photographs they take. We will focus on using depth of field, aperture and perspective. We'll then go out and put it in practice by taking sharp wildlife and nature photographs in the wonderful surroundings.
Day 2 – Shutter Speed
It's all about action today, and capturing it on our cameras. We will cover what shutter speed means and how to take sharp action shots vs long exposures. We will run, jump and possibly splash to produce great action photographs. There will be torches ready to draw with light, so the children understand how a long exposure works too.
Day 3 – Composition
On top of understanding how a camera works, today we will teach your child how to compose an interesting photograph. By introducing the children to famous photographer's images, we will discuss the rules of composition and inspire the kids to go out and create their own masterpieces in the beautiful grounds of Waddesdon Manor.
The children will assess their images created over the 3 days at Waddesdon choosing their top 3 to print out for the exhibition. If they rent a camera, they will receive their images via email the week after the course.
** Parents are invited to attend our exhibition on the last day starting at 3.15pm.