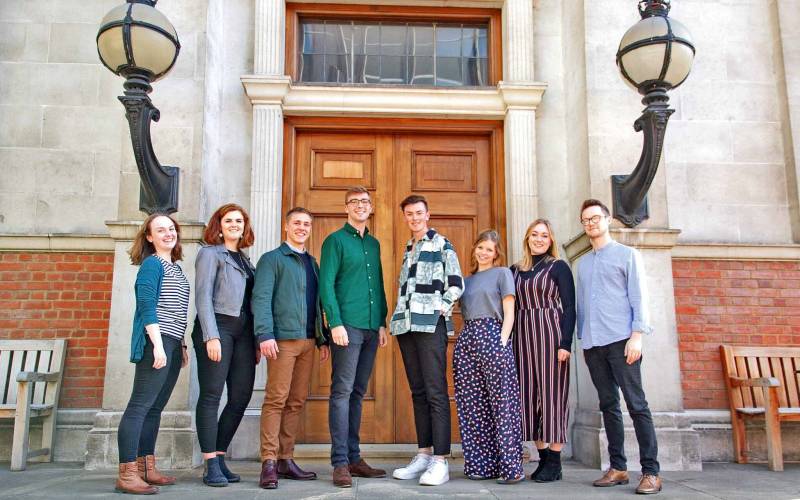 Evening, Music, film & theatre
National Youth Choir of Great Britain Fellowship Octet
Sat 13 July 2019
7.30pm
Windmill Hill
The NYCGB Fellowship makes a welcome return to Waddesdon following their thrilling recital last year. Join these excellent young singers for an evening of acapella choral music in the ideal acoustic of Windmill Hill.
Gabriella Noble – Soprano
Danni O'Neill – Soprano
Ailsa Campbell – Soprano
Clare Sutherland – Alto
Jack Harberd – Tenor
Benedict Munden – Tenor
George Cook – Baritone
Sam Gilliatt – Baritone
Launched in 2015, the NYCGB Fellowship Programme is a training scheme for aspiring choral musicians which develops solo and ensemble performance technique, teaching and leadership skills, and professional skills and networks. Eight Fellows aged 18-24 are selected annually from open auditions.
This year's NYCGB Fellowship Octet presents a kaleidoscope of music written or arranged for voices spanning many centuries, continents and musical genres. From sacred and secular music from Renaissance Europe to a cappella arrangements of songs from legendary groups Queen and Simon & Garfunkel, interspersed with folk songs, African chants and choral classics by Brahms, Vaughan Williams and MacMillan, the Fellows will dazzle with their vocal vertuosity and stylish singing.
Programme
Factus est Repente – Macmillan
Egos flos campi – Guerrero
Laudibus in Sanctis – Byrd
Fest- und Gedenkspruche – Brahms
Faire is the Heaven – Harris
Star of the County Down – Arr. Ben Parry
Love Bade Me Welcome – Weir
Kelele – Arr. Toby Young
Approx 37 mins
Interval
Bogoroditse devo – Part
Three Shakespeare Songs – Vaughan Williams
Caliban's Song – Hamilton
Anima mia perdona – Montervedi
Ave Jesu Christe – Philips
O primavera – Monteverdi
America – Arr. Swingle Singers
All The Things You Are – Arr. Harry Baker
Good Old Fashioned Lover Boy – Arr. Sam Gilliatt
Miserere – Macmillan
Approx 48 mins