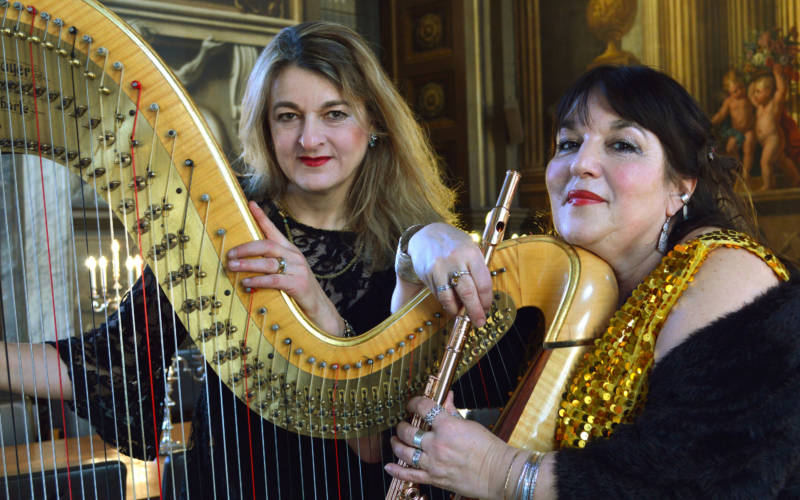 Concerts
Music at Windmill Hill: Flute and Harp Concert
Sat 2 June 2018
Doors 6.30pm
Concert 7.30pm
Windmill Hill
Join us for a series of memorable musical concerts in the spectacular setting of Windmill Hill at Waddesdon.
Anna Noakes (flute), Gabriella Dall'Olio (harp) and Roger Chase (viola) present a programme of the most romantic repertoire, featuring one of Debussy's final works in the year of his centenary. All the music, whether it be of French, Irish or South American flavours, will thrill, excite and melt the heart on this summer's evening in the beautiful surroundings of Windmill Hill.
The programme will include Debussy's Sonata 1915, Bax's Elegaic Trio, music by Piazzola, and the Casilda Fantasy for flute and harp.
Programme
Arnold Bax: Elegiac Trio
John Ashton Thomas: Trio for Anna (World Premiere)
Doppler: Casilda Hungarian Fantasy for Flute and Harp
Interval
Debussy: Sonata for Flute, Viola and Harp
Pastorale, Interlude-Menuet, Finale
Arnold Bax: Fantasy Sonata for Viola and Harp
Allegro Molto, Andante
Astor Piazolla: Three Tangos
Chardas, Oblivion, Libertango
Performers
Anna Noakes (flute)
Gabriella Dall'Olio (harp)
Roger Chase (viola)