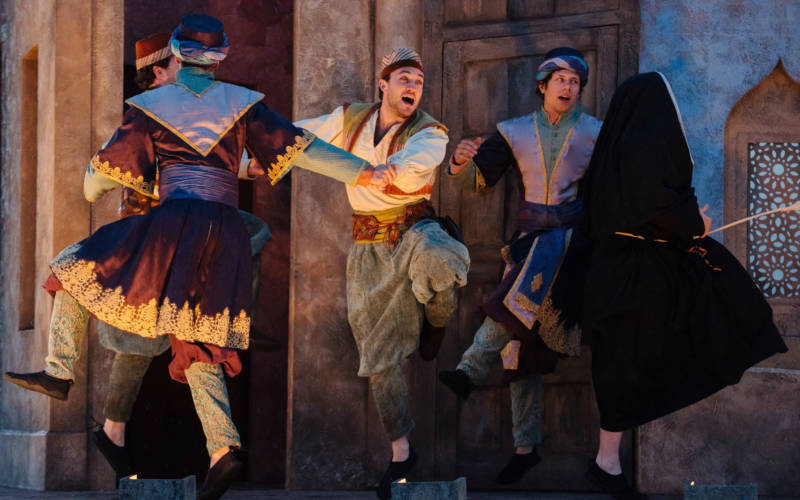 Music, film & theatre
The Lord Chamberlain's Men - The Tempest
Sat 21 July 2018
Gates open at 6.30pm. Performance at 7.30pm
Grounds
The Lord Chamberlain's Men, the UK's premier all male theatre company, invite you to join them this summer for Shakespeare's spellbinding masterpiece, The Tempest.
12 years ago, Prospero, Duke of Milan, usurped and exiled by his brother washes up on a distant and mystical island with his baby daughter, Miranda. A place where his magical powers reign supreme and the only inhabitants of the island, the sprite Ariel and brutish Caliban, answer his every command. In this strange new kingdom, he is left to brood.
Now his enemies, his brother Antonio, who supplanted him as Duke, and Alonso, King of Naples, whilst sailing home are blown, by fortune, off course towards him. Prospero raises a tempestuous storm that shipwrecks them. Scattered across the island the boat's passengers are tested and tormented as they
are magically drawn towards their fate. Left to plot his revenge for years Prospero finally has the chance to exact it. But will he?
This play of soaring poetry, high comedy and tender love, Shakespeare's late, great gem, examines the power of true love, our capacity for vengeance and what it takes to forgive. Bring a chair and a picnic, and spend a glorious summer's evening watching this enchanting, fast-paced production of one of Shakespeare's finest plays. Performed in the open air, by an all male cast with Elizabethan costumes, music and dance. This is undoubtedly one of the hottest tickets of the summer; book early to avoid missing out!
Itinerary
6.30pm – car park opens and shuttle bus takes you to the Manor
7.30pm – performance starts
8.35pm – 15 minute interval
10pm – performance finishes
Important things to know
The performance will be held outdoors on the lawn in front of the Manor. Seating is not provided, please bring something to sit on and come dressed for the weather.
Please bring a torch with you, although the pathways are lit the seating area can be a bit dark at the end of the evening.
For everyone's enjoyment gazebos are not permitted.
No glass please (wine bottles are permitted, however we ask that all drinking vessels and containers are not made of glass).
If you wish to leave the performance early, please notify a member of staff who will organise a shuttle bus to return you to the car park.