Exhibitions, Walks, talks & tours
Gustave Moreau: curator-led tour
Thur 24 Sept 2020
10am-2.30pm
House
Join exhibition curator Juliet Carey for a special tour of Gustave Moreau: The Fables, the first time in over a century that these masterpieces have been on public display. The tour will be followed by a two-course lunch in the historic Manor Restaurant and access to the grounds, aviary and shop.
Moreau's watercolours illustrate the fables of Jean de La Fontaine, derived from Aesop's fables and other traditional European and Asian tales. The variety of subject matter and technique, their colouristic effects and the originality of Moreau's storytelling, will be a revelation to visitors, who might also enjoy spotting references to the works of as diverse as  Cranach, Leonardo, Burne-Jones and Hokusai. Animal studies made in the Jardin des plantes, are among the preparatory drawings also on display.
One early commentator wrote that it was as though Moreau 'was a jeweller before he was a painter and who, drunk on colour, had ground up rubies, sapphires, emeralds, topazes, pearls and mother-of-pearl to make his palette.'
Visitor Information
Event itinerary
10am park in Visitor Car Park where a shuttle bus will transport you to the North Fountain
10.15am meet in Manor Restaurant where coffees and teas are available to buy
10.30am start curator-led tour of the Gustave Moreau exhibition
12.15pm two course lunch in the Manor Restaurant
until 5pm free flow visit to gardens, Aviary, cellars and shop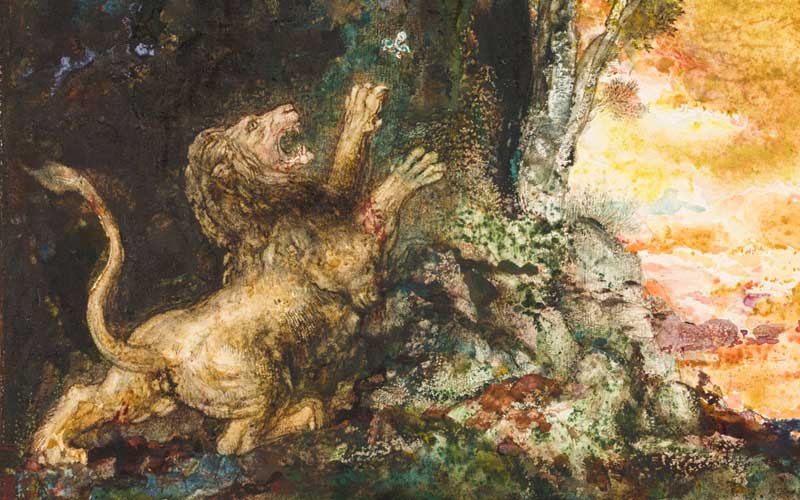 Sat 11 July – Sun 25 Oct 2020, Wed-Sun
Gustave Moreau (1826-98) was one of the most brilliant and influential artists associated with the French Symbolist movement. This exhibition aims to display some of the most important works he ever made, unseen in public for over a century.