Food & wine festival
Feast 2017
Sat 17 & Sun 18 June 2017
10am-5pm
Grounds
Enjoy a taste of history over this two-day festival celebrating food, drink and entertainment, all inspired by Baron Ferdinand's annual garden parties.
Feast will see the North Front  transformed with elaborately decorated tables for visitors to take a seat at and enjoy a picnic or sample some of the delicious food on offer from one of the handpicked artisan food and wine stalls. There will be a range of extraordinary performances, as well as activities for all the family.
Waddesdon Manor is synonymous with entertaining, having been built for Baron Ferdinand's infamous 'Saturday to Monday parties'. Celebrating not only culinary delights, but also the magnificent setting of Waddesdon, roam the grounds and walk through the Manor as if a guest of Ferdinand's.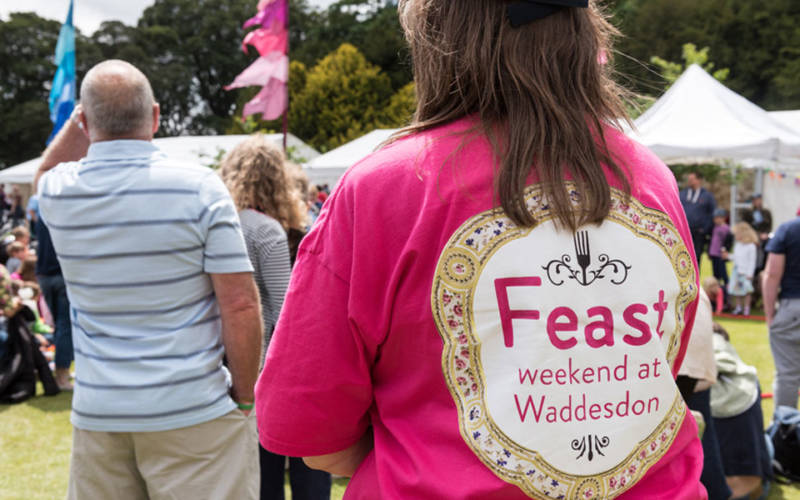 Our exciting Feast weekend needs volunteers to help it run and create a Feast Festival buzz. If you enjoy meeting and talking to people and can relate to all ages come and give us a hand.

Boasting the best produce available from the local area and beyond, you will be able to choose from over 60 handpicked artisan food and drink stalls. Browse for something to take home with you, from handmade fudge, cheese and bread to artisan drinks or buy food to eat at our dining table.

Informal wine tasting
Join us for a relaxed and informal tasting of five wines from the Rothschild range and our guest wine portfolio. There will be experts from our Wine Shop on hand to guide and advise you. Guests will receive a 10% off wine voucher which can be used on the day in our Wine Shop.
Each hour from 11am to 4pm, on the North Front.  £5 per person.
Limited to 18 participants per session. Not suitable for under 18's.

A variety of roaming, captivating music and performers from the UK and abroad will delight and surprise young and old alike. Listen to the unnoticed sounds from below ground with Ear Trumpet, meet Miss Alice de Rothschild in the Breakfast Room as she talks about her famous housekeeping rules or watch Ragroof's team of Fabulous Flappers and Latino Groovers as they give a whistle stop tour of a hundred dance crazes.
With so much happening you'll find it hard choosing which one to watch first.
Feast performers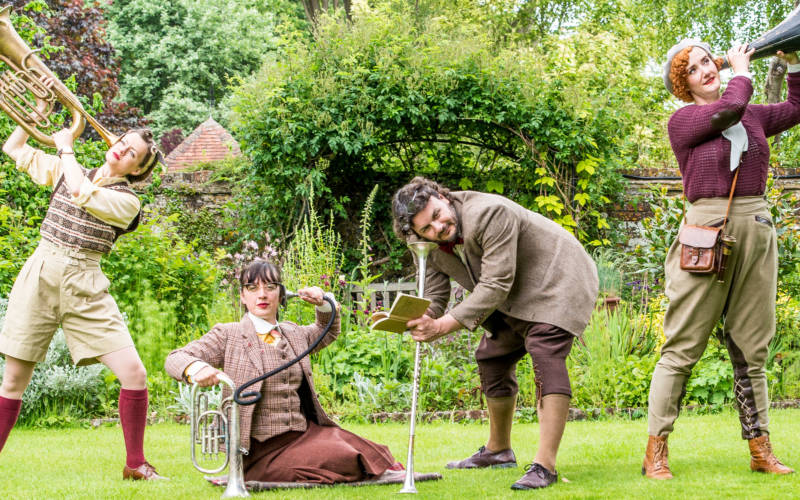 Ear Trumpet by Gobbledegook Theatre
Listen to the hidden sounds from underground loud and clear as if by magic.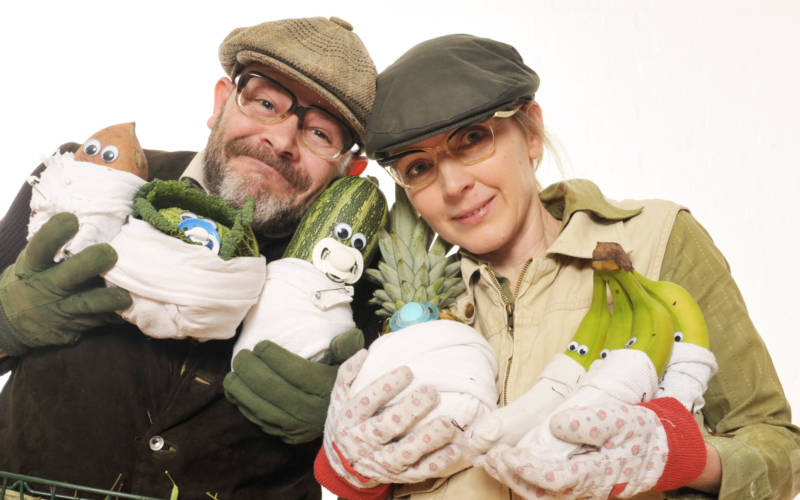 The Allotment by Plungebloom
Join the Vegetable Nannies in their temporary allotment for  a spot of gardening and childcare.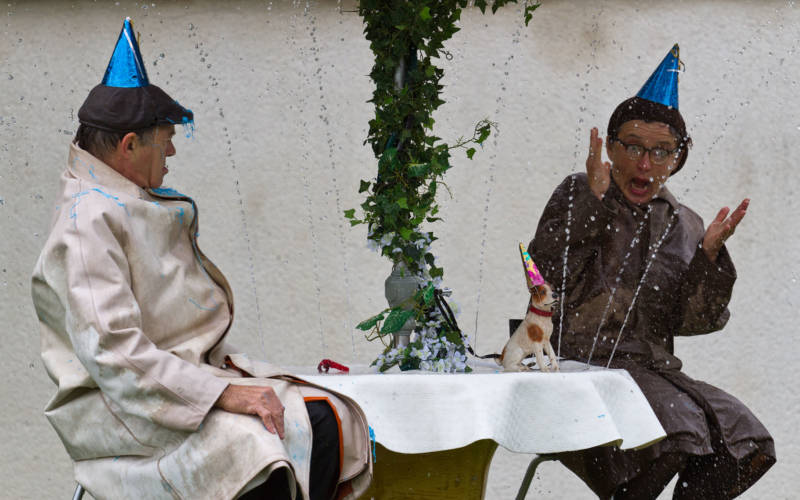 Mr Lucky's Party
A comedic silent peformance involving three performers and 200 litres of water.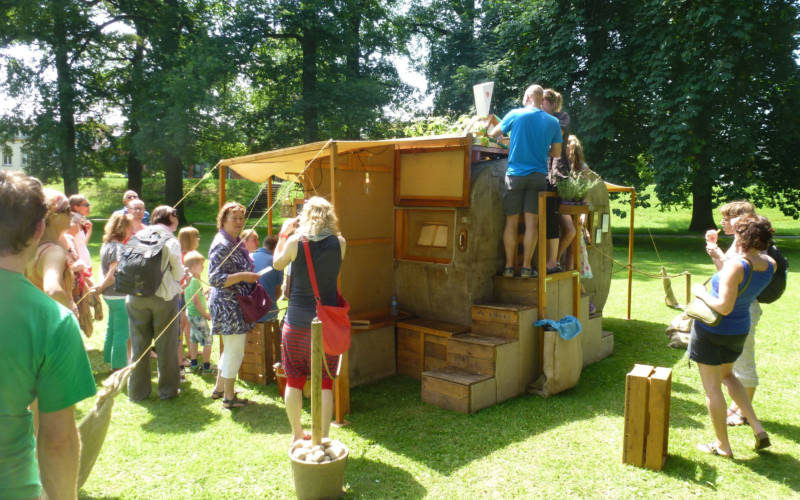 Knol d'Amour by Superhallo
A family-friendly trip into the life of a potato, take a unique journey with a surprise at the end.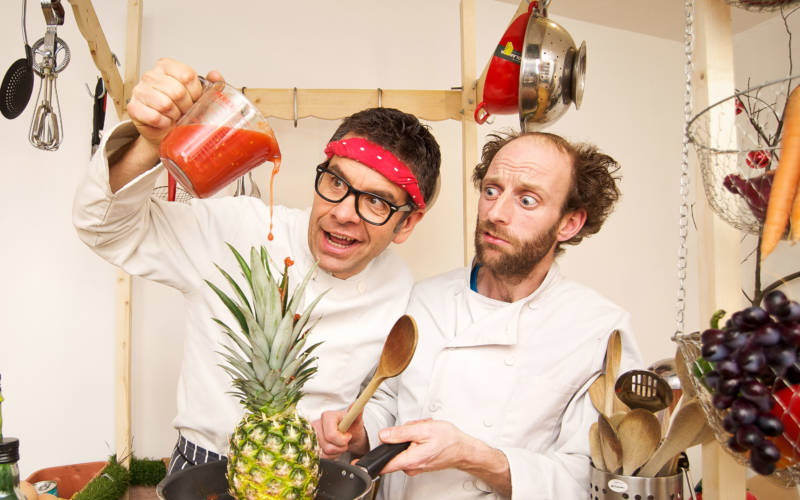 Liver Cottage Mobile by Fairly Famous Family
Comedy chefs, Hugh Fearn and Lee Whittingsall, present a cookery demo like no other.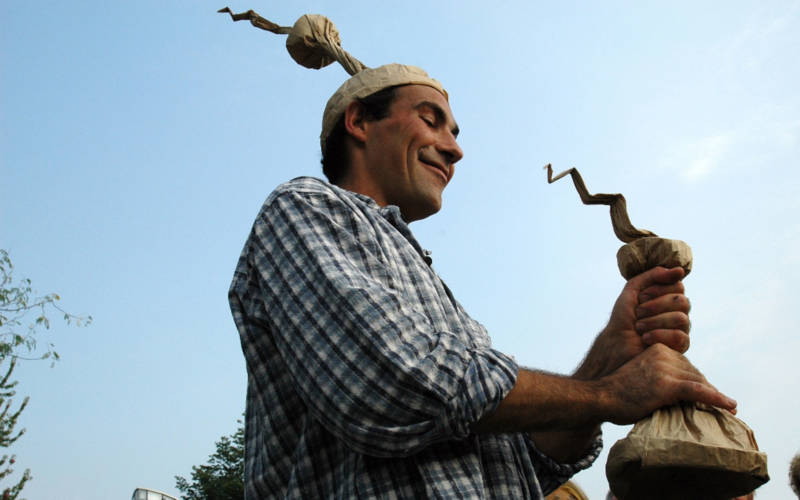 Chapeau Magique by Paul-Henri Jeannel
Make amazing hats from just one sheet of brown paper.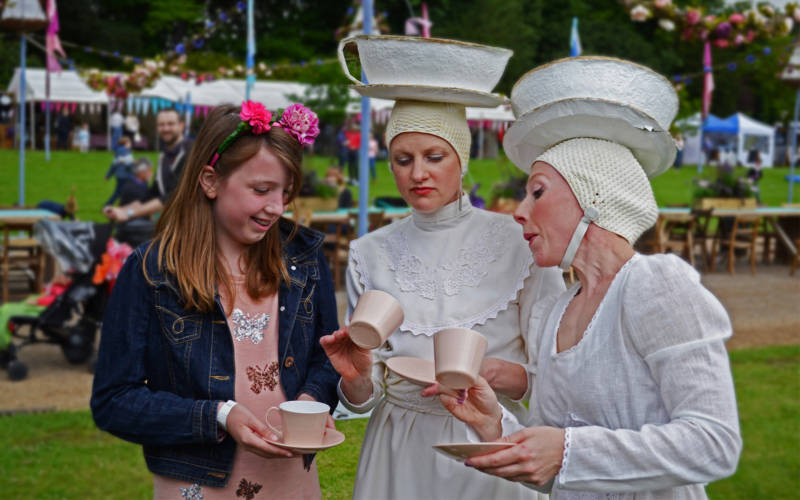 Tea Club by Axial Dance
A strolling piece of dance theatre celebrating Britain's passion for tea and all things vintage.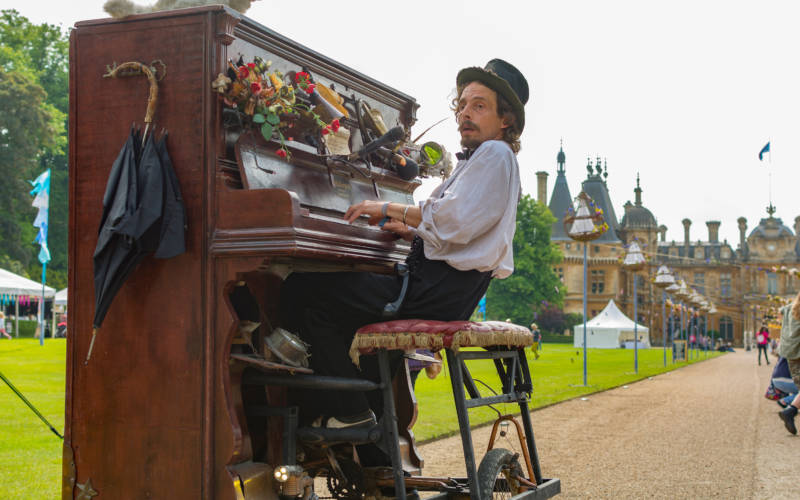 Bicycle Piano by Rimski
Master multi-tasker Rimski plays and sings as he cycles along on his piano.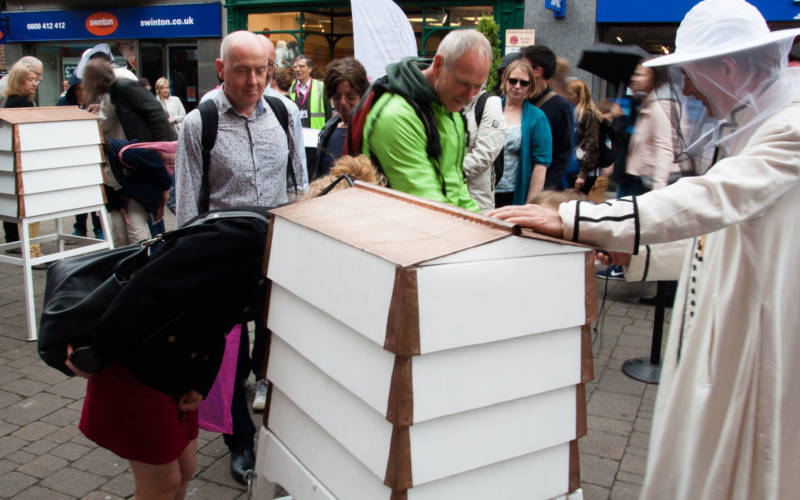 Bees! The Colony! by Artizani
Wander amongst six bee hives each hiding a unique interior world of the secret life of Bees.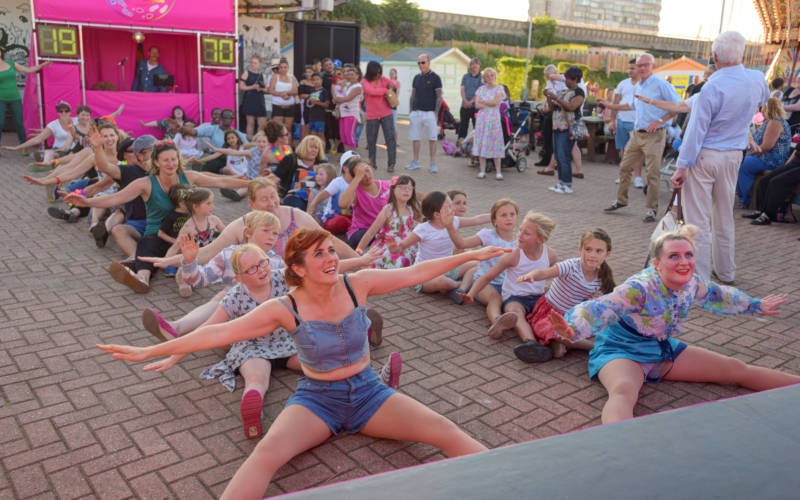 Happy Feet by Ragroof
A hundred years of dance crazes in a hundred minutes. Join the Ragroof Players in a non-stop dance-a-thon through decades of dance.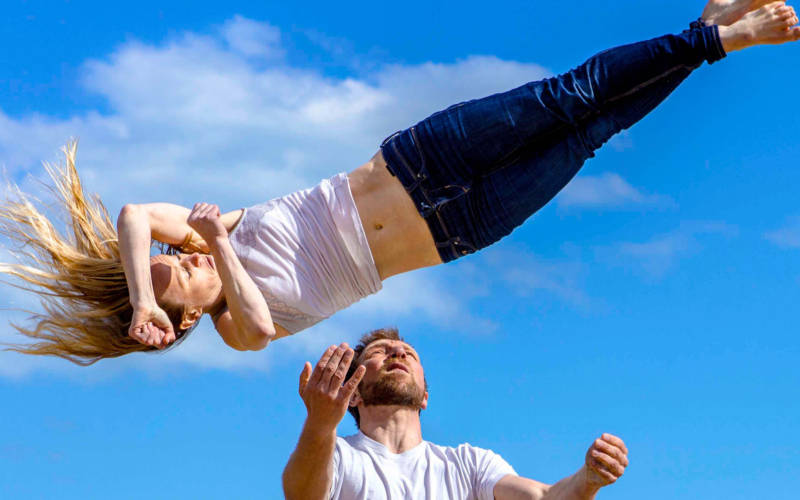 Lance moi en l'air by Joli Vyann
A performance blurring the boundaries of where dance ends and circus skills begin.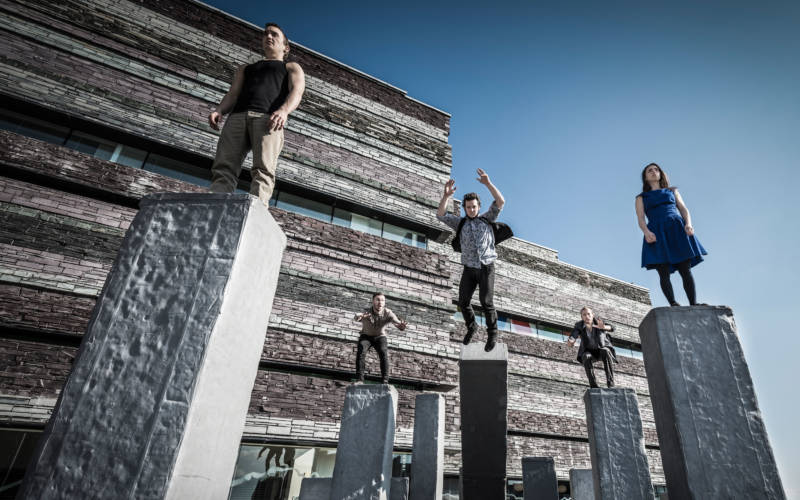 Block by Motionhouse and NoFit State Circus
Performers from Motionhouse and NoFit State Circus play on 20 oversized blocks reformed into a variety of shapes.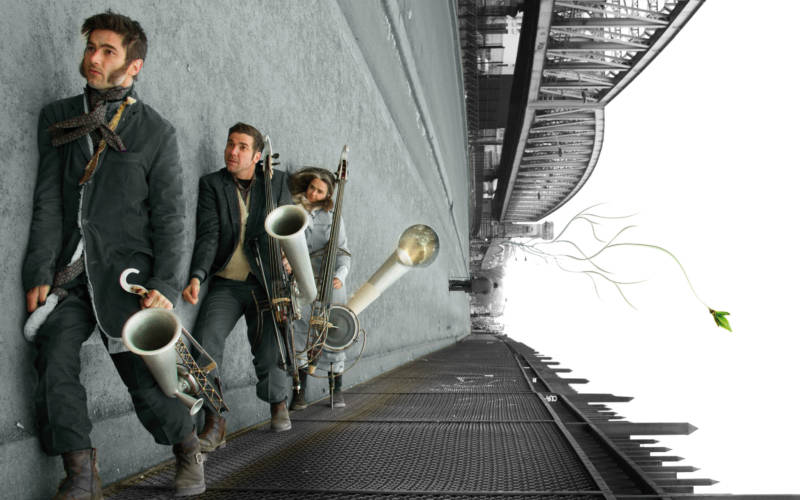 Les Chant de Pavillons by La Fausse Compagnie
Song of the Horns is an unusual instrumental trio with their instruments a weird mix of strings and horn.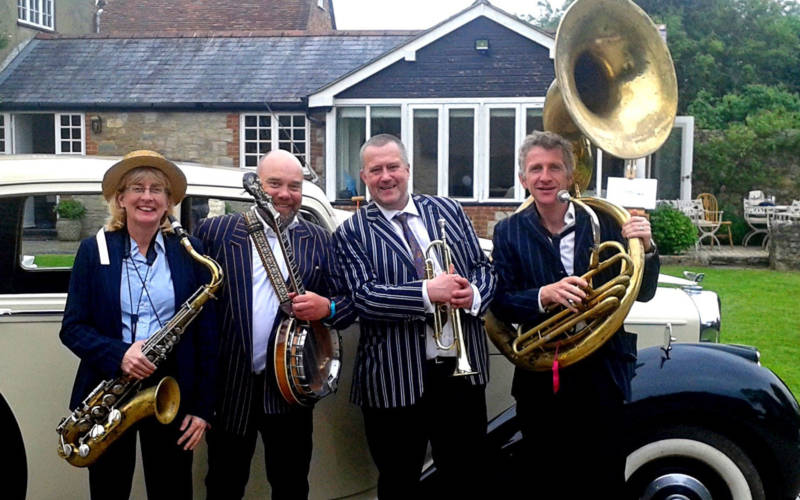 The Sunshine Kings band
Dance, clap and tap your toes to New Orleans and dixieland style jazz with music from the 20's and 30's played with verve and panache.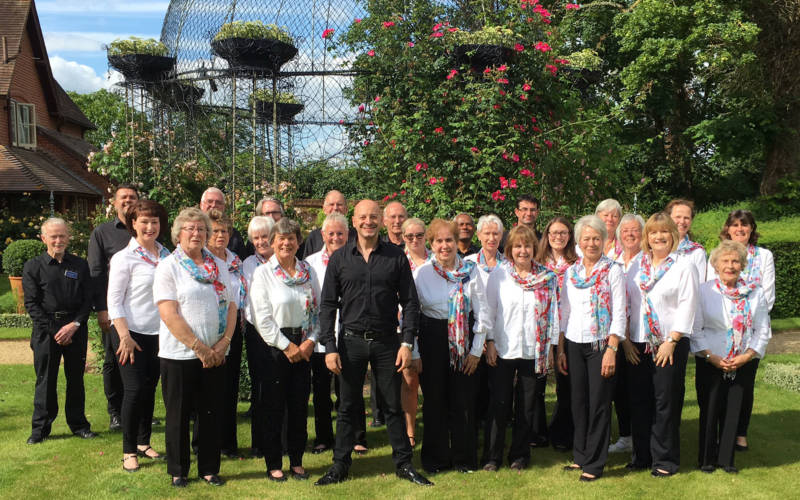 A Choral Feast of Song - a massed choir of 100 voices
Sunday only
Waddesdon Staff & Volunteers' Choir is delighted to invite Next Stage choir to collaborate in a combined performance of classic songs including music from The Jersey Boys and The Lion King, directed by their shared Musical Director, Russell Scott.

Throughout the weekend in our craft tent you'll get the opportunity to try family friendly activities and create something to take home.