Food & wine festival
Feast 2016
Sat 18-Sun 19 June 2016
10am-5pm

House & Grounds
We invite you to be our guest at Feast, a celebration of food, drink and performance inspired by Ferdinand de Rothschild's historical 'Baron's Treat'.
Take a seat at our decorated outdoor dining table, running the length of the North Avenue, and enjoy a picnic or sample delicacies from over 50 handpicked artisan food and drink stalls.
Enjoy a huge range of performances and entertainment in the gardens and try your hand at craft activities in the family activity marquee.
Simply select the date you would like to visit (either Saturday 18 or Sunday 19 June), then select the number of adult and child tickets you require, choosing from Standard Entry, National Trust Member or Local Resident Card Holder. You will also be able to book house entry and afternoon tea in the Manor Restaurant at this stage.
Alternatively call the booking office on 01296 820414 (£3 telephone booking fee applies).

The artisan food and drink stalls at Feast Festival boast the best produce available from the local area and beyond.
From handmade fudge, cheese and bread to artisan drinks… It's one tasty line-up!
Exhibitors
Exhibitors to be confirmed soon.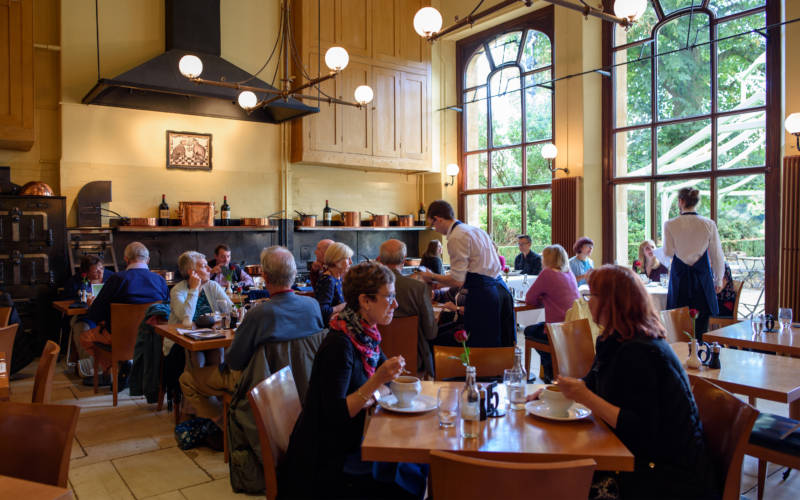 Manor Restaurant
A special treat for a special weekend, join us for our Feast Festival Afternoon Tea or our Gentleman's Afternoon Tea (psst.. don't forget it will also be Father's Day!). Both are served in the Manor Restaurant and include heavenly fancies and sumptuous savouries all made in-house by our talented chefs, and are served with a selection of Jeeves & Jericho tea.
Sittings are at 12, 12.30, 2, 2.30, 3.45 and 4.15.
Pre-booking is essential and can be purchased online when booking your Feast tickets or over the phone 01296 653226 (£3 telephone booking fee applies).
Champagne £25, Traditional £19.50, Children's £10.00.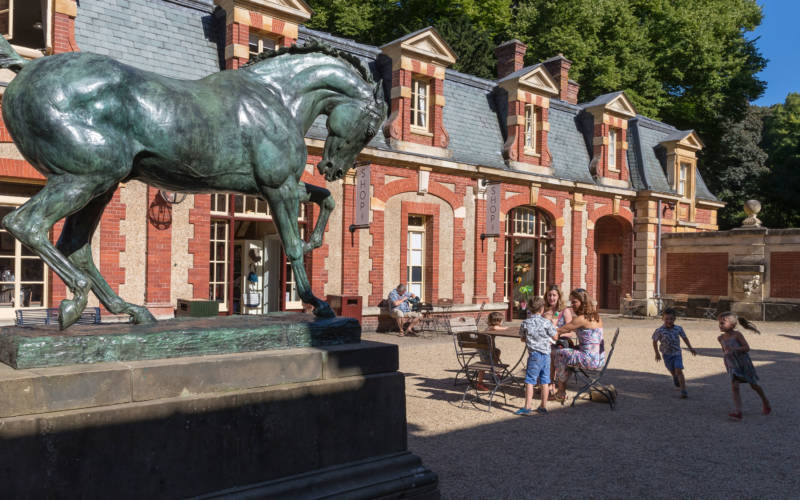 Stables Café
The Stables Café will be open as usual serving delicious breakfasts, lunches and afternoon teas. We don't take bookings, so please just turn up and join us!
Find out more.
Food to go
Our food-to-go outlets at the Summerhouse and Coffee Bar will also be open as usual, serving drinks, freshly made sandwiches and cakes.

Waddesdon's story as a historic place for great parties will be played out in unusual and unexpected theatrical events throughout the weekend.
Our line up of performers may look surprising, yet every one has been chosen to entertain today's visitor with a nod to Waddesdon's celebrated past.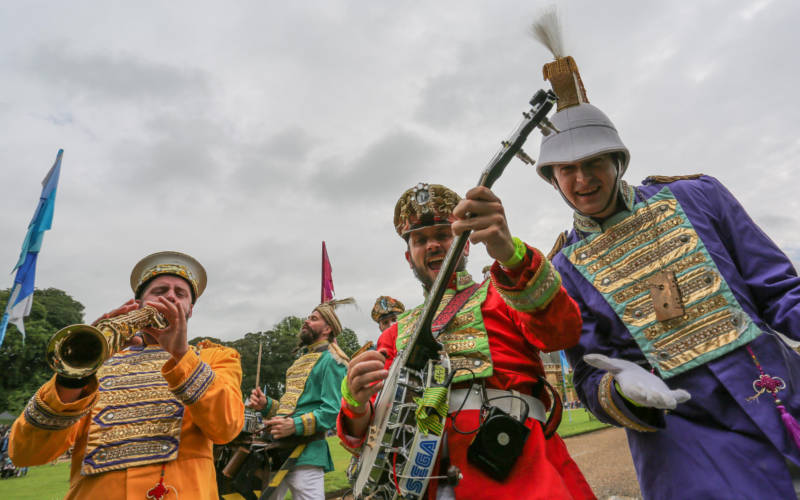 A unique and unusual marching band! The Young Pilgrims invite you to march around the Feast Festival with them and be part of their rock induced, brass band madness.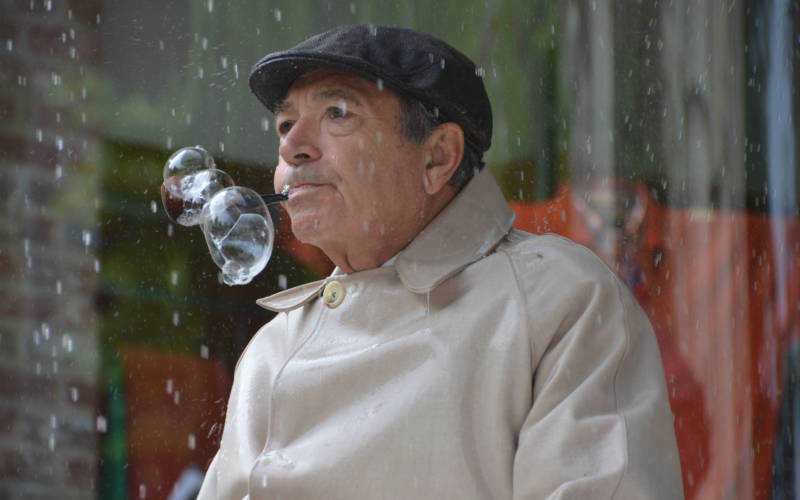 During a tea party, a couple begin a celebration but as the weather worsens there is an unexpected twist and a spectacular mechanical transformation occurs.

Join us for a variety of fun family based craft activities in our family activities marquee on the North Front.
For older children we also have poetry workshops and cookery classes.

Root Camp is a wonderful initiative that teaches young people how to cook from field to table.
A dynamic young enterprise, it connects the experience of cooking seasonal ingredients with their provenance by spending half the time in the kitchen and the other half working on the land, fishing, foraging, farming and more. For more information on their work visit www.rootcamp.co.uk
Online booking for Root Camp is now available. Places are limited to 8 per session so we recommend booking early to avoid disappointment.
Each session will be making home-made flat breads with grilled meats and haloumi and fresh salad and sauces. Each age group will make a different sauce; the chef will also be making some additional sauces so that all groups are able to sample a variety of tastes.
Menus
Chapattis:
Home-made flat breads brushed with butter and cooked on a hot plate (all sessions)
Grilled:
Lamb Koftahs
Grilled herbed haloumi (all sessions)
Salads:
Shredded red cabbage and walnut salad
Tomatoes and oregano salad with black onion seeds
Fresh herb salad (mint, parsley, tarragon, rocket, spinach, cos)
Sauces:
Tahini sauce (Group 1 makes enough for the day)
Tatziki (Group 2 makes enough for the day)
Harissa (Groups 3&4)
Session 1 – 10.30am -11.30am (8-10 year olds) >
Session 2- 12.15pm-1.15pm (11-13 years) >
Session 3 – 2pm-3pm (14-15 years) >
Session 4 – 3.45pm- 4.45pm (11-13 years) >
£8 per child, NT admission charges apply. Pre-booking essential.
Meet Chef Sylvain Jamois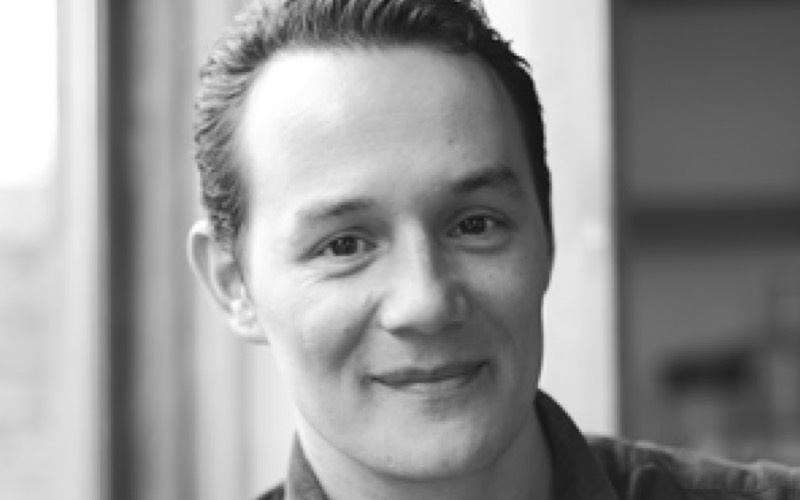 I started cooking at the age of six when I was entrusted with vinaigrette-making duties at home in eastern France, where my grandmother owned a traditional bistro. It was she who taught me to really taste and experience food. We soon moved south where I tasted new flavours and an abundance of fresh seafood, fruits and vegetables. I was also exposed to merguez, rose petals and the scents and spices of Moroccan cuisine.
I came to England and went to work at Moro – a restaurant in London with roots in Spain and the Muslim Mediterranean. This was a wonderful apprenticeship in an open and nurturing environment where a cook could really develop.
Now I work as a freelance cook for many different people and organisations.
My rich and varied experiences give me energy and plenty of inspiration. I love sharing my cooking knowledge, and it's a pleasure to communicate those experiences. When people understand the value of eating well, and also the need to look after the planet – I believe they will make better choices. It's worth the effort for the joy it brings.