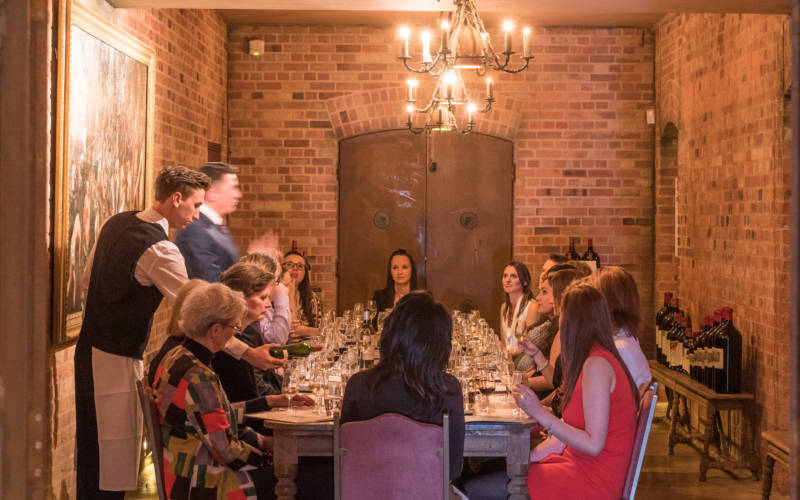 Food & wine
An Evening of Friends, Food & Wine
Sat 5 Oct 2019
7.30pm-11pm
Wine Cellars
Grab your friends and join us for this lively tasting of six wines from around the world with dinner.
Peter Tompkins, our in house wine advisor, will guide you through this relaxed and informal tasting of six wines from around the world. The tasting is followed by a delicious dinner served in the atmospheric cellars on one long communal table. This is a rare opportunity to eat in the cellars itself and promises to be a fun filled evening.
Menu for June
Starter
Goats cheese terrine, olive tapenade and melba toast
Main
Guinea fowl breast, bolongere potato, peas a la Francaise, chicken butter jus
Dessert
Elderflower crème brulee with gooseberries
Menu for October
Starter
Chicken liver parfait, chutney, melba toast
Main
Beef bourguignon, mash potatoes, roasted root vegetables
Dessert
Apple galette, condensed milk parfait, tuile biscuit
Wines from the Rothschild collection accompany each course. A 10% discount in the wine shop will be offered to all guests who wish to purchase.
The entrance to the Wine Cellars is via some steep stairs. If you'll require assistance, or level access, please email us at [email protected] so that we can organise this in advance of your visit.
Please note: All participants must be 18 years or older.
Vegetarian Menu for June
Starter
Goats cheese mousse, olive tapenade, melba toast
Main
Courgette flower stuffed with cucumber and pea cream chese, ratatouille, sauté potatoes
Dessert
Elderflower crème brulee with gooseberries
Vegetarian Menu for October
Starter
Goats cheese mousse, chutney, melba toast
Main
Wild mushroom risotto, vegetarian parmesan, truffle oil
Dessert
Apple galette, condensed milk parfait, tuile biscuit
Important info
7pm is the earliest arrival time for all guests
If travelling by car, parking will be at the Manor in the staff car park. Please inform us if you are driving yourself so we may position staff to show you where to park. Allow at least 15 mins for the short walk from the car park to the cellars.
The entrance to the Wine Cellars is via some steep stairs. If you will require assistance, or level access, please email is so we can organise this in advance of your visit –

[email protected]