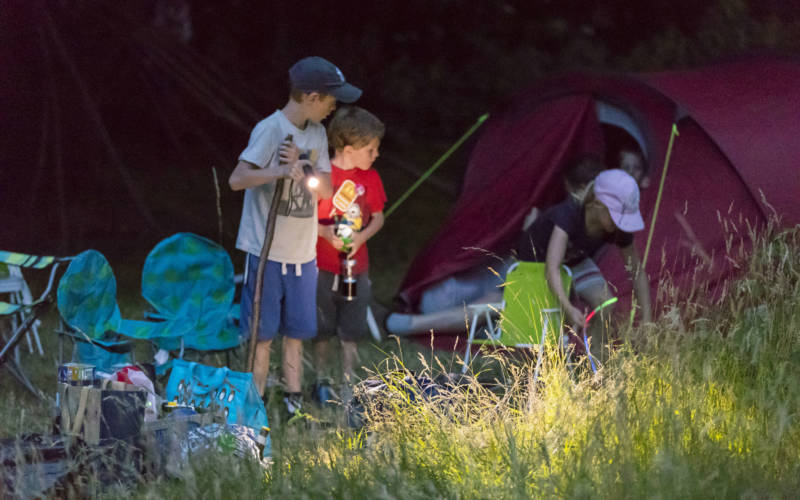 Families
Big Camp
Sat 8 to Sun 9 Aug 2020
5.30pm-10.30am
Grounds
Come and be part of the National Trust's Big Camp at Waddesdon.
Our Big Camp is back with more activities than ever! Camp under the stars in the magnificent grounds of Waddesdon. Take part in nature activities, including a terrific twilight nature walk around Miss Alice's Drive. There will also be storytelling, toasting crumpets and marshmallows around the campfire and games.
On Saturday evening you will be able to buy food from a selection of our favourite vendors, as well as hot drinks and ice cream. Or bring your own picnic.
A range of breakfast baps, juices and cereals will be served in the Manor Restaurant on Sunday morning.
Important info:
your ticket includes entry to the grounds on Sun 9 Aug and breakfast in the morning
please bring cash with you for Saturday evening as not all traders are able to accept cards
Enjoy Mystery On Darkening Moor with Strange-Twig Theatre Company.
Strange-Twig Theatre Company returns to Waddesdon with their new pop-up theatre performance around the campfire. With deep overtones of Scooby Doo, this new story is based in the fictional world conjured in Mary Shelley's novel 'Frankenstein'.
As you set up your tents, make sure to say hello to some mysterious characters, especially the investigator who has come to Darkening Manor across Darkening Moor and through Darkening Graveyard. Learn about the reports of gravediggers, question the suspicious movements of the femme fatale and help solve the mystery that surrounds the spooky Darkening Manor.
Be prepared for the unexpected.