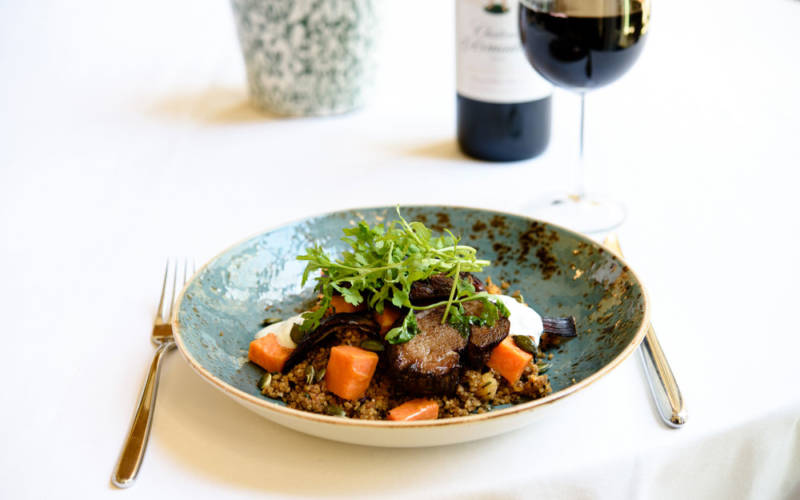 Evening, Food & wine
A Taste of Autumn at Waddesdon
Sat 26 Oct 2019
7.30pm-12pm
Wine Cellars
Join us for an evening showcasing the connection between field and plate perfectly whilst championing our local food heroes.
Celebrate this season of mellow fruitfulness by joining us in the atmospheric cellars where you will be served Waddesdon damson gin cocktails and canapes followed by a five course menu served in the Manor Restaurant using fruit and vegetables from the Rothschild garden at Eythrope, Waddesdon Estate game and wild food foraged from the local fields accompanied by a flight of fine wines.
Itinerary
7.30pm – Taxis arrive at the front of the Manor
8pm – Damson Gin Cocktails on arrival with Canapes
9.30pm- Dinner in the Manor Restaurant
12pm- Guests depart
Dress Code: Lounge Suit
Important things to know
Please note that arrival for the event cannot be earlier than 7pm.
We would advise those wishing to drive to the event to inform us at the time of bookings so we can ensure that we position staff at the Staff Car Park to avoid confusion on arrival.
Please be aware that the car park for the cellars is a short walk away but allow yourself 15 minutes from arriving at Waddesdon Manor.
Menu
Crusted cod, Jerusalem artichoke veloute
***
Goats cheese mousse, Waddesdon Estate beetroot, pine nuts
***
Fillet of beef, glazed beef shin, carrot puree, pan fried salsify, purple sprouting broccoli, jus
***
Chocolate pave, Waddesdon Estate poached pear, black olive tuille, olive oil ice cream
***
Oxford blue cheese, quince jelly, homemade biscuits
Vegetarian Menu
Jerusalem artichoke veloute, root vegetable crisps
***
Goats cheese mousse, Waddesdon Estate beetwoot, pine nuts
***
Carrot en croute, carrot puree, pan fried salsify, purple sprouting broccoli
***
Chocolate pave, Waddesdon Estate pear, black olive tuille, olive oil ice cream
***
Oxford blue cheese, quince jelly, homemade biscuits