COVID-19 (Coronavirus)
To ensure we operate safely and responsibly, protecting visitors and staff, we are further reducing the number of visitors each day and require everyone to pre-book one-hour arrival timeslots, including National Trust members and local resident pass holders.
Waddesdon will open Wed-Sun for daytime local outdoor exercise only. Advance booking essential.
Following the latest lockdown regulations, we are amending our opening hours from 6 January and will now be open from 10am-4pm (last admission 2pm). This is to provide local people with an opportunity to exercise in the fresh air on their own, with their household/bubble or with one person from another household.
Safety is our priority, please respect other visitors by maintaining social distance and do not arrange to meet other people at Waddesdon. Visitor numbers are reduced and all visitors, including National Trust members who have free admission, need to book an arrival time slot to manage numbers on site.
Do not visit if a member of your household has had any Covid-19 symptoms in the last 14 days
Check Government regulations about minimising travel and contact with other households here>
Follow any instructional signage indicating social distance spacing, walking routes etc
Please respect other visitors by maintaining social distance of two metres by stepping off pathways where they are narrow
Bring a face covering with you. Coverings must be worn in toilets and when buying takeaway food (unless you are exempt)
Wash your hands before you come and during your visit. Please bring your own hand sanitiser. Hand sanitiser stations are available for use outside toilets and top and bottom of the Woodland Playground
Thank you for your continued support and understanding as we work hard to navigate these challenging times.
Cancellations and refunds
We will now be closed from dusk, so those who had booked for a late afternoon visit this January (3pm, 4pm or 5pm timeslots), will have their tickets automatically cancelled and refunded, and will receive an email about this from SeeTickets. Thank you for your support and patience.
If the latest Government guidance prevents you from making your planned visit to Waddesdon, you can request a refund online from our ticketing partners. Please request a refund at least 48 hours before your visit.
Customer service web form>
You will need to quote your order number which is on your booking confirmation/tickets. Please scroll down to 'Contact us' and select 'I'm affected by lockdown restrictions, what are my options?' from the drop-down list, and fill in the box below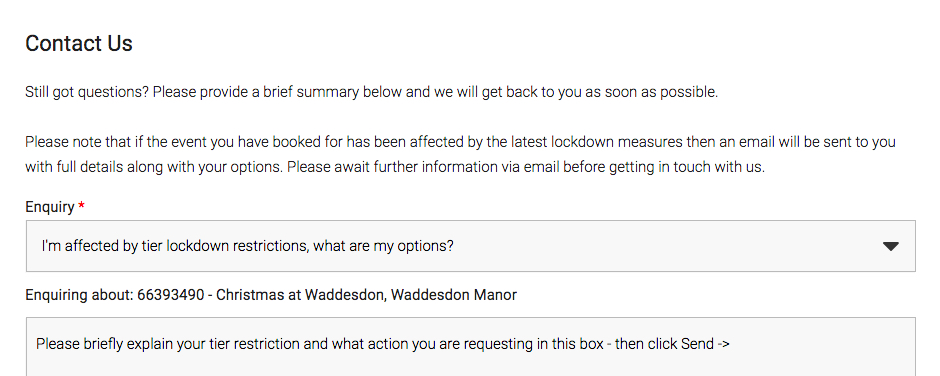 Ticket refunds will not include the £1 transaction fee, which will be retained to go towards the costs of card processing of refunds.
Unfortunately, the National Trust and Waddesdon staff are unable to arrange refunds, all requests must be made via SeeTickets.
If you are ill or instructed to self-isolate
If you have a positive Covid-19 test result or are isolating waiting for test results or instructed to self-isolate. Please send a screenshot or forward your positive Covid test result or NHS Test & Trace instruction when you complete the SeeTickets Customer Service form described above.
SeeTickets customer service web form>
Updated 5 January 2021