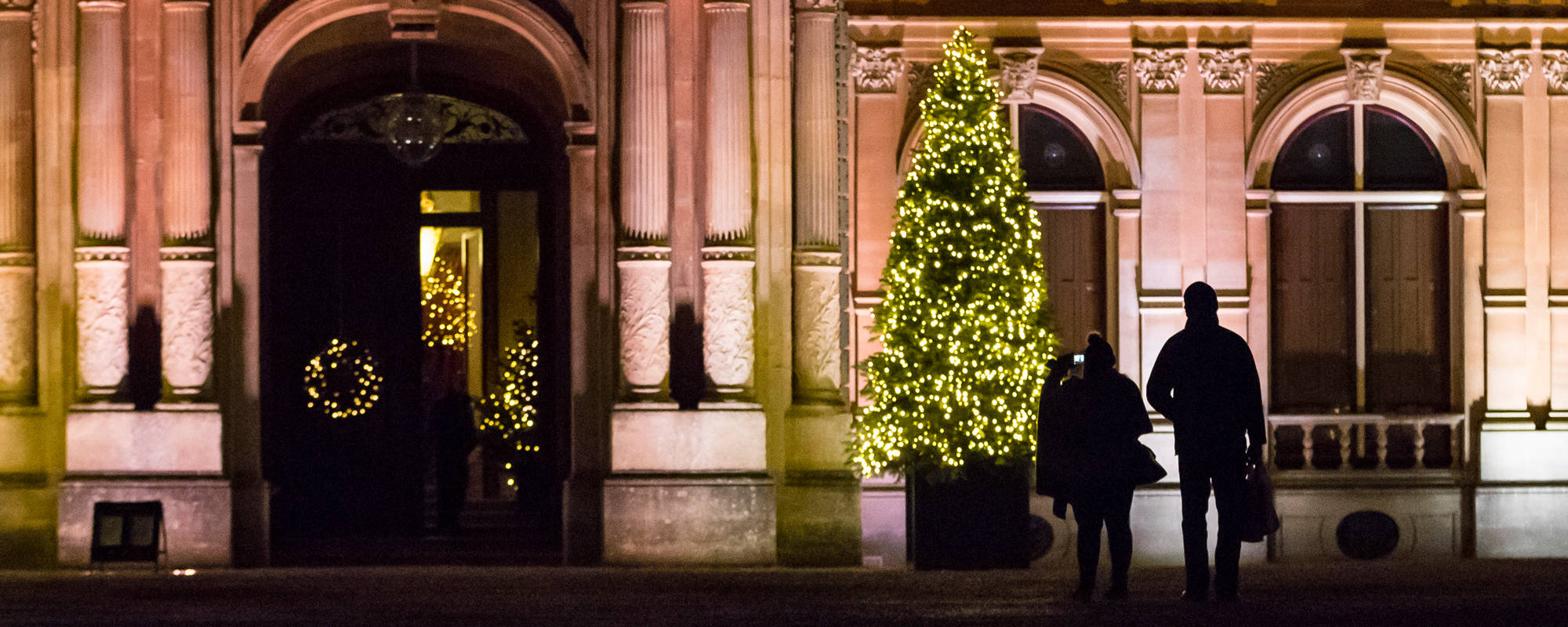 Booking confirmation Nov-Jan
Christmas 2018 important information for those who have booked tickets
Please bring your printed ticket confirmation with you as proof of your booking to show at the Welcome Pavilion in the car park on arrival and your National Trust membership card(s) if appropriate.
Please check that the details above are correct, tickets are only valid for the day specified. If there are any discrepancies please email us on [email protected] as soon as possible. We look forward to welcoming you to Waddesdon.
Christmas Carnival at Waddesdon 2018
Grounds open 11am-6pm
House open 11.30am-6pm – advanced bookings for timed tickets essential
Anyone with a House ticket can enjoy a grounds visit throughout the 11am-6pm opening times on the day of their House booking.
Christmas Fair is included in all Grounds tickets – open 10 Nov-16 Dec
Waddesdon at Christmas is mainly an outdoor attraction, please wrap up warmly for your visit. Only on exceptional occasions when snow, ice or wind might present dangers to our visitors, staff and volunteers would we consider closing (and making refunds) – please check our website before your visit where a notice will be posted about any unforeseen closure due to bad weather.
How to find us
By car: the post code is HP18 0JH. Please note that our only vehicle entrance is sign posted off the A41 within the village of Waddesdon. There will be some special parking arrangements for Christmas parking, please follow directions on your arrival. For full details please see our website.
Access
For detailed information about facilities for those that need assistance, please refer to our website or alternatively visit DisabledGo for a comprehensive set of guides to access across the property. Please note that due to fire regulations, and fire evacuation restrictions, only four wheelchairs are permitted in the House at any one time (two per floor).
Entry to decorated rooms in the House
Admission to the House is by timed entry ticket only. All visitors – including National Trust members and children under 5 years of age – wishing to see the decorated rooms in the House must be in possession of a valid timed ticket. Christmas house tickets are not available to book on the day.
If you have booked a Grounds only Christmas Carnival visit, please email [email protected] with your name, date of visit and contact phone number, in order to enquire about adding a ticket to the House to your existing booking.
Guidebooks
If you have ordered a Guidebook please bring this confirmation to collect them from the Visitor Information & Bags building near the entrance to the House on the day of your visit.
Due to the delicate nature of the House contents, the following items may not be allowed in the Manor
Sharp heeled shoes, which cause damage to the floors, the heel should be no smaller than a £1 coin. Alternative footwear is available from the Front Door
Large bags and umbrellas, instead they must be deposited in Visitor Information for safe keeping during your visit
Push chairs or baby back carriers, a limited number of front slings and hip carriers can be borrowed from the Front Door
Selfie sticks
Flash photography (photography without a flash is permitted)
Refunds
Bookings may be amended or cancelled by 4pm up to 2 full days before the date of your booking. To cancel your booking please send an email to [email protected] clearly stating the word "Refund" in the subject line of your email. Alternatively you can call us on 01296 820414 and select option 2.
No refunds will be given if amendments or cancellations are made less than 2 days before your booking.
Please be aware that we do not store credit card details and we will need to speak to you on the phone in order to process your refund. For your own security please do not send credit or debit card details by email.
NOTE: We reserve the right to alter or vary arrangements due to events or circumstances beyond our control, without being obliged to refund monies or exchange tickets.