Royal College of Art students create Waddesdon-inspired ceramics
Students from the Royal College of Art's MA in Ceramic & Glass have created products inspired by Waddesdon and the resulting ranges are exclusive, creative and intriguing.
Waddesdon has a strong track record of working with artists and students, through our contemporary art and exhibition programme, which encourage creative responses to the place and its collections, enabling them to be seen in a new light. Working with the RCA is an exciting element of this for us, so in January, a group of students came to visit and were introduced to the Collections by the curatorial team, so that they could explore all the richness of texture, colours and patterns in the house and gardens, ranging from the brilliance of Sèvres porcelain and intricately detailed textiles, to the subtle palette of Reynolds' masterpieces and the playful trellis-work of the Rococo-inspired working Aviary.
Their brief was to create a range of contemporary, affordable, digitally printed bone china tableware inspired by what they saw and responded to, which needed to be recognisably related to a pattern at Waddesdon and, importantly for the students, to cost no more than £20 to make, including all labelling and packaging. The chosen ranges would go on sale in the Manor shop and online.
In February the students submitted their designs and a panel from the RCA and Waddesdon judged the ten entrants. The responses were wonderfully varied and exciting, but after much debate, the panel selected Roberto Landin and Anne Lykke as the two winners.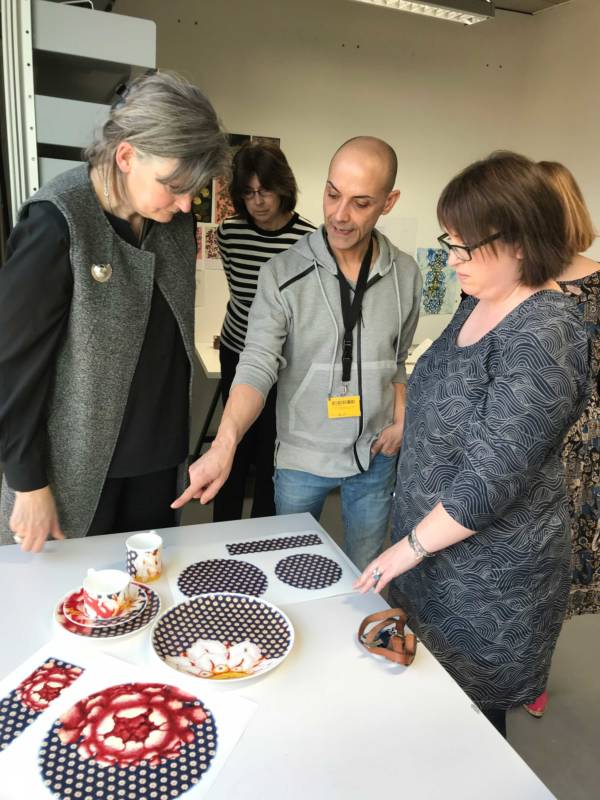 Roberto's dining set features floral motifs taken directly from a Chinese vase in the Oval Hall at the Manor, juxtaposed with a pheasant's eye pattern taken from the Starhemberg Sèvres porcelain dinner service. Anne chose the Aviary to inspire her artwork. In both cases, the contemporary creations imaginatively retain a link the history of Waddesdon and its collections.
At the heart of this project is the RCA's cutting edge, low-run digital printing technology for domestic ceramics. This allows the creation of desirable tableware at a reasonable price and in low volume. The programme not only offered the students an opportunity to develop new skills and produce a highly original range of pieces, but also required them to channel their creativity in commercially appealing ways, and to think about issues such as production, packaging, and manufacturing runs, all of which are aspects which product designers need to understand if they are to succeed in business. The two ranges have now been launched, and are available in our online and Manor shop.
The collaboration between the RCA and Waddesdon began in 2007, working with post-graduate textiles and ceramics students. The partnership has enabled the students to have a taste of a truly commercial venture whilst in a full time learning environment. Former winners have gone on to work with world renowned ateliers and have exhibited in leading galleries.