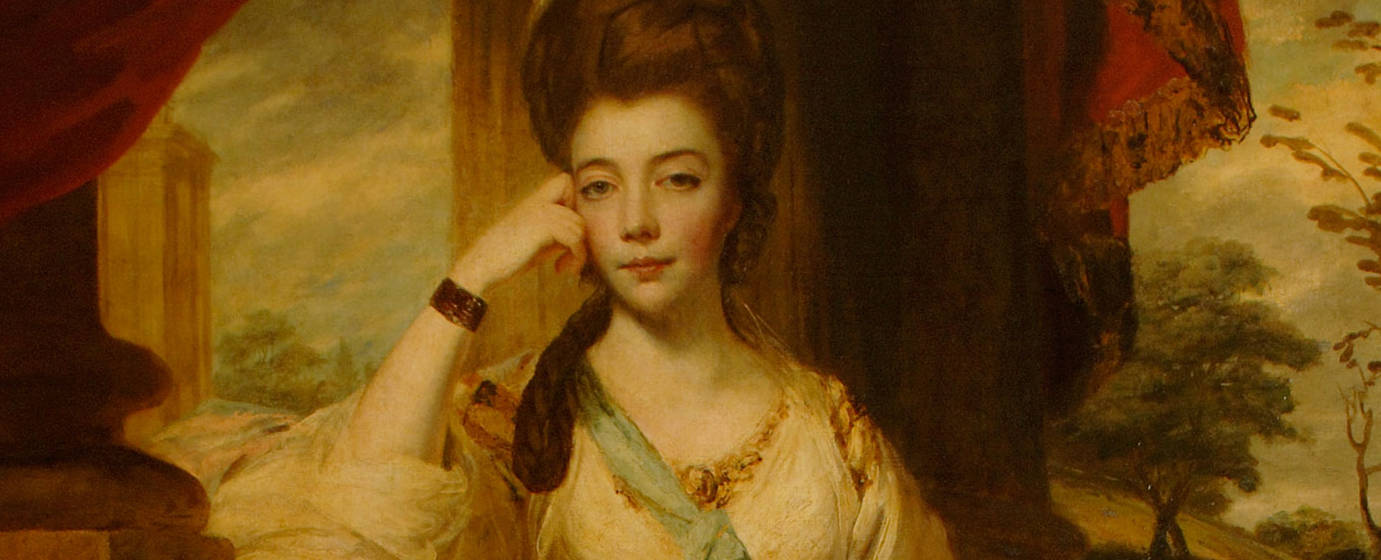 Art & architecture Behind the scenes
Putting Reynolds under the microscope
Waddesdon has one of the most important collections of paintings by Joshua Reynolds in the world. The paintings have been catalogued and researched over the years, but never subjected to technical analysis, so we have been working on a scientific investigation of all 14 works.
Other museums, including the Wallace Collection and Tate Britain, have carried out similar analysis on their Reynolds', some of which relate to portraits in the collections here, so the results are being shared in the wider curatorial and academic community.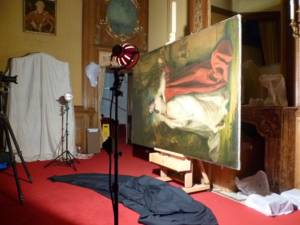 As part of our project, each painting has been taken off the wall and de-framed (quite an operation since in some cases, the frames are built into the wall rather than simply hanging on picture rails). They are then X-rayed and images using infra-red reflectography are made. In previous years, this would have entailed transporting each painting to a specialist studio. Now, the equipment comes to the paintings, and we turned two rooms in the Manor into temporary photographic studios so that John Twydle and colleagues from The True Image Solutions could work "in situ". Once the images have been taken, it allows the conservator, Rica Jones, to see below the surface of each painting, before each is examined intensely closely and samples of paint and binding media taken and analysed.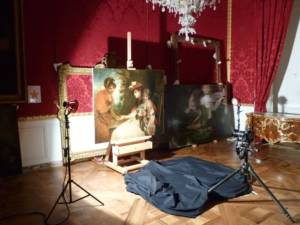 Reynolds was famous for his technical experimentation – trying out all kinds of materials and techniques in the search for vibrant and lasting colour. Many of his experiments are still not understood so this scientific analysis will throw new light on them.
Here's a list of all the Reynolds paintings we have here at Waddesdon
Joshua Reynolds, Captain John Hayes St Leger, 1778
Joshua Reynolds,  Lady Anne Luttrell, The Duchess of Cumberland, 1772-1773
Joshua Reynolds,  Mrs Abington as The Comic Muse , 1764-1768, 1772-1773
Joshua Reynolds,  Lady Jane Tollemache, Lady John Halliday, 1778-1779
Joshua Reynolds,  Miss Theophila Gwatkin as Simplicity, c. 1785
Joshua Reynolds,  Emma Assheton-Smith, Mrs Robert Scott of Danesfield , 1786
Joshua Reynolds,  Elizabeth Linley, Mrs Richard Brinsley Sheridan as Saint Cecilia, 1775
Joshua Reynolds,  Miss Fordyce (Mrs Greenwood), 1762-1763
Joshua Reynolds,  Thaïs, 1781
 Joshua Reynolds,  David Garrick between Tragedy and Comedy, 1760-1761
Joshua Reynolds,  Joanna Leigh, Mrs Richard Bennett Lloyd Inscribing a Tree, 1775-1776
Joshua Reynolds,  Mary Darby, Mrs Thomas Robinson 'Perdita', 1782
Joshua Reynolds,  Master Thomas Braddyl, 1783
Joshua Reynolds,  A Fortune Teller, 1777