Fantastic furniture and where to find it
For Open Furniture Month this year, Waddesdon Guides have chosen some of their favourite pieces.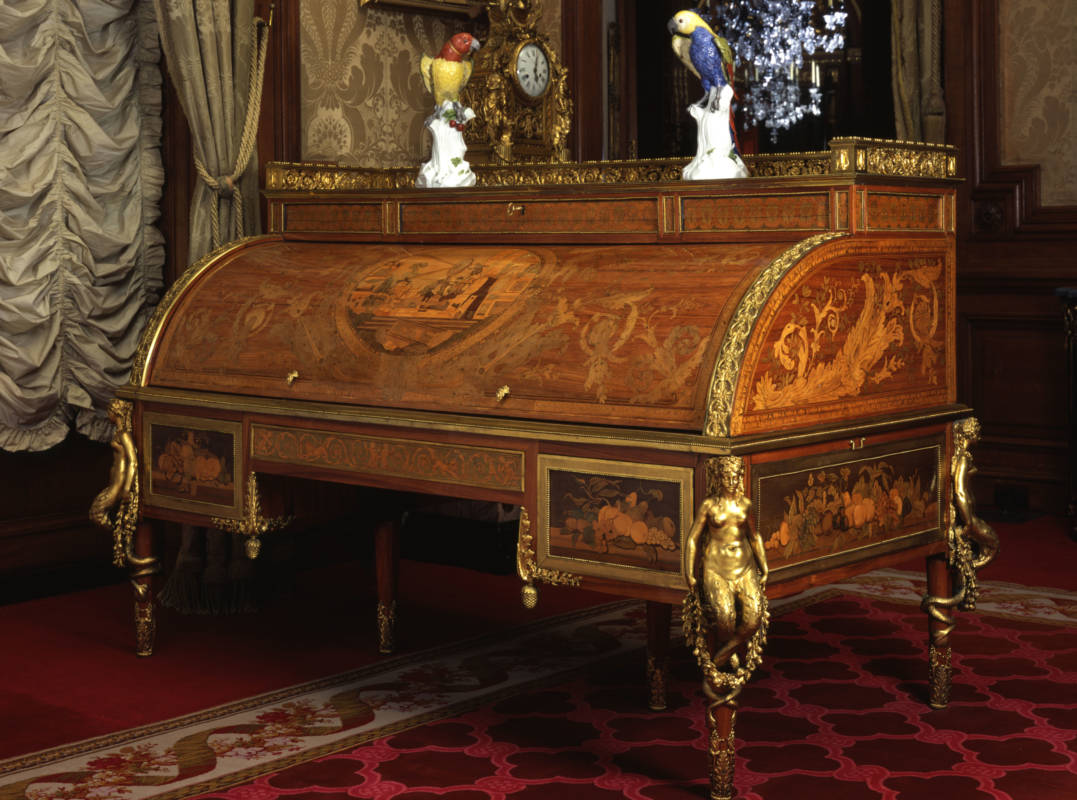 Throughout May you can see this desk opened up and the intricacies of its marquetry as well as the levers and springs that control the drawers. To celebrate Open Furniture Month we have commissioned short films of some of our favourite pieces of furniture including this beautiful and intricate desk.
It was made for Pierre-Auguste Caron de Beaumarchais (1732-1799), whose life spanned a fascinating period in French history, including the American War of Independence and the French Revolution.
Beaumarchais was a polymath. He began life as a skilled watchmaker and inventor but was also a talented musician, financier, revolutionary and a spy for Louis XVI.
This desk, commissioned for him by a group of his friends at a cost of 85,000 francs, reflects all these interests and more. The beautiful marquetry makes reference to his career as a scientist and mathematician; panels on the back of the desk and on the cylinder-top show his interest in science and astronomy. Three raised sections on the top of the desk have designs based on Roman ruins and are taken from engravings by Panini. Tulipwood, purplewood and mahogany are used in the veneer, and the marquetry panels include sycamore, holly, boxwood, ebony and burr woods. Some of the blue and green colours of these woods remain.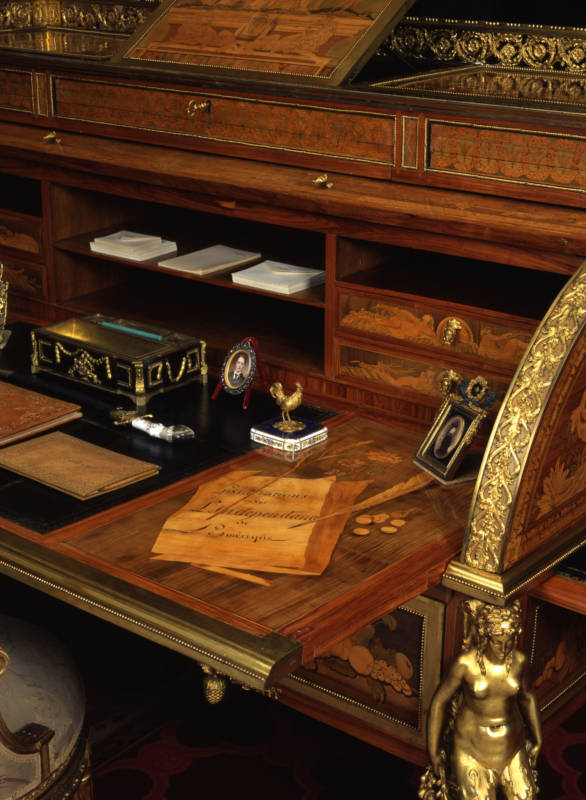 This cylinder desk is a writing table with stacked shelves and drawers and a revolving section which covers the writing area when it is not in use. It is a very large desk, supported on six tapering legs and includes several secret drawers and a lead-lined safe on the right side. The mechanisms are operated by a single key. By varying the depth, pressure and direction in which the key is turned, different parts of the desk are opened.
The whereabouts of the desk following Beaumarchais' death are unknown, but in 1831 it was offered as a prize in the French Loterie Royale, each ticket costing 50 francs. Later the desk came into the possession of the Duke of Buccleuch. It was bought from the Buccleuch family by Baron Ferdinand de Rothschild and stands here, where he placed it, in his private sitting room.
By Jane Rose, house guide.