The making of Waddesdon's rhubarb gin
The first release of our quintessentially British Housekeeper's Rhubarb Gin went on sale in September, it's a truly Waddesdon creation.
What makes our gin special is we have retained a dedication to handcraft small batches, the first being only 96 bottles, allowing greater precision and control over flavour.
From humble beginnings, our Rhubarb Gin was historically produced in-house by Mrs Boxall, the head housekeeper, who was in charge of producing homemade liqueurs using fruit collected from the estate. One hundred and seventeen years later, our Rhubarb proves extremely popular, whilst much of the process remains the same.
Our rhubarb is still collected from Eythrope Gardens by Head Gardener Suzie Hanson, with approximately 450g of Rhubarb used in each bottle.
From beginning to end our gin is dutifully handcrafted, follow the journey below.
Phase 1. Rhubarb arrives from Eythrope!
Once collected by Eythrope's Head Gardener Suzie, the rhubarb is received directly to the manor door, by Lishman.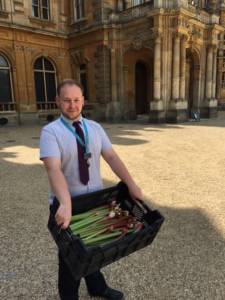 Phase 3. Quality control
The Rhubarb is cleaned of any impurities, dried and the cut into one inch chunks, removing all green sinewy parts and dead flowers – leaving mainly pink rhubarb which is rich in Anthocyanins – the pigment  responsible for colour.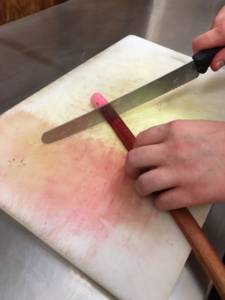 Phase 2. Maceration
The maceration of our gin takes place at Foxdenton estate of Winslow and macerated with 48% London dry Gin for four to five weeks. The batch is then broken down (reduced in alcohol) to 21.5% and blended with sugar solution to result in a gin that carries 21.5% abv and 130g/l of sugar.
Tasting notes 
We recommend serving our Rhubarb Gin with ginger beer; pour a double measure over ice, top up with ginger beer and add a squeeze of lime for the ultimate summer drink – now available at Waddesdon Manor Restaurant for those of you wishing to try! Alternatively, take a bottle home to enjoy and try neat or top up a single measure with prosecco – shop online here