Making Music at Windmill Hill
For the past five years, Simon Wales has programmed and presented a small series of classical chamber concerts at the Waddesdon Archive, Windmill Hill.
The first time I set eyes on the Reading Room, with its extraordinary art, abundance of wood and glass and lively acoustic, I felt that it could be an ideal space for music. Having said that, it is not the easiest room to use for concerts, as it was never designed that way! The substantial long tables have to be dismantled each time, and our Facilities team have to build a stage, transport seating from other buildings, and lug other equipment in and out of the space. It also has a limited number of toilets (although they are rather beautiful toilets), and ideally there would be more space for dressing rooms and catering.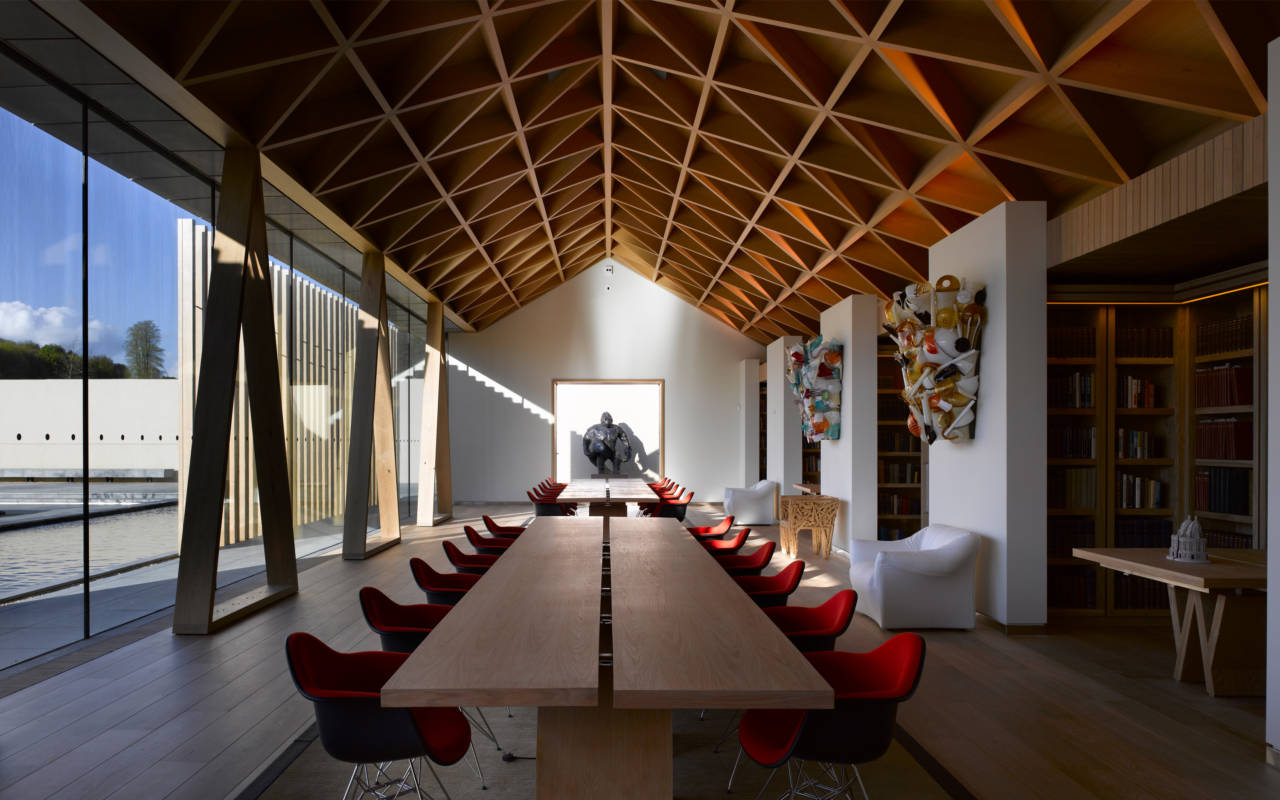 However, I think we all agree that the rather labour-intensive effort of staging these small music concerts in this beautiful space is worthwhile. The floor to ceiling glass windows allow the audience and musicians to experience the changing sky as the performance progresses, and the artists love the view of Angus Fairhurst's "gorilla and fish" (not its official title) sculpture which is staring directly at them through the far window when they perform.
I am often asked how I decide on who will perform and what will be their repertoire. Because the Archive is such a busy building and a working space, I keep to a limit of four concerts a season, and ensure that we try something new each year, although we've developed some longer-lasting relationships with particular musicians. Steven Devine (harpsichord), Anna Noakes (flute), Gabriella Dall'Olio (harp) and Paul Barritt and Josephine Horder (Tring Chamber Music) have all become an established part of the current programme. Each year, we end up talking about possible future plans, and they suggest something to me that sounds so enticing, it's hard to say no! It goes without saying that they are all first-class musicians, but it also helps that they are all very nice people and easy to work with, and genuinely enjoy making music in the unique setting.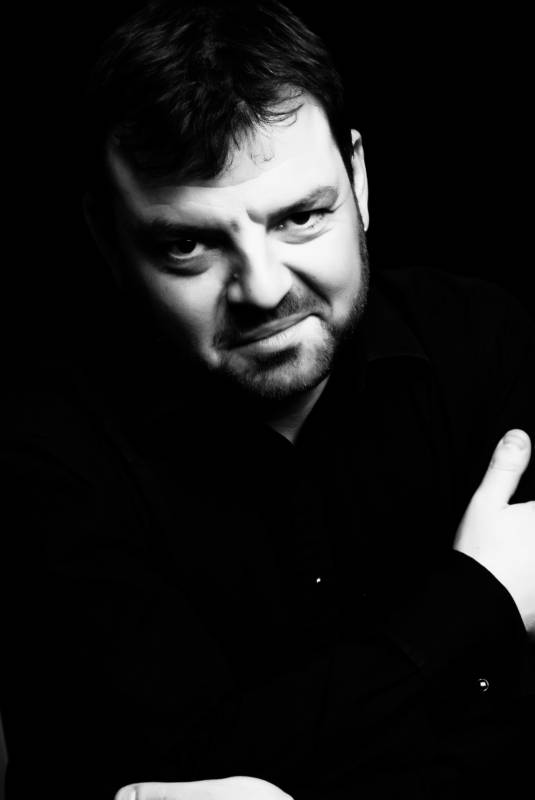 The concerts are also another means by which to engage with our audiences, who are often drawn to the art, architecture and the rural, secluded setting of Windmill Hill. With a maximum of 120 in the audience, the concerts often feel quite special. The musicians talk from the stage and often informally introduce the pieces they are performing, and there is time to chat and meet with them in the interval and afterwards.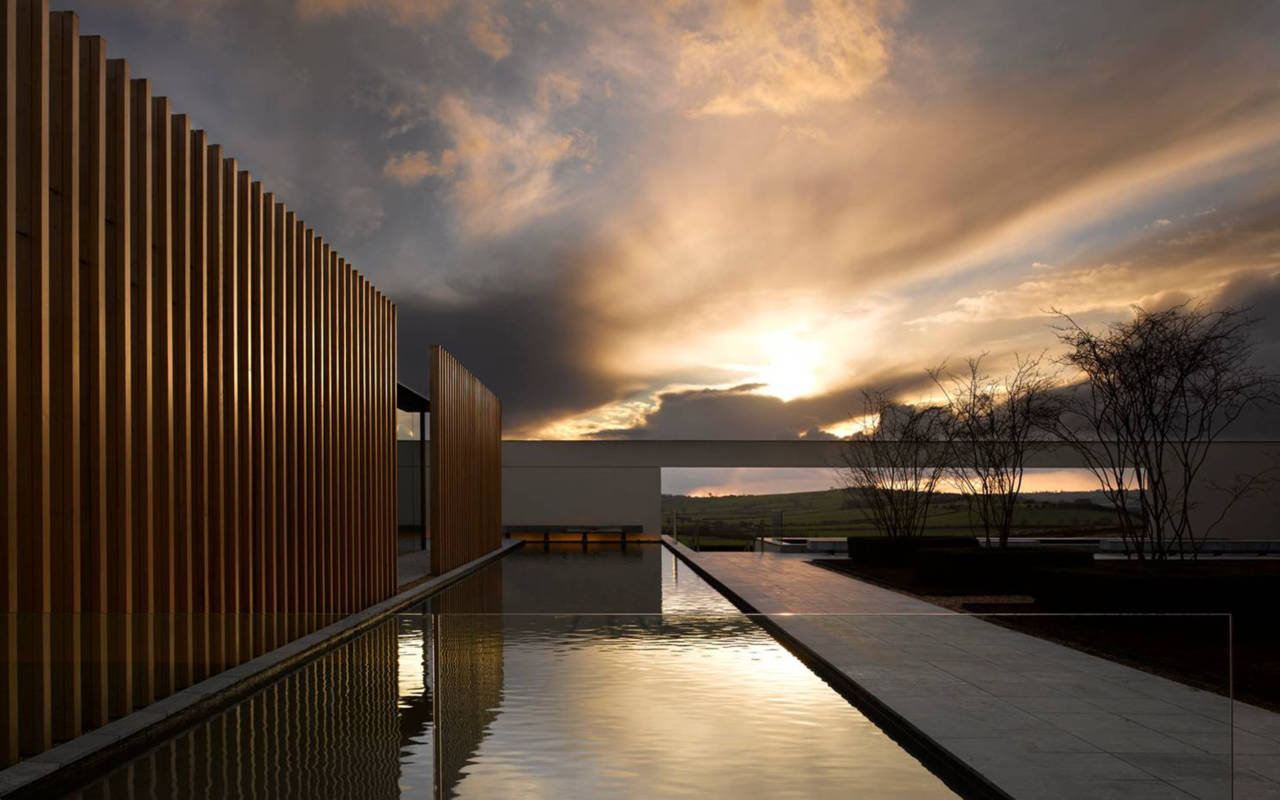 On the day, I am there to look after the musicians and ensure that everything runs smoothly, including the concert management. As I have a background in music management (my previous jobs included working for the London Symphony Orchestra), this comes quite naturally to me, and I enjoy running around with music stands, making cups of tea, and ringing the bell at the end of the interval! It makes a change from my 'day job' as General Manager of the Manor site, and gives me the chance to be very hands-on and involved in the practical arrangements. I like to welcome the audience at the beginning of the concert, and thank them at the end of the evening as they are leaving.
As I write (in November 2017), I have just finalised the concerts for 2018 and these will be going on sale soon. It's hard to believe that we are now going into our sixth year of music at Windmill Hill – it only feels like yesterday that we were tentatively experimenting with our first concerts back in 2013, and now they are a regular and established part of the programme.
Keep an eye on the website for our 2018 concert series.
By Simon Wales, General Manager