Illuminated River: Bridges, Boats and Beyond
Discover the inspiration behind our Illuminated River: Bridges, Boats and Beyond trail, created by over 6000 school children.
Each Christmas our Learning team work with local schools to create festive decorations and transform Miss Alice's drive into an illuminated winding woodland walk.
This year the artwork along the trail is inspired by 'Illuminated River', a lighting project supported by the Rothschild Foundation and illuminating 14 bridges along the River Thames to celebrate our capital city and highlighting some of London's most iconic sights.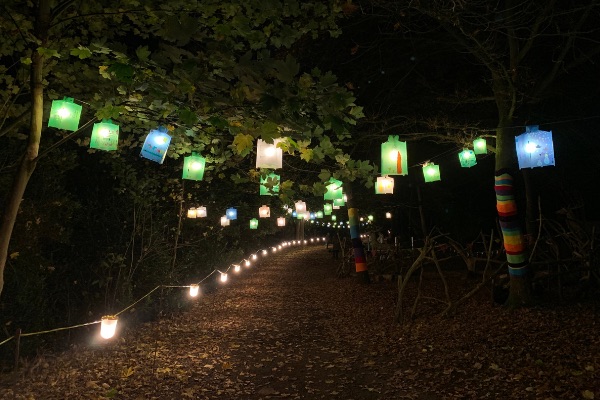 The first thing you'll come across as you begin the trail is the Journey Tree. Thousands of schoolchildren were asked where they'd like to travel and these wishes have been written upon metal boats which now decorate the tree. This is especially poignant because it helped to fire children's imagination during the pandemic and think positively about the future.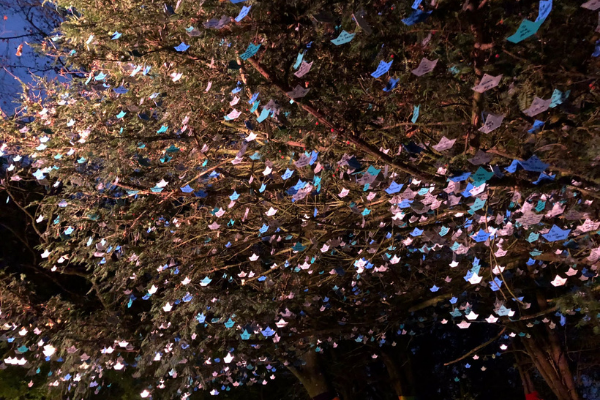 As you make your way along the trail, see lanterns glowing between the trees, decorated with festive scenes, journey dreams and London landmarks. In total, 15 schools created over 500 lanterns which you can now find illuminating the path along Miss Alice's drive.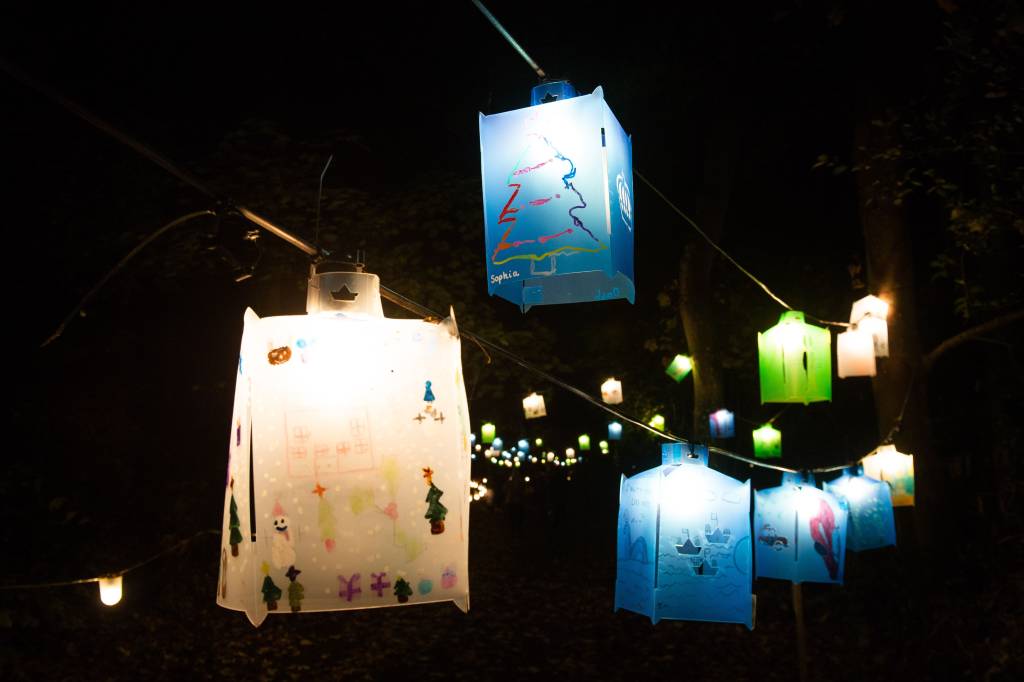 Towards the end of the trail look out for reindeer beautifully painted by five local secondary schools and each inspired by paintings of the Thames by famous artists.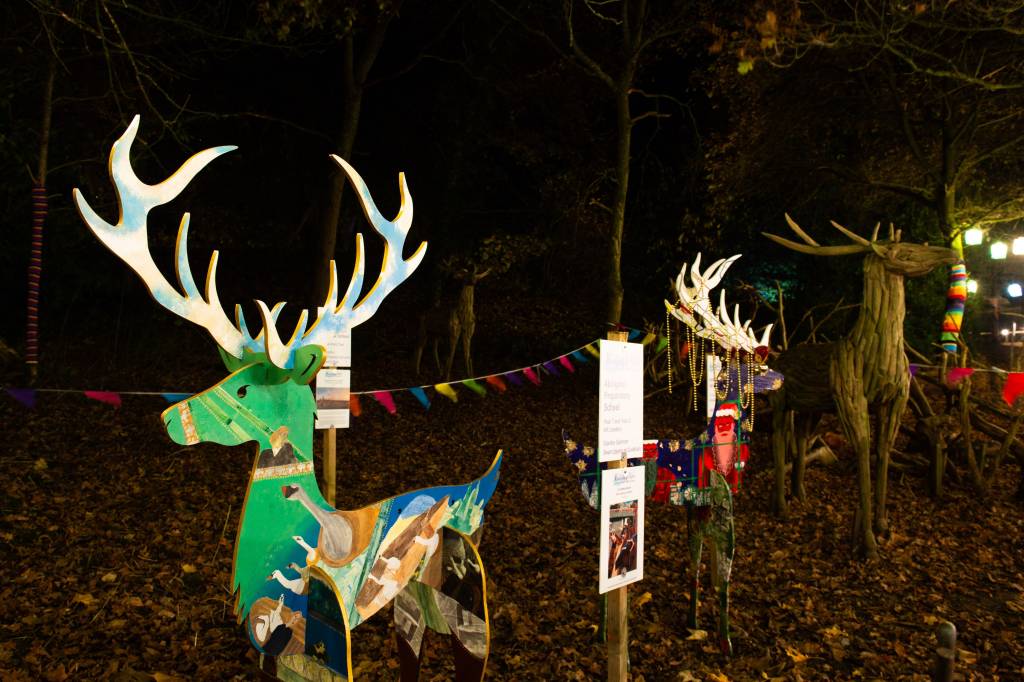 As you wander through the woods you will also spot colourful tree cosies that were created by our volunteers. This project provided the volunteers with some much needed cheer and focus during lockdown last year, reviving some forgotten knitting and crochet skills along with plenty of phone calls and Zoom catch ups to share ideas and collaborate.
One volunteer said 'I hadn't realised that I had been feeling quite so low and this 'tree cosie' phone call was an absolute Godsend… thank you Waddesdon for giving purpose to our lockdown.'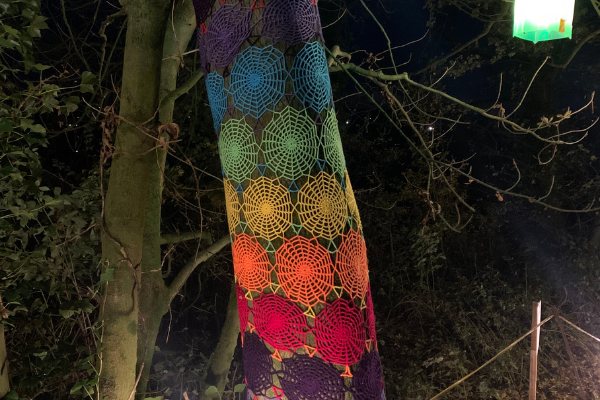 This year, 19 schools are taking part in our annual light box competition. Each school was given a different London bridge (or crossing) to focus on for their design and the end results are breath taking, don't miss seeing this and voting for your favourite!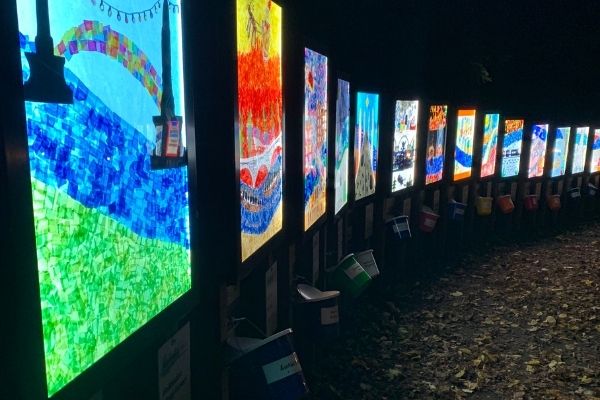 Vote for your favourite light-box via text or in person by placing a coin in the bucket of the school whose design you like best. The school with the most votes will receive all the money raised.
How to vote via text
Vote and donate for your favourite panel by texting the name of the school (below) to 70085. Text entry costs £1 plus one standard rate message.

Participating schools
ASHFOLD
BEARBROOK
BIGTOP
CHEDDINGTON
CLAYDON
FIVEACRES
FURZE
GRENDON
HARDING
IBSTONE
MAIDS
MISSENDEN
STOCKLAKE
STONECE
STONY
TURNFURLONG
WADDESDON
WESTCOTT
WINGRAVE
Find out more about the Illuminated River project in London >