Family letters: 'a brilliant affair'
This letter does not tell us anything new about Waddesdon but is intimately connected to one of its owners. 104 years ago, James Armand de Rothschild married Miss Dorothy Pinto.
Constance Flower, Lady Battersea was the elder daughter of Baron Anthony de Rothschild and Louise Montefiore. She was only twenty months older than her sister, Anne, and they remained very close for the whole of their lives. Despite her parents disapproval at marrying outside the Jewish faith, in 1877 she married Cyril Flower, later Lord Battersea, a property magnate and liberal politician. She was a renowned philanthropist; as a very young woman she had taught in the local village schools round their home at Aston Clinton and at the Jewish Free School in London as a married woman she combined a lavish social life with charitable activities and writing. As can be seen from her letter below she was also a friend and confidante to the younger members of her family.
On Tuesday 25 February 1913 James (Jimmy) de Rothschild, married Dorothy Pinto, daughter of Mr Eugene Pinto, a London stockbroker. It had been a whirlwind engagement of only five and half weeks filled with visits to many of James's friends and extended family including a week with his family in Paris. James was a scion of the French Rothschild family, the eldest son of Baron Edmond de Rothschild and his wife Adelhäide. Although born in Paris in 1878, he was educated in England and spent much time in London, where he indulged his passions for racing and golf. Later, he would fight in the Ist World War and become a highly-regarded Liberal MP. Dorothy was not yet 18 and had only just been promoted to dining with her parents at 7:45 and nothing in her childhood had prepared her for life in the Rothschild family. James, on the other hand, with his close circle of friends including the Hon. Neil Primrose and, was a highly eligible bachelor who made frequent appearances in the society pages of the newspapers.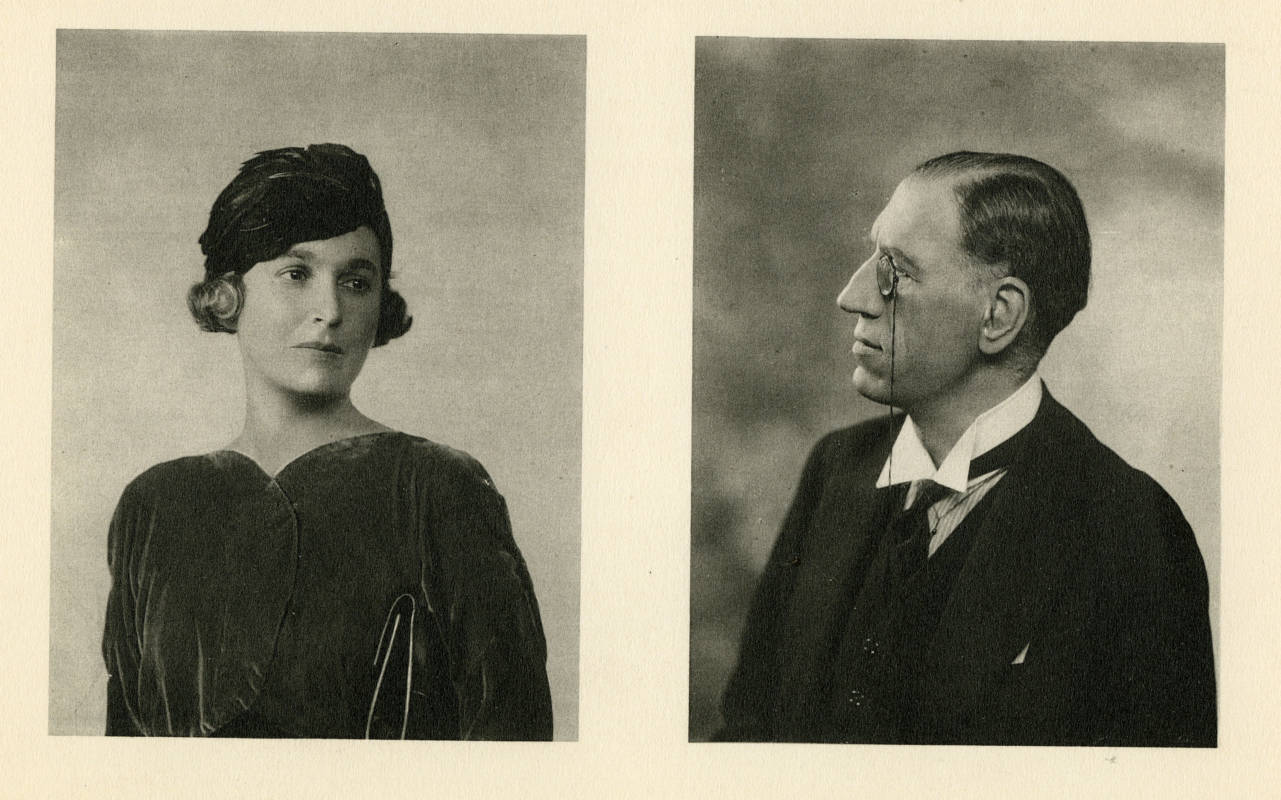 The wedding itself took place at 2pm in the Central Synagogue on Great Portland Street, London and was described by the Times as "one of the most brilliant affairs of the season". The congregation contained many members of the Rothschild and Pinto families as well as the elite of society and from Liberal and Jewish circles.
Dorothy wore a beautiful dress of soft white charmeuse draped with old lace with a veil over a wreath of orange blossom and myrtle. She carried a bouquet of white flowers and wore jewels by Boucheron of Paris, a gift from her parents-in-law. The synagogue was decorated with palms, white lilac and arum lilies and the outer hall with palms and spring flowers. The ceremony was followed by a reception at 1 Carlton Place, hosted by Dorothy's parents. The couple then set up home in London, although the pattern of their married life was almost immediately truncated by the outbreak of the 1st World War. In 1922, their lives changed again when James inherited Waddesdon from his great-aunt Alice – hence the presence of this letter in the Archives at the Manor.
Constance Battersea writes to Dorothy's mother the day after the wedding to apologise for the fact that she could not stay on for the reception and is effusive in her congratulations on the occasion. The letter is a charming example from a time when letters were used much as we now use email or social media and written and received on the same day. Despite its brevity I feel it gives a real sense of the liveliness of Constance Battersea's character and the relationship she had with her young cousin.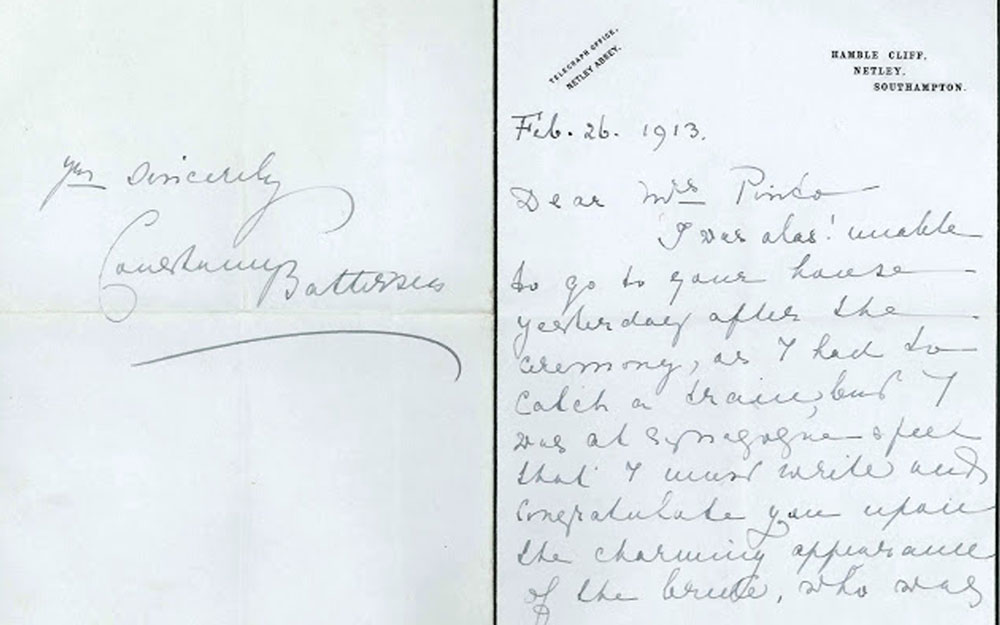 Transcription of the letter:
Hamble Cliff
Netley
Southampton.
Feb. 26. 1913
Dear Mrs Pinto
I was alas! unable to go to your house yesterday after the ceremony, as I had to catch a train, but I was at synagogue & feel that I must write and congratulate you upon the charming appearance of the bride, who was everything that a bride should be – the embodiment of freshness, sweetness, purity & goodness.
Jimmy is indeed a fortunate man to have won her. I think that their married life will be a very happy one. As they will be spending much of their time in London I shall look forward to seeing more of Dorothy. Jimmy and I are old friends & so I shall claim also his wife's friendship, if she will let me.
I trust that you are not over tired from all the fatigue & excitement of the last weeks; pray believe me to be, with kind regards to Mr Pinto,
Yours sincerely,
Constance Battersea
Posted by Catherine Taylor, Head Archivist.