Celebrating Marie-Antoinette on her birthday
On Saturday 2 November 1755, Marie-Antoinette, the famously ill-fated queen, was born to the Austrian Imperial family.
Baron Ferdinand was fascinated by Marie-Antoinette, and the collections reflects this. It includes a 1781 Sèvres service and a delicate writing table by Jean-Henri Riesener, both of which belonged to her, and a to a dramatic series of prints recording the Revolution. These shed light upon her public image, whilst aspects of her character are suggested through the decorative arts she was commissioning for her household.
In the spring of 1770, the young Austrian princess travelled to France for her marriage to the future Louis XVI in the opulent Chapelle Royale at Versailles. The union, which cemented the Franco-Austrian peace treaty of 1756, required the young bride to embrace visibly her new French identity. In this print, we see Marie-Antoinette whilst she was still the Dauphine, or crown-princess. Her hair is dressed with pearls and she wears a ribbon around her neck, emphasising a plunging neckline bordered with lace. She is already being seen in the height of French fashion.
In 1774, Marie Antoinette became queen, propelling her further into the spotlight. Here she faces her husband, Louis XVI, sitting on a gold and blue throne decorated with fleurs-de-lis, the royal emblem of France. She is in state costume, her hair dressed in the latest state-of-the-art towering hairstyle, elaborately dressed with feathers, flowers, leaves and ribbons. Lace and silver and gold thread decorate her wide-sleeved dress while her blue train is trimmed with ermine and fastened to her shoulders with a gold brooch.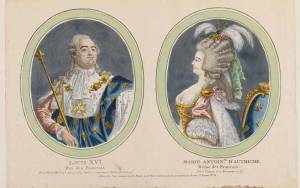 These are images of the monarchy, and the King and Queen openly personify splendour and material wealth. Yet the objects at Waddesdon can tell us more about the woman behind these public images. For instance, this table below, by the famous cabinet-maker, Jean-Henri Riesener, bears the marks of Marie-Antoinette's Garde-Meuble (the organisation which supplied furniture to her for use in her residence). Incomplete inventory marks suggest the table spent some time in use at the Petit Trianon, the Queen's small private retreat in the grounds of Versailles. It was here where she would escape the oppressive and overwhelming aspects of court life and which she filled with her favourite objects. At first glance, the private display of such a table with jewel-like mounts and exquisite marquetry, might suggest a frivolous personality with a love of fine things, yet arguably bears witness to her taste and patronage.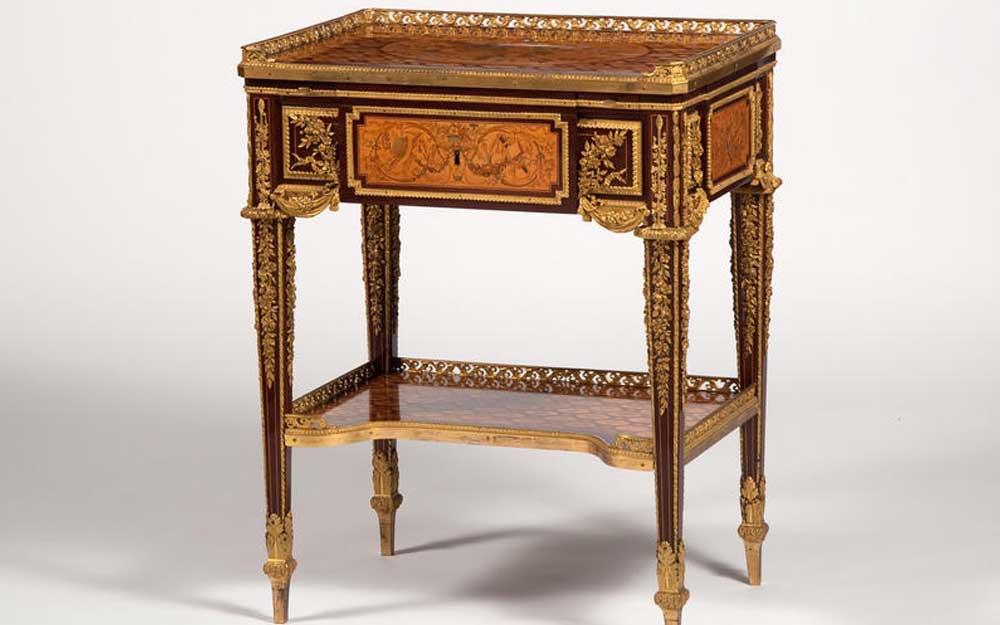 Some of the queen's favourite flowers are even represented in the marquetry – including irises, lilacs, lilies, poppies, cornflowers and violets – species that she planted in the gardens of the Petit Trianon. In 1784, Marie-Antoinette ordered more than two thousand dog roses to be planted in the gardens.
Marie Antoinette's exquisite taste in furniture and porcelain, her passion for flowers and her desire for a more informal life were not widely appreciated at the time. In her lifetime she was ridiculed as a figure of greed, hated and mocked by the French population for her extravagant and frivolous lifestyle. Satirical cartoons such as this likened her and the King to animals – in this case the pig probably represents the Queen, suggesting a bestial, gluttonous nature.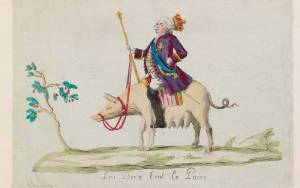 Ultimately, Marie-Antoinette is best known for her violent end. This print entitled 'The Martyrdom of Marie-Antoinette' is a more sympathetic representation than contemporary French versions, produced in London. Here Marie-Antoinette stands on the scaffold as a martyr, declaiming her final words. She is shown as a figure of courage, still possessing agency, as she reaches her arm towards the crowd at her execution, as if asking for their forgiveness.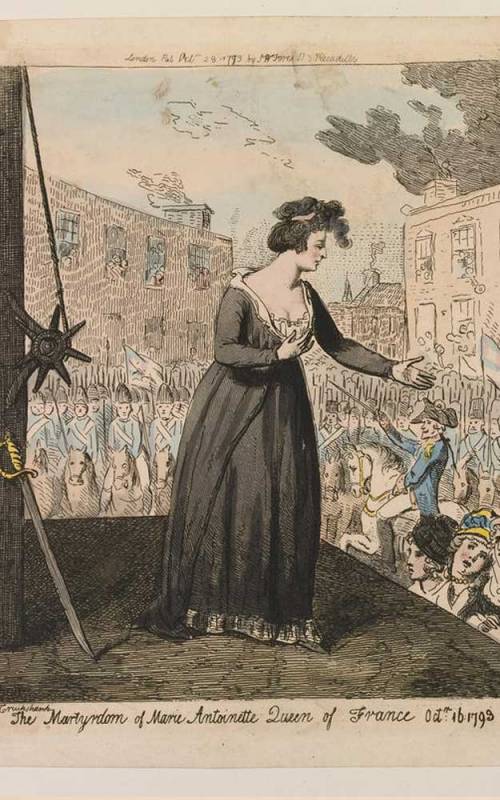 See more of Marie Antoinette in the collection at Waddesdon >
Posted by Victoria Jenner, Digital Content Editor