On the eleventh day of Christmas my true love sent to me...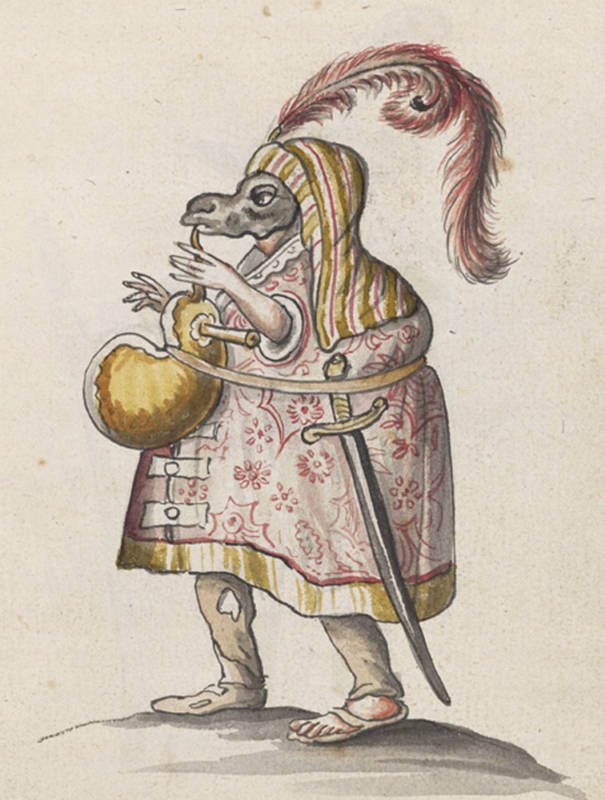 Attributed to Charles-Germain de Saint-Aubin (1721-1786), 'L'heureux desivetaux' in Livre de Caricatures tant bonnes que mauvaises, French, c. 1740-c. 1775 ; watercolour and ink on paper, 187 x 132mm ; acc. No. 675.19
Eleven pipers piping
A bizarrely-dressed figure stands at the centre of the page facing left. He wears a mask, with an animal-like snout. Over his head he wears a piece of red, yellow and white striped cloth from which sprout two red plumes. They unfurl in elegant curls behind him. His rotund body is clothed in a richly decorated sleeveless garment, yet his trousers and shoes are worn and ragged. Tucked into his belt is a sword and a bagpipe or musette. Its blowpipe, which he holds in his left hand, is inserted into the mask's extended snout. This is not exactly the image of the piper conjured up by this Christmas song so why has the figure been depicted in such an odd fashion?
This page is taken from an album containing hundreds of drawings by members of the Saint- Aubin family. The illustrations reflect all aspects of popular culture, often in a humorous way.
One possible inspiration for the subject matter could be the French libertine poet, Nicolas Vauquelin des Yvetaux (1567-1649) who was renowned for his eccentric dress. After exile from court, where he had tutored the young Louis XIII, he lived for most of the first half of the seventeenth century on the outer fringes of the Faubourg Saint-Germain in Paris, where his hedonism led to charges of atheism. The chroniclers Tallémant des Réaux (1619-1692) and Vigneul-Marville (c. 1634-1704) both recount that he and his mistress dressed up as shepherds and conducted a pastoral masquerade through their gardens, leading flocks of imaginary sheep. In this drawing, Des Yveteux is perhaps himself a sheep. Alternatively, the animal face of the figure recalls Charles Le Brun's (1619-1690) physiognomic study of the sheep and sheep-man from his well-known Conférence sur l'expression générale et particulière (1668). The size of the eye and the line of the nostril also make it resemble Le Brun's study of the camel and camel-man – in which case the character's striped headdress here may be intended to evoke Arabian dress. However, it is unclear if or how the artist knew Le Brun's drawings comparing animals and men.
Festive traditions and dressing up are also evoked in the inscription at the top of the page, though in an obscure manner. The Coqueluchiers (also known as Conards) were a Renaissance festive society based in Rouen involved in the organisation of carnival, feasts of fools and other events.